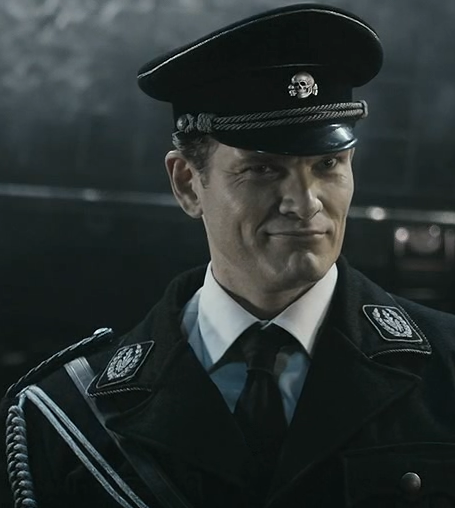 I can burn worlds as easily as bibles.
Full Name:
Josef Kampf
Meaning of the Name:
Given Name:
Belkanic form of Joseph, from Ioseph, the Latin form of Greek Ιωσηφ (Ioseph), which was from the Hebrew name יוֹסֵף (Yosef) meaning "he will add".
Surname:
Belkan for "battle", "struggle", "fight".
Title:
Full:
His Imperial Majesty Josef Kampf, Führer of the Belkan People, Emperor and Lord of the Hegemony, Margrave of Varrel, Burgrave of Ezobal, Count of Tannhaüser, Duke of Barver and of the County of Gantz, Grand Duke of the Rheingold, of Kastor, Duke of Nosoa, of Anlok, of Weiral, of Otze and of Leere, Duke of Rienzi, of Siegfried and of Elend, Lord Regent of Madeg, of Trauer, of Gueld and of Jülik, Clarves and Böse, Duke of the Velk and the Far Traverse, of Lauen and of Reiting, Landgrave of Lerrik, Regent of Neu-Lumen, Prince of Strassburg, of Tristian and Isolde, of Bostel and of Ehra, Lord of Wismar, of Kusey, of Mürden, of Cellebrück, of Böhme, of Verden, of Kerral, of Fuoral, of Massaul and of Märsil, Princely Count of Hekkel, Governor General of the Mark, of Raval, of Fuhrburg, of Lindhorst, of Stedden, Lord of Neubauren, of Offen and the Razorbacks.
Condensed:
His Imperial Majesty Josef Kampf, Führer of Belka, Emperor of Scatter and the Greater Imperial Hegemony.
Monikers:
God, the Deep One
Birthdate:
8/11/2061 AC
Age:
543 Scatterran Years or 770 Terran Years
Gender:
Male
Bloodtype:
O+
Bloodline:
Undiluted line of Kampf I
Species:
Scatteran
Race:
Belkan
Occupation:
Emperor of the Hegemony, Head of Government and State
Social Class:
Imperial Nobility
Orientation:
Heterosexual
Apparent Age:
Early thirties
Voice:
Bass
Overall Attractiveness:
Rather Attractive
Eye Color:
Green
Glasses or Contacts:
Neither for the moment, though all members of the Kampf Dynasty have cataracts develop in later years, ranging from ages 80-130.
Hair Color:
Brown
Hairstyle:
Continental, tapered 'white-walls' along the sides and back of his head, long growth on the top slicked back with pomade.
Weight:
92.3 kg
Height:
2.04 m
Skin Tone:
Fair/Celtic
Shape of Face:
Square
Dominant Feature:
Eyes