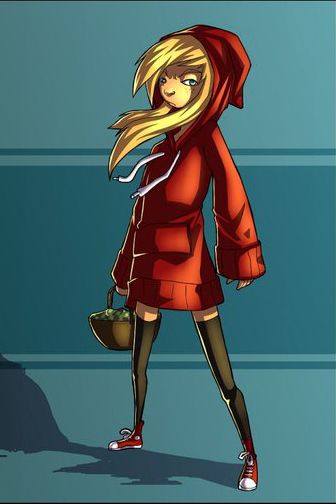 Image does not belong to me.
Redda
Dyed in Scarlet
Partner to
Gladdie
Apprenticed to Master Jester Vic Allester
Age:
14 (presumably)
Gender:
Female (This changes. Often.)
Race/Ethnicity/Species:
Unknown
Appearance:
Usually wearing a little red hoodie, Redda holds true to her name. Her hair, eyes, and striped stockings often have a touch of red within them. Her appearance can change wildly, though she's thought to be a very young girl around her early teens. She wears a constant grin, regardless of what shape she is in.
Equipment/Weapons:
Her hoodie, which can turn the wearer's face into a monsters with a giant maw. It can also shrink objects when put into the pockets.
Porta-Portals
Monster Water Guns
Paint Bombs
A giant hammer
More to come, too.
Abilities/Skills/Spells:
Friction Control
Age, Gender, and Ethnicity Shifting
Power to cause illusions of the mind
The image is not mine. I don't know who it belongs to, but if it is asked to be taken down, I will do as such.