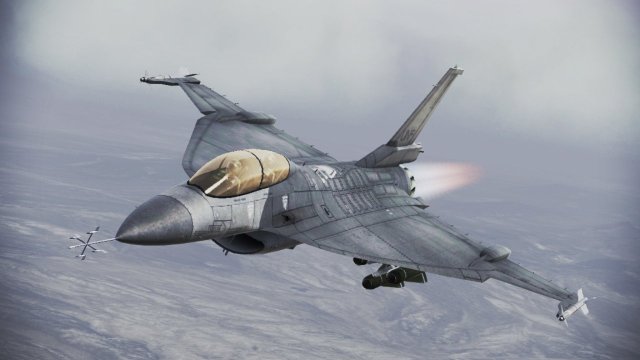 Obsydian Cnyte, tired and annoyed, leveled his mostly unarmed F-16XL just five thousand feet under it's fifty thousand service ceiling. Scanning the darken horizon that borders the Belkan entrance to the Round Table, he removed the Osean Naval patches from his flight suit. 'Farewell Osea.' he mused. Once he programed Valais Air Base into his navagation system, Obsydian sets the autopilot and drifts in to a combat nap.
~Valais Air Base, Ustio~
Serpentina Hauk descended from her battered and borrowed F-2A Viper as dark smoke bellows out the engine. 'This one is done for.' she thought, walking away while the aircraft handlers engulfed the fighter. Removing the helmet, a keepsake from her dead brother, she ignored everything else. Her feelings were in a simmering storm as thoughts of deserting kept popping up in her mind. Pausing near the open hanger, while stepping out of the way, Serpentina covered her face and exhaled loudly. "Is it worth being called a traitor to just leave?" she whispered softly. Reopening her dull sapphire eyes as snow started to fall Serpentina felt flakes gradually melt against her face. After a few moments of silent contemplation and refocusing her composure; she continued on towards the briefing room.

Upon entering, Serpentina sat near the rear wall and props her head on her fist. Subconsciously removing a mini sd card from the helmet and sliding it in the card reader she matched gazes with the mercenary air unit liaison officer. 'Sorry to ruin your day.' she mused, watching the frustration flicker across his face. Keeping her expression bland and unreadable, she heard the pilots twinkle in and take their seat. Glancing up she leaned back against her seat. Sighing inwardly she saw a light blink out briefly. 'Flight record finished uploading. This meeting is going to take a while.' Serpentina thought as the debriefing began.
~200 miles from Valais Air Base, Ustio~
A silent blaring of his internal warning system bought Obsydian to full wakefulness as he checked outside the canopy. A flicker of dieing sunlight from a distant object caught his attention. Adjusting his course to avoid it, he quickly bought the store's list and snorted. 'Just over half for the vulcan and two training missiles. Thanks for the noose Captain Shinogaia.' he mused, hearing the sarcasm in his tone. Recalling his now former captain's orders from the last mission he flew under the man's command, realizing how pointless it had been. Obsydian sighed heavily into his airmask.

"I have no choice in the matter now. Time to see where these dice lands." he states, checking his fuel gauge. Shrugging he firewalled the throttle and prayed. Minutes seemed to ticked by slowly while the distance between him and the flicker he saw decreased. 'Just need to sneak pass and I'm home free.' he mused. But it seems Fate was not going let him getaway scot free. Missile warnings suddenly blare in his cockpit, causing him to instantly bank sharply and dive for the deck. Glancing back to see his pursuer, an unmarked Osean F/A-18E Super Hornet, maneuver to follow him.

He leveled out and weaved through the mountains and valleys. Barely managing to stay a step a head of Super Hornet, though he wasn't sure how long it stay that way. Looking back briefly, Obsydian wondered if he was going to die today.
~100 miles from Valais Air Base, Ustio~
'Now what?' Serpentina questioned. Her annoyance at being sent up again in so many hours burning in her soul. Pushing her burrowed Aurelian F-2A hard towards radar cooridinates the operator ordered her to. Once in visual range, just a few minutes out of the base, Serpentina saw the fleeing attacker variant of her fighter race away. Arming her weapons and adjusting her mask, she dove in behind the pursuing Super Hornet. Firing off a burst, she managed to take attention on to herself and lead the F-18 away. 'Stupid!' she silently snarled. Turning and burning with the Super Hornet jock, Serpentina took this opportunity to cut loose. Banking hard on her port wing, she watched the Super Hornet match her turn. Instantly reversing the turn, while listening for a good tone, Serpentina wondered for a nanosecond if this was the day that her emotional torment would end.

But that thought vanished as quickly as it came when her heatseeker growled at her. Holding her angle for the few seconds necessary to get in behind him, she pressed the missile release on the control stick. Following the missile trajectory towards the enemy's plane Serpentina saw it impact on the wing. 'That was very anticlimactic.' she mused. Swinging her Viper around to return to Valais, she pulled along side the F-16XL and said states, "You're coming with me."

Obsydian, perfectly fine with that since he heading there anyway, followed the unknown Aurelian Viper back to Valais Air Base.