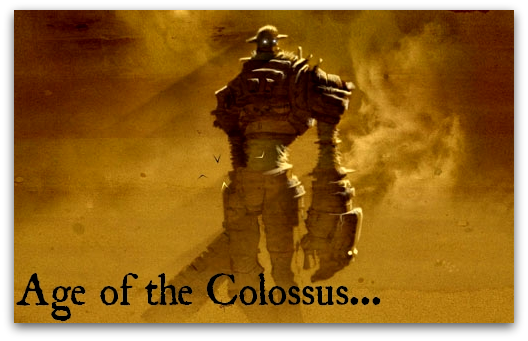 The adventure of an unlikely group warriors who band together for varying reasons to see the demise of titan-esque monsters. But, is everything really as straight-forward as it seems or is there much more than meets the eye?
[ THEME SONG ]
---
---
---
Age of the Colossus IC
---
Place the correct header in the beginning of each and every post. See the OOC thread for a detailed explanation.





If you use a custom font or color, make sure it is readable and not too bright.





No text walls. Use proper spacing.





Quality over Quantity. Meaning don't write a 1000 words of nothing, about your character getting dressed. I would rather see a well written paragraph about your character blowing his/her nose.[/i]





NO OOC TALK!





Only post here if you are part of this RP and if the character you are using has been accepted.





Remember to remove your signature on every post by unchecking the box at the bottom of the page.