Recruitment and Update Center
Welcome to the recruitment center. If you are interested in joining the Alpha Squadron, please read over the rules and fill out an application
here.
There are currently
1
spaces available.
For those already part of Alpha Squadron, your on board HUD command can be found
here.
----------Notice Board----------------
1. If anyone wants to help revamp the game engine, let me know!
2. If you know of active and interested RP'ers, show them the thread!
---------------------------
---
---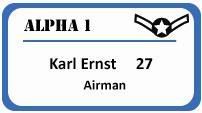 Alpha 4 - Wingman KIA
Name: Shadow Graves
Age: 20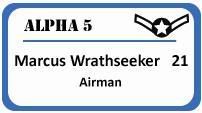 Alpha 6 - Wingman KIA
Name: Owen Ramsey
Age: 28

---
---
Welcome to the Hanger!
This is where you can have our engineers work on your ships. We can do a number of things such as upgrades, repairs or weapon restocking, so let us know. Below is the list of prices we charge, thanks for doing business!
Repairs
We charge 10 credits for ever 1 point of HP restored.

Restock
Missiles - 50 credits per missile restocked, max 6.
Chaff - 25 credits per chaff restocked, max 3.
Upgrades
We simply charge the upgrade level you are going to times 100. For example, to upgrade you shield to level 3, it will cost you 300 credits.
---
---
The rising sun from the morning came into view as the members of Alpha Squadron passed over the low mountain. It was early, but they were on told to gear up and head out. Flying their
X-38 Phantoms
, they headed north-west awaiting their orders from HQ. These phantoms were known all over Lisaar for their maneuverability which helped win countless battles. Alpha Squadron was also known for their well trained pilots who served in the past war between their home land of Lisaar and the ruthless nation of Naro to the west. What divided the two was the enormous mountain ranges, which the Naro attempted to invade.
However, many years have passed, and the two nations, although not officially at peace, have left each other alone to rebuild their countries ...
~ You guys awake?
, it was the commander's voice that came over the headset, it was time for the briefing.
~ Well HQ doesn't want it's top pilots to become lazy, so they set up a little training exercise to keep you from getting rusty
Within the Phantoms, an on board screen came to life. It showed a satellite image of the surrounding area in which they were flying, still within the green zone and well away from the 'no fly zone' of the mountain ranges. Not only due to a the cease fire, but also due to the countless number of planes that were lost just due to crashing into them alone.
~ You will be approaching the 'enemy' within the next few minutes, we need you to intercept and destroy these targets before they leave the fire zone. That is, if they manage to leave your combat grid alive, you can consider the mission over!

Once you arrive at your target, I will update your on board computers with the necessary combat grid, as well as the mission objectives and enemy statistics. I suggest you take this time to catch up with each other, it has been a while since you all flew together after all ...

Good to have you back Alpha Squadron, and good luck, over and out ~
, and with that the intercom went dead.
(( Okay, so we are now in-flight. Each person will have a chance to post before we actually reach the drones. Take this time to make an introductory post and whatnot, and then we'll get under way. Since we're no in combat, you don't have to post in order. Hope this works, thanks for playing! ))