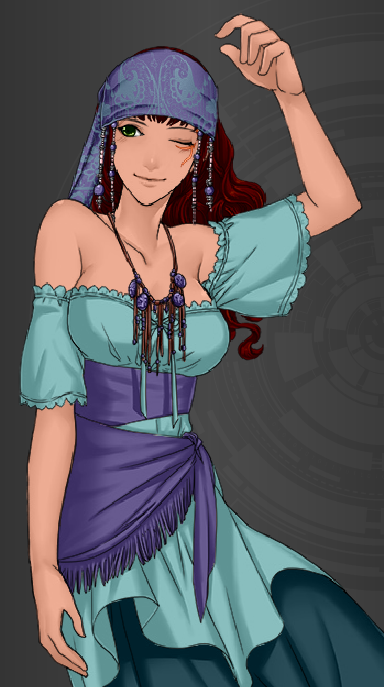 Mirela ignored any stares she got, passing all potential spectators with barely a thought as her emerald eyes scanned the crowds for a certain idiot. Ordinarily, she would take such an opportunity to perform on the busiest street corner in hopes of earning some coin, and just thinking of the lost profit caused her anger to grow. Damn that Luca! Were he not her best friend, she'd have had half a mind to beat him senseless.
Letting out an annoyed huff, she stormed into the already busy tavern, already prepared to start scolding her fellow gypsy and drag him from his hangout. To her dismay and annoyance, he seemed to be nowhere in sight, nor was he making small talk with a pretty tavern maid. "The hell did he go..." she muttered under her breath, turning on her heel and once more taking to the streets.
The next several minutes passed in much the same way, Mirela going around to any spot her friend was likely to frequent. About ready to give up on her search and go back to the camp for the time being, she caught sight of two nobles and their guards.
More importantly, she saw an all too familiar brunette sneaking in steadily closer distances behind them.
Without a word, the redhead carefully stepped up behind the man, twisting one arm behind his back and silencing his shout with a hand clasped firmly over his mouth. Mirela hurried to drag him away from the unsuspecting group and out of sight behind the building, not releasing her captive until they were well away from the entrance.
"Mirela! The hell was that for?! I was so close-" Luca began, already beginning to sport a cheshire cat grin in spite of his protests.
"You idiot! People hate us enough already, and you're out here trying to pickpocket?! We've talked about this!" Mirela snapped back with a harsh tone, lowering her voice in hopes of not being loud enough to draw any attention towards her or her companion.
"I didn't actually steal anything..."
"Then what the hell is this?" Mirela countered accusingly, holding up a small pouch of coins and an ornate buckle. Luca shrugged, palms up in defeat as he let out a cheeky (albeit somewhat sheepish) smile.
"Fair enough, but I didn't take those today, so I'm not lying."
Mirela let out an exasperated sigh, shaking her head at her old friend as he reclaimed his stolen goods from her hand.
"But seriously, they looked like they could afford to lose a trinket or two and not be the worse for wear..." Luca began nonchalantly, only to snap his fingers as if he had just had some marvelous insight.
"I
did
see a very interesting pendant around the woman's neck. Looked like a lapis luzuli, oval shaped. Was embeded in some silver filgerie or something and hanging from a silk cord looked like..."
Mirela froze, picturing what her friend described and visually seeking the nobles and their entourage with barely supressed earnest. It sounded like
that
necklace.
When her parents had been killed years ago, the valuables they had were stripped from them, and among them was a necklace her father gave her mother when they became husband and wife. It was supposed to be hers when her parents saw her wed. And of course those bastards took it. She had almost lost hope of ever finding out what had happened to it, but if this was what Luca said it was...
The gypsy woman crept carefully through the crowds, keeping just far enough away to not be seen by the small group (who thankfully were easy to find as people parted in the streets for them to pass by). After several minutes, Mirela confirmed with her own eyes her friend's observation. She ceased following the group, having a good idea where they were heading.
Luca casually approached Mirela from behind, easily catching up to her. He grinned knowingly, looking rather pleased with himself. "So? When are we going?"
"Don't get the wrong idea! I wouldn't resort to petty thievery if I had any other choice." Mirela snapped, already plotting in her head.
"Yeah, yeah. Save the sermon. So when are we going?" he said dismissively, seemingly unconcerned.
"Tonight."
~~~~~~~~~~~~~~
It was a cool night, with only a sliver of a moon in the sky. Keeping to the shadows, the young woman waited patiently in a tree she had scaled earlier, not daring to move lest she attract attention to herself. The grand building was even more impressive up close, and she had to fight a nagging fear of getting lost inside without being able to find her treasure. It would be fine! She had all night, and Luca had promised to help, and more importantly- to behave himself.
After the last light had finally gone out, Mirela waited yet another half hour to ensure all the residents were asleep. Unable to wait any longer, she crept carefully from her branch to the edge of the roof, signaling her friend to wait before following. Slowly and cautiously, the gypsy lowered herself onto the roof, grateful for the buildings sturdiness as she crawled towards the nearest balcony.