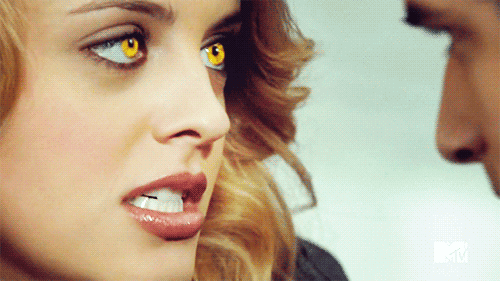 Appearance
They usually appear in human form and can shift to varying degrees into a bipedal wolf-like creature with increased body hair, fangs and glowing eyes. While most of the werewolves remain in the "nearly human" form; some can change to look like a regular wolf and, in some cases a monstrous giant wolf-like form.
Abilities
Heightened Senses:
Werewolves can smell, see and hear far better than humans.
Accelerated Healing:
Werewolves heal quickly from most injuries.
Enhanced Agility:
Werewolves can jump, run, climb and react faster than humans.
Enhanced Strength:
Werewolves are much stronger than humans.
Pain Transference:
Werewolves can absorb and alleviate pain from other people and can "heal" in some cases.
Memory Transference:
Werewolves can transfer (give or take) memories by inserting claws into nape of an individual's neck. This ability can also allow direct "mind to mind' communication.
NOTE:
These abilities are common to all three types of werewolves. Even in human form they possess all of these abilities. Some werewolves have shown the ability to sense illness and, in one case, the onset of an epileptic seizure.
Types of Werewolves
There are three known types of werewolves in the Teen Wolf mythology.
Omega
An Omega is the "lone wolf"; existing without a pack and without an Alpha.
They have all the werewolf abilities mentioned above but are considered weaker than other types because they are not part of a pack.Werewolves can become Omegas by choice or be forced out of a pack by the Alpha or by circumstance. Their eye color tends to be a bright, yellow.
NOTE:
The term "omega of the pack" has been used in reference to the lowest ranking member/members of a pack. This does not indicate a drop in actual werewolf status but is instead used as an insult.
Beta
Betas are members of a pack and, because of this association, they are considered stronger than Omegas. They do not seem to have any special abilities beyond those mentioned above. Beta's eye color tends to be a bright yellow.
NOTE:
Both Betas and Omegas will show various skill levels based on experience therefore a direct comparison of power levels is difficult. A wolf's eye color can also be a bright blue if they have taken the life of an innocent.
Alpha
An Alpha is the leader of a pack of werewolves. It is the strongest, most powerful and so far the most lethal variety of Werewolf. Alphas eyes tend to be a deep, blood red color.
Becoming an Alpha
A Beta or Omega can become an Alpha by killing an Alpha. A Beta or Omega can become an Alpha through strength of character or force of will alone. These are called "True Alphas" and are very rare.
Weaknesses
Full Moon:
The full moon causes werewolves to want to transform, and to shapeshift more easily. A werewolf's abilities are at their strongest during a full moon. Born werewolves learn to control themselves on the new full moon more easily as it's part of their nature. Newly Bitten werewolves have a hard time controlling their transformations and animalistic bloodlust during their first full moons, making it a particularly dangerous time to be around people. With time, the new wolf can learn to control himself with practice and concentration on an anchor.
Lunar Eclipse:
During the lunar eclipse, werewolves completely lose all their supernatural talents and abilities, simply rendering them to their human guise.
Wolvesbane:
Wolvesbane is highly poisonous for any type of werewolf.
Mountain Ash:
A circle of mountain ash can completely trap and supernatural being.