Name: Vega
Race: Angel (Seraphic Choir)
Rank: Temp leader of Heaven, in the creator deity's absense.
Age: 103 (Appears as in his early twenties)
Date of human Death: 23
Height: 6'0"
Weight: 115 kg (Including wings)
Eyes: Entirely blue/black(situational) with white lightning inside
Hair Colour: Blonde
Appearance: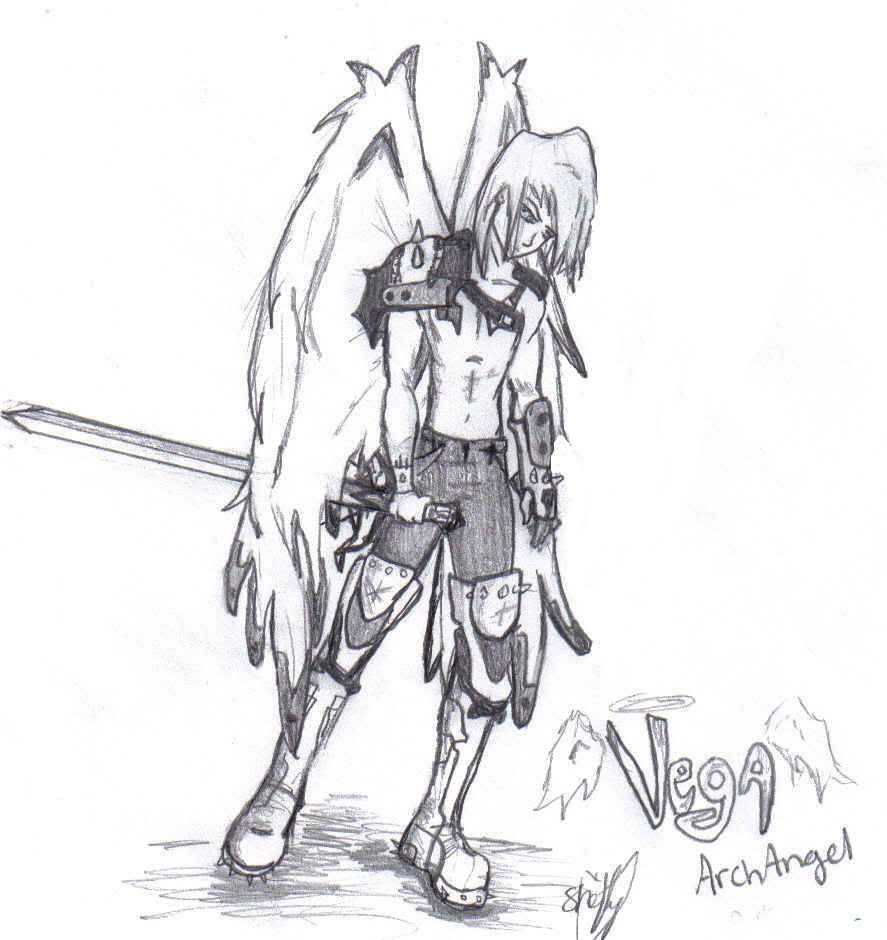 Background:
Vega's lived a very long life to say the 'least, he was born in the living world as a regular child, however his upbringing was harsh. He had a brother who was born through rape rather than love, and due to this, Vega's mother was particularly harsh to his younger brother Seidaki. They grew up soon enough, Seidaki was a common thief, with a violent nature, Vega was more calm and reserved.. however the day soon came where Seidaki killed his own mother. Vega was distraught from this, however he loved and respected his brother very much, so eventually he let it slide. The teenagers grew up soon after, Seidaki was taken in by the thief's guild of their home city, while Vega was apprenticed to a powerful runemaster. Seidaki and Vega still kept in touch, dispite the different worlds in which they now lived, one particular incident that the two got involved in however lead to their capture and death.. Seidaki was rescued in a midnight bail by his own guild, Vega's master let his own apprentice to rot. This occured 5 years after he had been taken in under his wing.
Vega's soul ascended to Heaven, and through the celestial gates he passed, only to be paused by a stunning young woman, six brilliant white wings sprung from her back, and bathed her in a magnificent holy radiance. She and her companions referred to her as Moonlight, at that time she was the leader of Heaven's army. Moonlight gave him an offer; his knowledge of the runecrafting profession would prove useful in combat, as well as his combat abilities developed with his Brother, allowed him to redeem a copy of his physical form.. and after a fierce battle with another angel named "Shantoku", he was offered the same base for similar abilities. Moonlight used a strange dagger to carve two holes in Vega's back, from which white celestial wings sprouted. The difference between his and the others were the metal tips of each wing.
Vega's element alligned him with powerful thunder and lightning based attacks, being a master of both the wind and light elements, he combines both to form powerful ranged attacks. And having ascended to the level of Seraphic angel, his weapon's basic form is of a hovering orb of lightning. It's name is Deathbane, and with it comes four unique forms, three accessible in his Arch Angel form, and the fourth accessible only in his heightened Seraphic Angel form. The first three are a giant metalic Zweihander, forged entirely of black steel, and is seen with constant electrical currents surging along the outside of the blade. The second form is a metal gauntlet that he wears on his right hand to replace the current one, with this as his weapon he is able to amplify his magical spells and prepare them before use inside three clear chambers on the upside of the gauntlet, it's purpose is to increase magical power and reduce casting time, in this form he is almost completely useless in melee combat. His third weapon is a rifle, looking similar to what one would expect from a sci-fi movie, under the barrel is a cubic chamber with a semi-transparent white solid, inside a dim blue glow is seen. From the chamber one small tube extends up from it to the base of the gun barrel, the second tube is formed out of black steel, and buries itself into Vega's arm, accessing some of his more unique abilities. The fourth is a simple one-handed blue hilt, from it he can form any weapon of his choosing out of the thunder, light, or wind element. The power of this fourth weapon is a lot greater than that of the first three. Vega is also known to carry a one-handed long sword, with a simple appearance hilt-wise, the blade glows with a strong white haze, and at the base of the blade a small runic emblem is carved.
In his earlier days in Heaven, Moonlight assigned Vega as one of the "Shadow Angel's" this was also initiated by a similar dagger removing the wings of Vega, not permanent however, the magics from the strange dagger did transform him to a complete shadow of himself, his body and clothing was entirely black, and pulsated with bolts of electricity which were also black. His eyes shone a faint yellow. This form was seen only for a few seconds, roaring out with the cry of a demon, a large orb of darkness engulfed the area known as "Shadow World", in it Vega was trapped for a year, before finally overcoming this new transformation, reverting back to his original angelic appearance. Shadow World is a passive ability in this transformation, which restricts the enemy senses, as well as completely blinding them. In this form Deathbane also succumbs to the darkness, and transforms into a giant scythe, with the name 'Dreadbane'
==Other Notable Events==
In one of his first assignments, having finally completed both Arch Angel and Shadow Angel combat training, he was sent to the human world to kill a weakened demon. Within a heavy area of forest, a large tower stood at it's center, no one dare ventured within the forest due to the number of earth-living demons that inhabbited the forests. The tower was like a game to them, whoever was at the top plate was their leader, and for months it was held by a demon with the appearance of a 10 year old, he had black angelic wings and used a scythe as his weapon. His name was Acropaethis, and Vega was sent to vanquish the kid-demon king. If it weren't for two other demons challenging him for his throne, Satsuriku and Styxeses, Acropaethis would have killed Vega easily, in his weakened state after repelling the two previous challenges however, he soon met his end to the Angel after a long battle, the tower is now uninhabbited and in ruins, at it's peak the scythe remains embedded in stone, Acropaethis now resides in hell.
Many years after his death in Earth, his previous runecraft master slowly sank into the depths of insanity, he was studying death based runes, as well as their combination with life based runes, he developed the art as a means of raising the dead and attempting to bind souls to the corpses, he was only able to experiment on the body of one though.. the body was Vega's human deceased form, and constructing a mysterious white mask, etched with a pentagram rune on the forehead, he placed it over the body's rotting face. Binding it to the body with other runes etched into the skin, the body soon came to life, something about the experiment also binded a soul into the body. He announced himself as Damien, in tribute to being the spawn of hell. And his first action was killing his own creator, along with the magic and arcana district of the city that he resided in, escaping into the night he went into hiding, emerging years later as one of Vega's assignments. Vega wasn't able to do much against the demon, he was simply a berserker, who moved as fast as Vega, but was much more adept at combat. The fight raged on, and Vega was brought near death, catching a lucky strike to the mask, it began to crack.. Damien hesitated for a moment, and then fled, leaving a mere fragment of his mask behind. Vega went unaware of the fact that he was fighting another form of himself.
On Halloween, the souls in heaven open the gate to earth, binding the two worlds for 24 hours, while the souls are visiting the earth, the pathway that is formed between the two worlds supplies Heaven with an infinite source of power, it's origin goes unknown to this day. Angel's of the past have made use of this day to form new wings for themselves, as well as absorb as much of the power that they can into these new forms. Vega formed six wings in the likeness of his original two, out of pure electricity, the power absorbed into his form made him into a being of immense power, and no one could even get close to him without being shocked by intense electrical currents. Having done this without the guidance of another angel however, he forgot to form his Halo, not being a true seraphic ascension due to this minor detail, it was a gateway to an even more stunning power. As long as he remains in the current form for 10 minutes, his halo then appears atop his head as a crown of electricity, and his entire form shifts to a state similar to what his wings are in. The greatest increase in his abilities is his speed, but becoming an entirely elemental entity, he also becomes immune to most melee based attacks.
Years went by, Vega's boredom increased, and he soon escaped from the heavenly realm, and chose to reside on earth for a few years. He chose a place near the demond infested forest, but to his dissapointment, most of the demons were already vanquished, the change was recent however, and Vega took it upon himself to investigate. Several uneventful days passed, on a sunday he met a strange man on one of his checks.. the man had wings fashioned entirely black similar to the ones of Acropaethis, he was adult however and bore no physical resemblance to the demon king. The man announced himself as Darbracken.. he added that he had an intense hatred for Angels. Knowing what Vega was straight away, he attacked indiscriminately, his first few assaults consisted of illusionary abilities, Vega fought back with his own strengths, and the battle drew to a quick conclusion, both parties being forced to flee as a stalemate was the only thing that could occur. Other then that, Vega led a pretty boring uneventful life.. and returned to Heaven.
The gates of Heaven were in ruins, wings ripped from the backs of an army of angels littered the gateway, mingled with the blood of his comrades.. horrified Vega went on. Inside the gates, corpses were everywhere, blood and feathers were all that he could really see, along the the ruined buildings on the horizon, survivors only spoke of a man with black angelic wings, and pointed in the direction of Valsedor, a strange and ancient tower that was there before the rise and establishment of Heaven, a tower that seemed to even predate time itself. Vega approached the tower that was bound shut.. all that there was here were flowers turned to black, with a dark aura enshrouding the vicinity in a gray fog. To this day it remains in the same state, after the reconstruction and recreation of Heaven under Vega's rule, he forbids anyone but himself to go anywhere near the place.