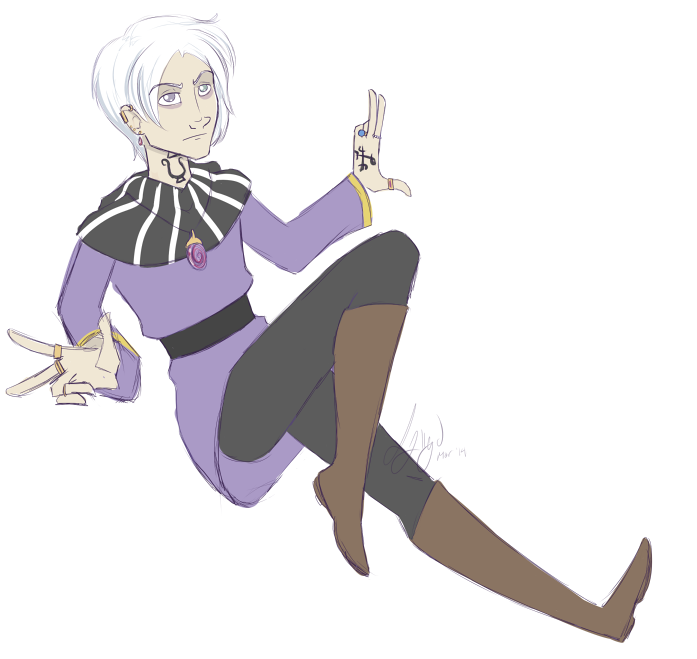 Alt Appearance:
http://i1079.photobucket.com/albums/w51 ... rdecai.png
Birth name;
Mordecai Inkheart
Name;
Mordecai Pendragon
--Nickname;
Mort; Morty
Age;
Unknown – Appears to be in early twenties
Gender;
Male
Species;
Warlock
Sexual preference;
N/A
Height;
5'11"
Weight;
145 lbs
Build;
Small/lithe
Eye colour;
Heterochromatic—the colors in each will change, but will never both be the same at one time.
Hair colour;
White/gray
--Overall appearance;
Mordecai has an overall lithe, almost cat-like looking build. Everything about him is slender—from his fingers to the shape of his cheekbones. He has a flattering, albeit darkened appearance. Under his eyes are lilac bruises that have become a permanent mark on his skin; his brows have been pinched from stress for so long that shadows are cast over his eyes. He wears the hardened look of a soldier with the eloquence and grace of a frail dancer.
Disabilities;
With something that, to others, closely resembles schizophrenia, Mordecai can sometimes have trouble telling the difference between real life and memories. He can ramble off into gibberish on occasion and speak to people who aren't there. Along with this comes the appearance of amnesia and short-term memory loss.
Scars;
N/A
Marks;
Littering his pale skin are coal gray runes and archaic symbols.
\\
Positive traits;
Sharp tongue; positive attitude;
Negative traits;
Headstrong; stubborn; live wire; coward
--Elaboration;
Whenever Mordecai has a good grasp on reality (which is more often than not), he is a formidable ally and an intimidating opponent. He is not keen on being a team player and keeps himself reserved so as not to make any unwanted attachments to anyone. He is also not one to stick on the losing side of anything—if someone offers him a better deal, he will switch sides in a heartbeat.
Background;
WIP