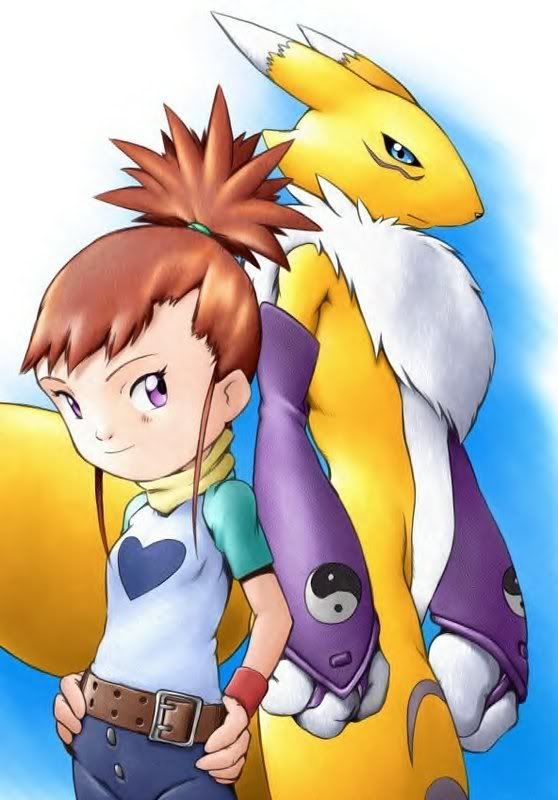 Derek Yumuca sat in the dinning room of Rika's grandmother's house, while he waits for Rika. "You're different from the others." Seiko states, as she looks over the taller American. Given the way he acts towards her granddaughter, she thinks that he likes Rika. But she won't say anything, because she didn't want to make the wrong assumption. "So Mr. Yumuca, where were you planning on taking my granddaughter?" she asked, sipping her tea. Derek, who hadn't thought about it and wished Seiko hadn't asked that question, just replied with a small smile, "Where ever she wants to go Seiko." Seiko narrowing her eyes ever so lightly, she suspected that he was evading her question.

On the roof, Renamon and DaiRenamon stood looking up at the evening sun. "Rika is going to wear a dress." the smaller vulpine digimon said to the bigger one. Dai, shocked, asked why. "To prove that she is immuned to Derek." Dai chuckled. She and Renamon had watched their tamers beat around the bush since the first they met. "Anything happen on this side of town?" Dai asked, as she glanced around. Renamon shook her her head, took the opportunity to do the same. "Something up, the air is off" she states, in which Dai nods in reply.

Rika was standing infront of the calling herself ten types of fool. 'Why did I say yes when Derek asked me to mall?' she asked herself, taking a deep steading breath. "His only a guy, nothimg special." she repeated for the umpteenth time in the hour. But her wayward heart thought otherwise, looking into the mirror, she sighed.

Derek leaned on the wall next to Rika's room, 'She's wondering why she's doing this, most likely.' he thought. Sighing Derek rubbed the back of his neck as he looked down at his boots. "Ok Rika, I'll play your game. For now." he says softly, as the door open. Rika saw Derek standing there and felt her heart jump, 'Damn.' she thought as she involutary gazed his leanig form on the wall. "Derek." she said softly, seeing that he did the same thing she did to him. "Rika," he saw her look him over, "you ready?" Rika nods, wrestling for some compsure.

Walking in the park would've been nice, if Rika wasn't to try hide how she felt about him. Derek watched as she drift away from him to watch some kids play. 'One of us has to give.' he thought leaning on a tree.