New York is a hustling, bustling city, with a wide variety of people, including those who are hiding certain things from the rest of the world. They mask their telltale marks, disguise their unusual appearances, and otherwise keep their skills out of the limelight. Scattered throughout the enormous city are faeries, elves, witches, and many more with many different abilities.
And, trying to live a normal life as a highschool girl, is Sarah Mason, a faerie with the power to conjure up fire, and manipulate it. She hides her pointed ears, and keeps her flamboyant wings out of sight, else should she be discovered by the humans that dwell among her. Sarah is from the mystical realm of the creatures and people we have only heard of in stories, but they are real, and Sarah is in New York because her parents were murdered, leaving her in the care of her Aunt and mentor Maggie, and her younger sister with their grandparents back in the magical realm. Sarah was then enrolled in Braxton Highschool and began to work on controlling her powers, and keeping her secret.
But there is someone who does not want Sarah around at all, and he is determined to kill her, and the other magical beings. But there are others who have done nothing to disguise themselves, and have, in fact, exploited their abilities for the wrong reasons, and they are also at the mercy of this mysterious force. Now, these people, whom have been hiding for their entire lives (or not), must find each other, and band together to destroy this force that threatens their safety.
You may be anyone you wish to be. But I reserve the roles of Sarah, her Aunt and other family members.
Bio template:
Name:
Age:
Gender:
Abilities:
Personality:
Appearance:
History:
Tools: (if they have any)
Hidden/Flaunted:
Good/Bad:
Post your bios here.
My bios.
Name: Sarah Mason
Age: 16
Gender: Female
Abilities: Sarah can conjure fire, and manipulate it. She can also fly because of her wings, and has excellent hearing due to her ears.
Personality: Sarah is a calm, reserved person, with a high intelligence that sometimes leads to arrogance or flamboyance. She likes to observe others, which allows her to choose the right friends, and make the right decisions, unless her fiery temper blinds her. The only things that really trigger her anger are betrayal, dishonesty, those who harm her friends or family, and boasting. She is very loyal, and has a very high moral code.
Appearance: Sarah is understandibly petite, with strong arms and legs. Her hair, a shimmering red, is shoulder-length and layered to hide her pointed ears. She has eyes of a deep forest green and ivory skin. She normally wears clothes that leave plenty of room for movement, but do not tangle if she is forced to use violence.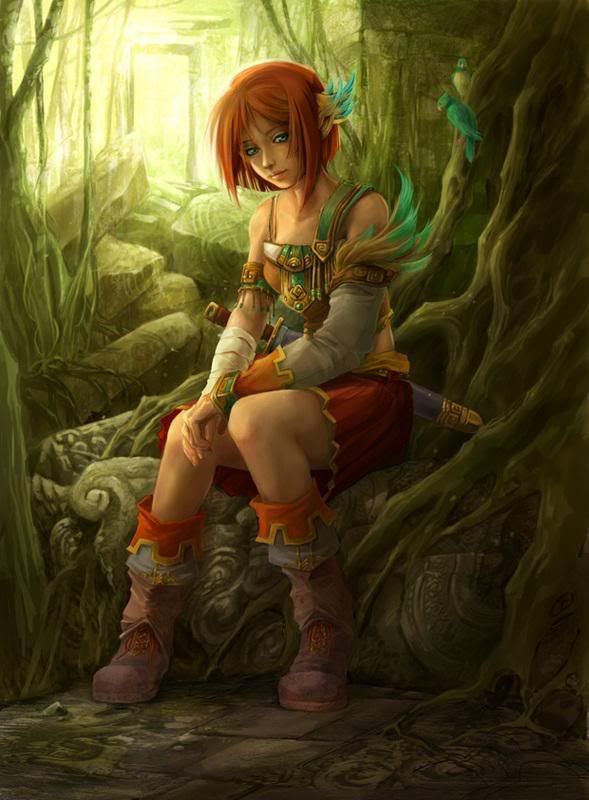 Like this but the ears are different, more faerie-ish.
History: Sarah was born a faerie in the magical realm, but she was orphaned at a young age when her parents, Emily and Maxwell, were murdered by an unknown man with intense powers over shadows. Sarah was put in the care of her aunt and magical mentor, Maggie Mason (Maxwell's younger sister). Sarah has a younger sister, Allison, who chose to stay in the magical realm with their grandparents, Lucy and Edmund. Sarah is currently enrolled in Braxton High in New York city and is in the tenth grade.
Tools: Her fire.
Hidden/Flaunted: Hidden.
Good/Bad: Good.
Name: Maggie Mason
Age:32
Gender: Female
Abilities: Maggie is able to control the weather, and it often changes with her mood. She too can fly with the help her wings, and tune in to other conversations with her ears. Her favorite skill is being able to make light, a trick she learned from Emily.
Personality: Maggie is kind hearted, but can, at times, "zone out." She is protective of her niece, and hopes that she will be able to control her powers.
Appearance: Maggie has long, curly blonde hair, and wears very airy clothes.
History: Maggie is Maxwell's sister and was very attached with her brother, and wishes she could have saved him and his wife.
Tools: Her power over weather and light.
Hidden/Flaunted: Hidden.
Good/Bad: Good.
Name: Allison Mason
Age: 13
Gender: Female
Abilities: Allison is able to lull people to sleep, a mostly defensive power, but can be used for the offensive. She also has the standard skills of faeries.
Personality: Allison is a little moody, but is also a bit naive and does not always see how serious things are. She loves her sister dearly, and resents her parents death.
Appearance: Allison has shiny brown hair that she keeps up with a blue ribbon. She wears sun dresses, and mostly girly things that are "fun to twirl in."
History: Allison was devestated when her parents were found dead, and chose to stay close to them with her grandparents.
Tools: Her sleeping power.
Hidden/Flaunted: Flaunted because she can live in the open in the magical realm.
Good/Bad: Good.
I welcome newcomers, and hope to see many people join.
Below is a link to the OOC thread.
http://www.roleplaygateway.com/post656834.html#p656834