In this world everything is monochrome. Demons, hunters, and humans. Of course, there are vampires, werewolves, and other creatures out there as well...but in the hunter's fight to eradicate the demonic threats to people all creatures of the night get bundled together and hunted together. Erynie is a world of war and no matter what your personal view is it is your blood that makes all the difference upon where you stand here. Hunters are born, not made. And the same goes for all other speices as well. It is a threeway battle with humans striving to fight off demons and trying to prove to banish the hunters in an attempt to have the demons follow them. Demons are preying off the sins of mortals and hunters are trying to slay any and all creatures of the night.
But something has happened...a demon has fallen in love with the man who has been assigned to hunt her. What becomes of this is up to you...
Skeleton:
Character:
Image:
Speices:
(If a demon please specify what they feed off of. One demon per sin please.)
Role in story: (What will they contribute? I don't want mindless characters simply strolling the streets of Erynie or getting into pointless fights.)
Personality:
Character:
Ystella (pronounced: Estella)
In demon form: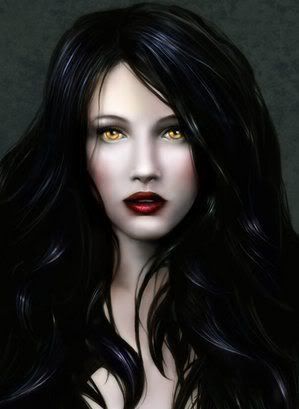 Speices: Demon
Food: Lust
Role: She falls in love with her hunter.
Personality: Ystella must be strong minded and willed if she wants to survive. She is usually fairly quiet but her body language makes a huge impression upon anybody. When she isn't out hunting she is a curious soul constantly thirsting after knowledge and adventure. She loves how the chase makes her feel reckless and the energy it gives her but she is, by no means, a thrill seeker. Ystella was raised to play it safe at all possible costs.