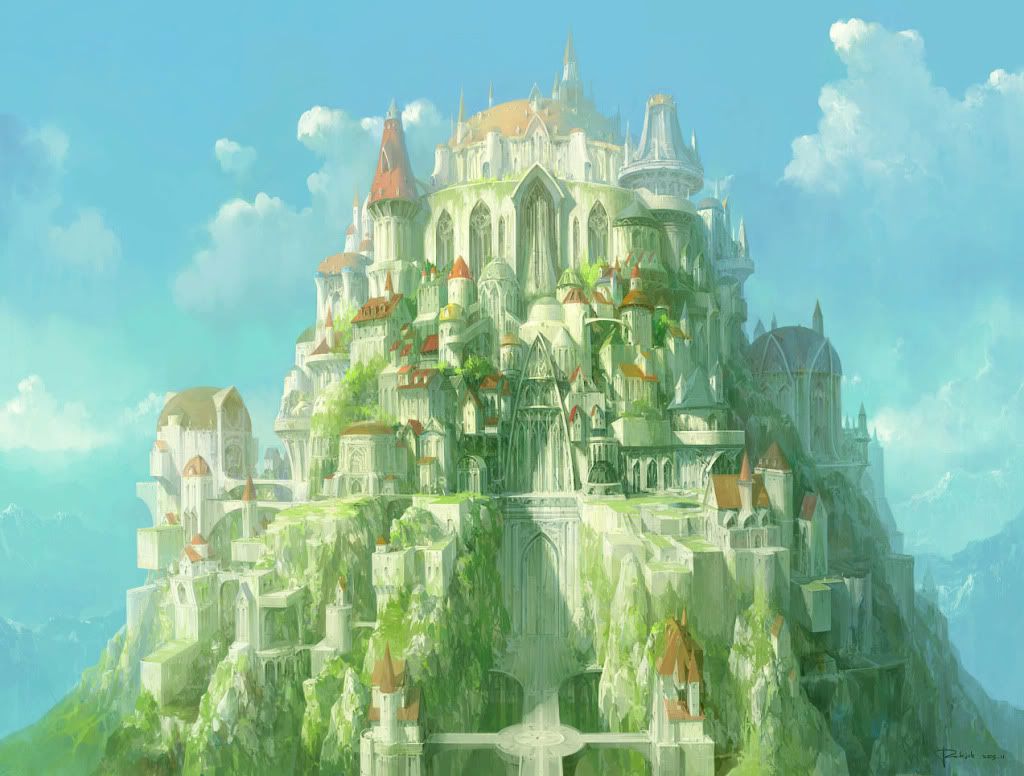 Galaoa is a kingdom that lies in the center of four other kingdoms. Each of those four kingdoms were originally a part of Galaoa centuries ago. This means they are the son/daughter kingdoms of Galaoa, and brother/sister kingdoms to each other. Each of the four are easily differentiated from each other due in part to differences in climate as well as culture and tradition. At times these differences have caused some disagreements in the past and there were more than a few threats of war. The High King of Galaoa, despite his otherwise isolated influence as king of that region, still has power over the other kingdoms which is why he is known as 'High King'. He has always put forth an effort to step in and prevent outbreaks of waring acts among the kingdoms in an effort to preserve peace.

Though they are brother/sister kingdoms, each individual region isolates itself from those around them. Some isolate themselves because they pride themselves on being better than the other three, some out of hatred for one or more of their siblings kingdoms, and some simply wish to be left in peace and on their own. The four kingdoms may have seprated from each other but all of them are still highly respectful or fearful of Galaoa and will come when the High King summons them to his caslte. Galaoa itself is a netural kingdom where peace is law. Those who cause trouble or try to influence chaos in any form are punished. To try and inspire rebellion or de-throne the High King would provoke an immediate death sentence.

The High King, now an ancient man and approaching the autumn of his years is well aware that if the four kingdoms remain as they with their current levels of hostility and isolation, when his title changes to the 'Late High King' war will inevitably, in the following years, come with his passing.

However, the wise old King has a trump-card up his sleeve.

On the wind there whispers an old legend about the Gods tying an invisible red string around the little finger of men and women who are destined to be soul mates, and will one day come to marry. This was merely a myth, however it was a powerful one as it not only existed in Galaoa, but in all four of its surrounding kingdoms. This time however, it won't be the Gods so much as it will be the High King who ties a red string with each of the princes and princesses to their 'destined' one. He realized however, that if he should tie them to each other there would only be more conflict and strife between those who see differently among them. Instead, the King decided to arrange each of the princes and princesses, including his own great granddaughter, to marry a commonder from either their own kingdom or from another. If the Royals of each kingdom could love and gain insight of the people around them who were most effected by war, he believed that just maybe they could finally look past their differences and willfully become allied kingdoms once again...

This was of course assuming that everything went as planned, but with those who are still young, one can never be certain.

Five commoners from different kingdoms have now been chosen for various reasons and will attend a ball held in the High King's castle where the princes and princesses will also be in attendance. The commoners may have heard about the princes and princesses but never before have seen them, let alone met them. Commoners were strictly forbidden from entering any Royal Palace without summons before, which hardly ever happened.

The time grows near, and the ten youngsters bound by the King's thread of fate and arranged to be married will soon meet each other at the ball...
~**~**~**~**~**~**~**~**~**~**~**~**~**~**~**~**~**~**~**~**~**~**~**~**~**~**~**~**~**~**~**~**~**~**~**~**~**~**~**~**~**~**~**~**~**~**~**~**~**~**~**~**~**~**
Only the Galaoa Commoner is open, which is our last Male character. There are five kingdoms that are the Royals and Commoners come from, there's more about the kingdoms on the roleplay's introduction. The whole RP will be taken place in Galaoa where the engagement ball will be held at and where the characters will be gathered at and be paired up to the person they are arranged to marry by the High King. The Royals may have met before the ball but the Commoners never met each other and only know the Royals by name alone. Though there are arranged marriages, well engagements is more accurate, your character does NOT have to marry the people they are engaged to. That's where the fun starts with love trinangles and sercet affairs. As the roleplay moves on, I will make requirements that te characters have to meet in order to break off the engagement.
Each character can be one of 11 races, and SOME (ONLY some and are closed to new characters; meaning I'm only accepting full bloods) can be a mix of the 11. Again there's more information about that on the roleplay's introduction. Make the commoner a bit realistic. I do not want to see characters that come from the worst possible and highly dramatic background. Yes, your character can have a broken heart that was caused by the bastard man whore, mother/father was never in the family picture, was the least favorite of the siblings, etc but do not go over board on the SSS Realistic and into the Sea of Over Rated Drama.
EXAMPLES OF CHARACTER SHEETS!!! These character sheets is what I expect to see and could give you a bit of help on creating your character:
Commoner Example-
Escasriet
You must be able to write a post of 550 words or more, and could post at least once a day when we get things going!!! If you can't do either, then please look for another RP. If you can, then come and join the kingdom of Galaoa and become tangled in the red strings of fate.
If you are interested in reserving a character or have any questions please either post or PM me. Here's the link to the RP:
Galaoa: The Tangled Red Threads of Fate