Ooh, it's alright, I've just thought of something else that will be fun...
[The Physical]
Name: Bel (previously Bella Iris Sunder.)
Age: 18, perpetually.
Sex or What can be determined: Female.
Species: Once human, now only a small portion of her human self remains, mostly overtaken by her new demon self.
Appearance: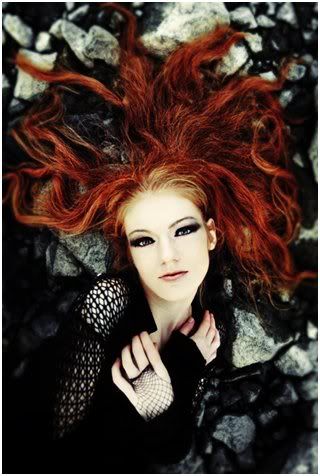 Retaining her human appearance, Bel looks like any human girl, save the paleness of her skin and the darkness in her eyes. Her hair is long and red, falling in soft curls almost all the way down her back. She is thin, probably too much so for a human to be, since she stopped eating once she started residing in hell, she didn't need to.
Height: 5'8
Weight: (This is in kilograms since that's what we measure by in Australia and I dunno how to convert it) 47 kg's
Eye color: Once green, now mostly black.
Skin color: Pale caucasian.
Build: Too slender.
Other physical traits: When Bel is angered her inner demon shows itself, transforming her pretty face into a mask of evil and ugliness. Her teeth grow and sharpen until they extend out of her mouth and over her chin, slicing up the lips that contain them so they are simply surrounded by bloody flesh, and her hair explodes into a mess of burning flames. When she returns to her normal appearance, the physical damage to her face is still there, and takes some time to heal.
[The Personality]
Attitude towards others: To all outward appearances, Bel is nothing but a haughty, self-obsessed (for lack of a better word) bitch. Inside, her coldness and rudeness comes from the lack of a soul, which is what determines the proper way to treat people, and oneself.
Habits/Tendencies: Bel is quick to anger, flying into a rage over small things, but can contain herself in situations where it is needed... for a while.
Strengths: She is capable of anything, since she lacks a conscience.
Weaknesses: At the same time, her lackof caring or consideration prevents her from making allies, so in many dire situations, Bel has stood alone.
Fears: That she will remain soulless forever. This is an adequate fear since it is probaby truth, so she doesn't let herself think about it too much. Other than that, she couldn't really get herself in a worse situation than she already has, could she?
Favorite pastime: Though she would never admit it, Bel actually enjoys nothing more than a nice cup of coffee and a moments peace -unfortuantely this is a very rare thing in hell, and she hasn't enjoyed it in some time.
Religious Beliefs: Once she was Wiccan, but now she has no choice but to believe in the almighty lord Satan, since his existance has been proved without a doubt, and heaven hasn't helped her out at all, have they.
[The In between]
Bio: Once, as I said above, Bel was your everyday, mundane, if a little wild, human teenager, living in Sydney, Australia. She had the usual horrible relationship with her parents, a tiring love life, as Bel considers herself pansexual, here meaning she isn't attracted to people for their gender, race or religion, simply based on their personality, and some people found that difficult to fathom. Guys were annoyed that she wasn't straight, girls wanted her to be gay or go away, theres' no in-between, apparently.
Tiring of the world and feeling incapable of changing it, she left her parents home and went to strike out on her own, but found this difficult, as the world can be an ugly place. The first time she heard from her parents was when they phoned to tell her her beloved younger sister, the only one of her family she really cherished, was dead, gang-raped by a group of men then stabbed and left to bleed out in the street. Incenced and desperate for revenge, she returned to Sydney for the trial, but only one of the men had been found, and he wasn't talking and was eventually aquitted, not enough evidence to prosecute. After months of searching that lead nowhere, Bel uncovered a book, in a strange occult bookstore she'd happened to stroll into one day. It spoke of dealing with the devil, and the power one could gain from doing so.
Feeling a little stupid, she decided to try it. Nothing else had worked, had it?
She called Satan to her in a complex ritual involving the sacrifice of a dove, among other things, and to her utmost amazement, he came, wearing an alluring smile and telling her of almighty powers.
He granted her the power to find and destroy the men, using the scrying of fire and control over flame as her weapons. All she had to give himwas one small thing - her soul, and she could even kill the men first.
She agreed, and he was gone.
To her amazement, she now had the ability to look into flames, concentrate on what she wanted to find and there it was! SHe could also control fire, though she couldn't coax it from nowhere at this stage.(this ability came to her after her transformation.)
She hunted down the men, one by one, and killed them all, giving little thought to her own side of the bargain, swept up in her newfound power.
But as the last man fell to the ground before her, his body black and blistered, she felt a twisting in her chest, and she fell too, but she didn't stop at the floor.
Down, down she fell, through earth and rock, to the earths' very centre. Lying on the floor, she heaved herself to her knees, and there before her sat the lord of the underworld. "Now it is your turn to uphold your side of the bargain," he told her, the same twisted smile on his face as he reached out his hand and plucked her soul from her body. She felt the change in herself, a coldness settling somewhere in her core, and her body seemed to gain some strength as it lost it's mortality.
"Wh... what happens now?" she asked, her voice shaking.
"You can return to earth, where you will die," her new Lord replied, "Or you can stay here, keep your power, and serve me."
She chose the latter, afraid of death now that she had seen what awaited her afterward, and heard the screams echoing through hell.
And so she remains.
Birthplace: Sydney, Austrlalia.
Previous existence prior to worm drop:Bel's duties in hell were mostly of the torturing persuasion, punishing sinners with her fire, though being burned alive would be infinitely worse to someone who couldn't die.
Satan finds' it amusing, she supposes, that she often 'happens' to be assigned to people she once knew, who all recognise her somehow, and cry out for her help until they realise she is what they need to be saved from.
Allegiance: She has always admired the Horseman of Death, or horsewoman, she supposes, so being assigned to serve her wasn't so bad, considering it could have been Lexx. The smell of vomit is so hard to wash out.
Occupation: Satan has promised her that if she can rid the earth of this worm and return to hell alive, he wil return a piece of her soul. He hasn't specified which piece, but somethings better than nothing, right?
[The Heavy Metal]
Weapons: Bel prefers to fight with her flame, since she now has the ability to conjure it from nowhere. However, she also has a cursed bow, with self-igniting arrows.
Attire: She has worn the same thing for the last satan-knows how many years, the same thing she was wearing the night of the last kill, when she was pulled down to hell. All black, her shirt corset tied at the front with netted sleeves that hook onto her fingers, and black, skintight pants, both fireproof, of course. Her feet are bare.
Items: None.
Howsat?