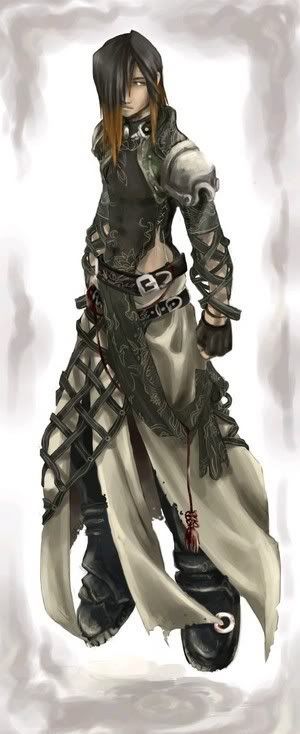 Staring into a full length mirror, Dreku felt out of place. After having Kagome drag him here and then having to deal Inuyasha's continual glaring, he was about to leave until Kagome came up behind him with a long leather duster. As she slipped it over Dreku's shoulders, she said, "To replace the one you lost." Patting his shoulder Kagome wished that Dreku was happier, but given what she knew about his past that was hard. Seeing him turning towards her, Dreku placed the duster over his shoulder and looking around. "Where's the bandannas?" he asked neutrally.
Tilting her head and raising an eyebrow. Pushing his hair up and showing an pointed ear. "Oh." she says, pointing over the other display. Going over and quickly picking a few of them. Dreku, after tying a bandanna over his ear, sighed and rubbed the scar that ran up his forearm. She places her hand on Dreku's shoulder, Kagome knew that he hiding something from her and her friends. "Why do you go it alone Dreku, even through you have people to rely on?" she asked with concern in her voice. Shrugging off her hand, he replied in his neutral tone, "It's the card I was dealt. So I deal with it. Nothing more, nothing less. There's only two things that's for me now, and either of them are in reach."
Leaving Kagome and Inuyasha in the mall, Dreku felt the heavy sadness start to weight on him. Ducking into a well made tree house, miles outside the city, he covered himself with the his new massive duster and started to cry. 'Why now?' he questioned as he bawled like he was a little kid again after his parents' deaths. And it wouldn't stop it, even though he is trying. As the tears came the heaviness over his heart grew bigger and heavier. 'Just kill me already, I'm tired of this shit.' he silently snarled heaven-ward as he fell to sleep.
Days, and two weapon upgrades later, Dreku was walking with the gang in the feudal era, far enough back not piss off Inuyasha but close enough to be with in ear shot if shit starts to happen. "I'm always on the the outside looking in, no matter who I'm with." he says dejectedly with a sad sigh. Grabbing the handle of Avenging Wolf Blade, he wondered if this was hell or just a purgatory like place. Since he choose not to know, Dreku just took whatever came his way.
Twirling his dual bladed scythe in an encumbrancing arch he falled farther behind Inuyasha's group. Slowing to a stop Dreku scanned the surrounding area for threats. But he didn't see anything that would cause problems. "Where are you?" he asked softly. Bringing himself into his opening stance, the scythe's dual blades pointed down, shaft against his forearm, turning slightly to lessen available target area. Narrowing his gaze on a point obscured by trees, he readied himself the fight. Dropping his center of gravity Dreku hunched his shouldets and leapt.
Barely avoiding the fire attacks that impacted where he was, he swung the scythe in a wide swing. "WIND SHIELD!" Once the nearby wind was spinning around him, Dreku finally saw his would be attackers. 'Idiots.' he mused, landing in a crouch. "You failed." Dreku states, his tone hard and cold. Becoming a whirling mobile sphere of death he waded into the attackers' defenses. The clang and grunts of battle rang in his ears causing his pain to be overshadowed by his rage. It was several minutes before Dreku could end the fight.
Spinning the scythe to clear if of blood, he angled behind his back and scanned the surrounding area again. Finding no present threats he resumed walking. "Always apart it seems." he murmured. Not noticing the shadow trailing him at fair distance.