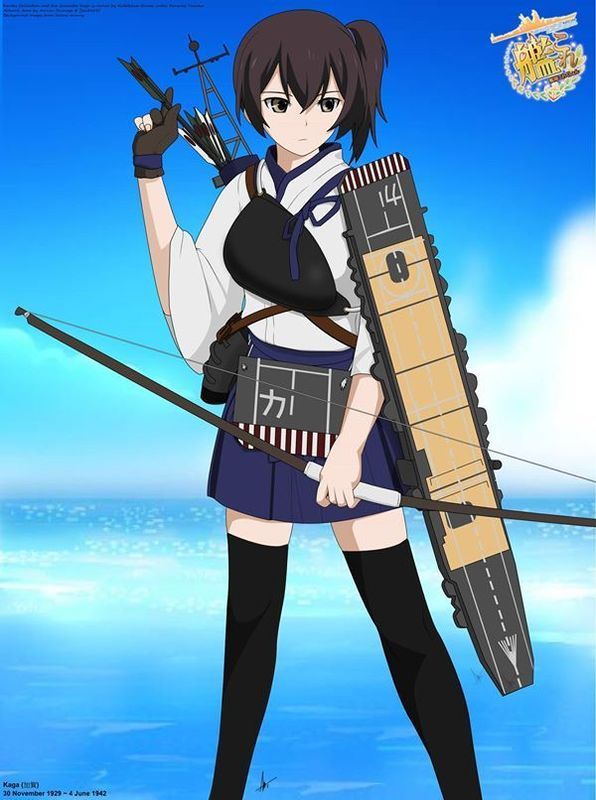 Ryder Shogun, geared for war in Winged Heavy Zaku body armor, stood above a ruined Asian port city as the local admiral sortied his fleetgirls against an appoarching Amyssal raiding force some hundred nautical miles away. Unshred tears glistened dully in his dark eyes, memories of Kaga's sinking give him no rest. They tore his already broken heart into even more pieces. Clutching his battered helm in a death like grip Ryder turned abruptly on his heel. A desicion that he had been debating for while suddenly was settle itself. 'It's settle then, I'm leaving this reality and go adrift on the waves of the unknown till it stops or I die.' he thought, entering the barracks. Swiftly nearing his room he activated the Zaku droid. "We're leaveing Xever, be ready." Ryder stated stiffly. Once he knew that the Droid was up, he grabbed the second backpack that held his clothes and back up body armors. "Sorry Kaga, but with out you here I can't stay here."
Pausing at that sight of her bow and full quiver, Ryder remembered Kaga's last words, "
Sorry that I couldn't have your children Ryd
." Closing his eyes at the sharp jab of pain it caused, he gently grabbed them and felt them morph into a fairy plane throwing Gatling. 'Another Gatling gun to go with the other three I have. Great.' Ryder thought once the new gun merged with his armor. "What are you doing Shogun?' A voice questioned from the shadow. Looking over his shoulder Ryder saw Ushahei standing there with crossed arms. "Leaving. Can't stay here." he answered. The tanned fleetgirl shook her head at his statement, "You aren't the only who misses her you know." Ryder didn't reply to that known fact he didn't consider very often. Turning his gaze forward he proceed on while Ushahei followed him.
Upon reaching the launching bay he saw more fleetgirls he knew lined up.
"Ismarai, Yue, Rolina what are you doing?" Ryder asked crossing his arms. Ismarai mirrored him, "You're planing on doing something very stupid and dangerous. We've decided that since you are special to us, we are going with you." Shaking his head to forestall his kneejerk response he just sighed heavily. "Fine. Take these, your usual mountings won't be able to keep up with me." Watching the fleetgirls strap on the portable body armor watches, he saw his Droid and another fleetgirl waiting. 'Not another one. Why didn't have to be Hibiki?' Ryder thought. "Ryder, I'm coming to. For personal reasons that doesn't include yours." Staring to ceiling he growled to himself. 'Why lord? Why?' "Whatever. Try and keep up."
After beinging launched Ryder glanced back to see his Droid and the fleetgirls fall in trail with him. Setting a brutal pace Ryder aimmed towards a wandering squall that covered a whirlpool that could take where he wanted to go. "Let's get wild."