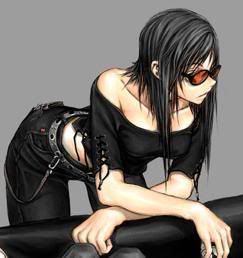 Agidyne Cnyte sat in the cockpit of his missing step-sister's SFX 140D Super Saber, remembering her final moment she shared with him. '
Listen Agidyne, soon I'm going have disappear soon for something very important. And if I don't come back, I want to find me with my Super Saber
.' Remembering those words from that night, he touched the side of his mouth as something came to him. "She kissed me, but it didn't feel like a sisterly one. It felt more, need full." Agidine said quietly. Looking up through the canopy he always wondered why it didn't bug him more than it should've. 'Maybe I always knew that our connection was different from the other members in the family.' he mused.
Reaching up, Agidine ran a finger along a repaired crack from one of his first combat missions. Feeling those residual emotions he pondered if she ever thought of him, even after all these years apart. Shaking himself out the reverie he powered the Super Saber as a flight of SFX-180 Wasps passed over his position. "It's time." Agidine states, settling the helmet on his head. Once airborne, he angled the fighter till it was just off the Wasps' flight path. Pushing it up to cruising speed and attitude he glanced about, searching for possible attackers. 'Where you'd go Hamakaze?' He slide that ever present thought to the backburner while settling in for a long flight.
-
Vivian Qu watched her squadmate, Hamakaze, stare at an old photo. Never asking about the photo, she wondered why Hamakaze never talked about her past. She knew that her squadmate cared for person in the family, a step brother that was closer than the others. "Vivi, Hama, commander wants both of you in the rec room in forty minutes." Nodding in answer Vivian turned and picked up her flight gear from the hanger. "Hamakaze, let's go see the commander. Then we can go out on patrol or something for a few hours." she said. Seeing Hamakaze press the photo to her heart, Vivian left to give her a moment alone.
"You sure have a deep connection with that step brother Hama." she said softly. Running a hand through her longish pixie cut hair Vivian thought of her adopted sister, Lilia, wondering where she was. 'Is Hama rubbing off on me?' Stopping on the overhead catwalk, she looked toward the Super Wasp she and Hamakaze took up. "A storm's coming, and I've got a feeling that we are going be in the middle of it." Glancing up she sighed to herself while adding, "So will this ride be interesting or will it be a hell on wings?"