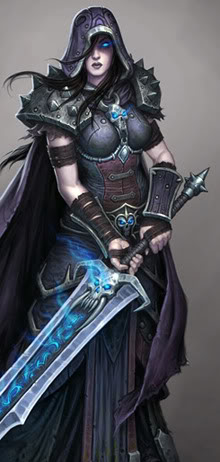 Elchandra Masters, adopted daughter of the legendary death blade Daimyo Masters, enters the Grim Blade tavern ahead of her squad of death blades. Taking in scene afore her, noticing possible exits, she walked and slid into a booth in rear. Laying her rune engraved great sword in front of her, she turned catacorner and preceded to watch the crowd. 'Aren't they lucky to be partially oblivious to the war raging outside the town's limit. They'll never have my nightmares to contend with nightly.' she mused neutrally. Catching her glowing sapphire gaze on a passing jug, she rolled her eyes and tired shoulders.

"Would have died if I didn't accept the blade's power and became a death blade. So there's no use in complaining about any consequences that appear." she murmured softly. While her squad entered in ones and twos, Elchandra wished that the world could solve their own problems. 'Whining little babies.' she thought as tingle ran up her spine. Turning her glowing sapphire eyes on to the Death God of Justice's messenger standing there, unseen by anyone not touched by powers, she tilted her head. "What does the Lord need me to do now?" Elchandra inquiries in a neutral tone.

"A devote follower as requested assistance from our Lord in a personal matter involving his wayward daughter. She is to married in three months time, the devotee wants her virtue, soul and body, protected till the day of the wedding." the messenger told her. Considering his words, thought they were a direct order from her patron, Elchandra wondered he chose her for this task. "Would he be excepting me?" she asked grasping her great rune blade. "He didn't specify a gender, only that he wanted the nearest Death Blade to come soonest."

Glancing towards her squad she thought about how long she realistically let her squad stay to together. "When do I have to leave and where am I to go?" she inquired softly. "Tomorrow evening, at the latest to Grand Zatham." Closing her eyes as her mind raced through her choices. 'Grand Zatham, capital of the third most powerful kingdom in the realm. Decent enough that the Lord hasn't sent any real seekers in to search out wrongs. So why grant a boon to that kingdom now?' she inquisitively wondered when grip tightened. "Tell our Lord that I'll leave once I get my squad settled." Elchandra states as the messenger fades into the shadows.
-
"My king your boon as been answered, the god's Death Blade will arrive once her squad's affairs are in order." Nodding as the junior priestess backed out from the room, the king glanced towards the window and wondered if the prince he'd chosen for his daughter could break the strangeness around her. "It's for the best." he states with a resolute nod. Standing, he thought it about time to see his favored mistress. Striding towards his rooms on the opposite side of his castle, he had failed to notice the maid assigned to his daughter slip into the projected darkness.
-
Entering her mistress's room" always like like an unnoticed phantom, she paused glowing ethereal ruby eyes on the princess. "Mistress, your father has retrieved word that the Death Blade set to guard you here will be here once her affairs are in order."