This thread is about commonly seen pieces of technology in the times. I will first deal with Omega Division infantry aspects, then I will deal with ground vehicles, then aviation vehicles, but not all at once. If you would like to add, let's say, a weapon or vehicle to this list or multiple, PM me and send me some information about it before making it official. In fact, I encourage others to come up with more ideas because I will only do the bare minimum to fulfill these areas, but don't go overboard.
Tyanide
-
the fictional metal.
Tyanide is often referred to as a fictional metal because of its incredible resilience to damage. It dwarfs the toughness of diamond and other alloys manufactured from minerals found solely on Earth. Tyanide is also the most dangerous to get, as it's found under the unpredictable oceans of Zhark. It is the most valuable metal within the Planetary Union because of its sole origin, as far as we know, on Zhark. Tyanide has it own magnetic field, which some research is being done between the relationship of the amounts of Tyanide found so far on Zhark and the storminess of the planet. The Omega Division is still trying to implement it in its technologies, but, there has only been one place they have been able to implement it in one unit because Tyanide does like to disrupt electronics. There will perhaps be no end of the study of Tyanide. Some have thought of using it as a means of generating electricity.
ODA Armor
ODA armor means "Omega Division Adaptive armor," meaning this will suit the class of a certain individual. A class suited for heavier combat would have heavier plating, would be resistant to explosives and hold well against bullets, but might be weak at the joints and have lower mobility, to say. A sniper-like class might have lower armor strength, high mobility, and be weak in its defense. Something more like a reconnaissance or raiding class could have higher armor strength, be resilient against bullets, have admirable mobility, but be weak against explosives.
Infantry Ballistics
Manufacturer(s): Veinhammer Foundries
The above is the Veinhammer CW-35-LR. It's a customizable laser rifle, and proves efficient on frontlines and in raids. It's practically an all purpose weapons. To reload is mainly just to put a new battery that will last 50-60 rounds. However, since it is a laser weapon, it is easily detected once its wielder opens fire. The rifle is capable of taking down some tanks with some seconds of repeated fire at its engines, but that runs the risk of being too open. Its under-barrel attachment shoots small explosive projectiles effective in taking out clusters of infantry or small drones.
The above is the Veinhammer MM-9VS. This bolt-action rifle in particular can be linked to the wielders armor suit to give useful information. It has a conveniently interactive scope that tells the distance to the target aimed at, the rifle itself can display wind speed and the magnitude of the Coriolis effect for the sniper at the designated target. A target can be marked by an under-barrel trigger. However, if the shooter loses focus on the target, the information will fade away and a target will need to be marked again.
The above is the Veinhammer EPR-D37. This rifle loads a 3 round clip of lithium rockets which acts as the butt of the weapon, where a chemical reaction upon missile's impact occurs and even though it's a small rocket, is capable of shattering heavier tanks and rotor-wings.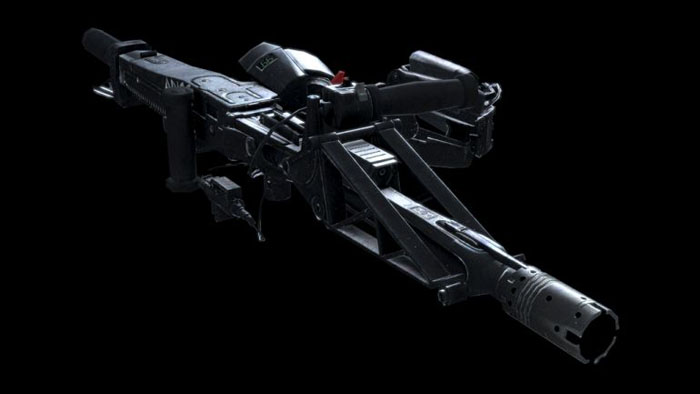 The above is the Veinhammer FS-PS10. It is a laser-shooting, rapid fire machine gun which shoots a devastating laser at 600 rounds per minute, or 10 rounds per second. To reduce recoil and increase convenience, the gun is able to clip on to the hip of its wielder. Additionally, a laser-sight is added to the weapon to give an idea to its user of where the next shot is going to land. It's great at leveling the field.
The above, the Veinhammer PH-C.60 is a 60 caliber handgun which is incredibly deadly and precise. Standing in its way means certain death.
Ground Vehicles
Two man crew
The VPI-14-Multitask has its name state its purpose. The Multitask is able to lay down heavy fire upon an area while anywhere between 5 to 8 soldiers unload from the back and deploy under the cover of this speedy vehicle. While operating, the Multitask can also surf different telecommunication lines to intercept enemy messages and conversations, and is vital before and during operations so the acting forces can respond as necessary.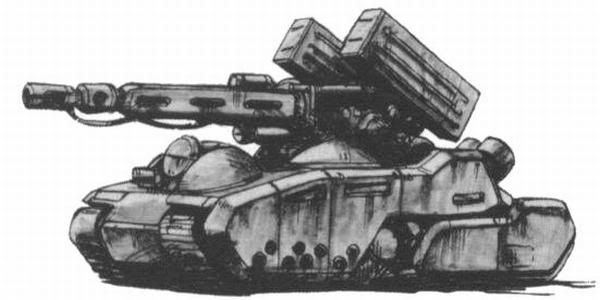 Two man crew
The R9-2T-Chaos doesn't have its name for no reason. The Chaos brings devastating force to the ground with 230mm rounds of crystallized carbon, has high mobility, and is able to render air units useless with high-magnitude pulsating lasers all protected by layers of alloys coated in Tyanaide mined from Zhark. Since it has this dual purpose, some units out of this formation will carry more energy cells to provide better anti-air support. The Chaos tank is dominant on the battlefield.
Four man crew
The A-42LB-Euphemism is the embodiment of power. There is no armor force known to be able to compete with this outside of the Omega Division itself. It has a 300mm cannon with rounds of depleted plutonium, a 60 caliber machine gun firing rounds of tungsten, and a single anti-aircraft laser-shooting pod slightly heavier than that of the R9-2T-Chaos. Let's not mention that its armor plating is entirely of Tyanide. It also has the capability to surf telecommunications networks like the VPI-14-Multitask, and because of the sheer size and magnitude of these vehicular menaces, the UPAF has only manufactured 42 of these, two of which are in reserve for replication and replacement. As if a Euphemism could be destroyed.
Aviation Vehicles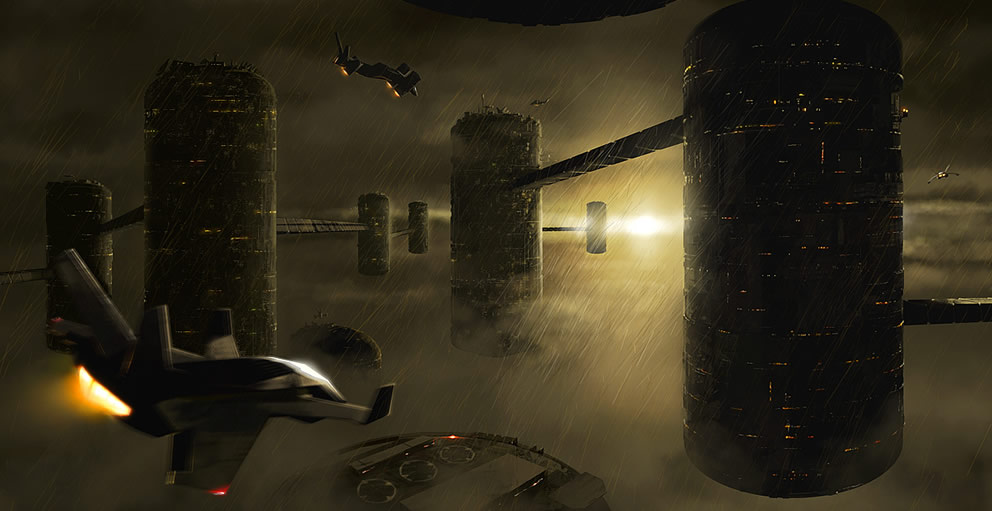 Two man crew
The IW-17-Transcendent is one of the fighters employed by the UPAF that can traverse orbital flight and sub-exospheric flight; meaning it could fly into space and back if it wanted to without having any trouble at all. The Transcendent can be deployed from space or from the ground, and is regarded as a jump-jet. It excels at intercepting fighters in space and providing tactical support to ground forces. It deploys laser cannons for aerial dogfights and strafing runs, and small proton missiles for heavier targets.
Two man crew
Standing above most others of its type, the HOA-5-Marauder is one of the most exceptional fighters of its time. Not only can it cross between atmospheric boundaries, but it carries firepower to take out entire defensive lines. An outstanding ground support fighter with homing missiles, few other aviation vehicles its size can escape its wrath.
Supports up to 4,050 people, five hundred man crews.
This serves as the capitol ship base structure for all U.O.S.'s (Union Owned Ship). Capitol ships are to provide adequate fire support and a place for fighters to dock, rearm, then set flight again. They also carry a large railgun at the core, and when unleashed it can tear holes in opposing fleets and defense platforms.
Twenty five man crew, up to two hundred passengers.
The UW-Magnus-M120 is the method of interplanetary troop transport selected by the UPAF. It has some armaments to provide support to its unloading soldiers. Usually, the ship will land in places with little opposition, near an enemy camp (not outpost or base), a civilian city/town, or a forest, even. It can could carry 3 Euphemisms if loaded on, and it could carry 200 infantry. Scores of Magni (plurual for Magnus) can only mean bad news for the enemy as the Magnus is heavily armored and takes a beating before incapacitating.
Fifty man crew
The Anomaly Class Frigate is an all-purpose frigate used by the UPAF; it provides a fair amount of support against fighters and has heavier cannons and armaments to deal with ships its size. It also has a hangar, used for obvious reasons that stores about 1/3 what a capitol ship could carry, and what would look like another hangar is a platform for the small railgun on board. With this equipment, the frigate becomes a great support ship.
Two man crew
The UW-Magnite is a smaller dropship for smaller numbers. These are used for more strategic insertions of UPAF forces. It is also capable of unleashing a flurry of missiles upon any strategic target, allowing safer travel to destinations and the ability for the dropship to defend itself.