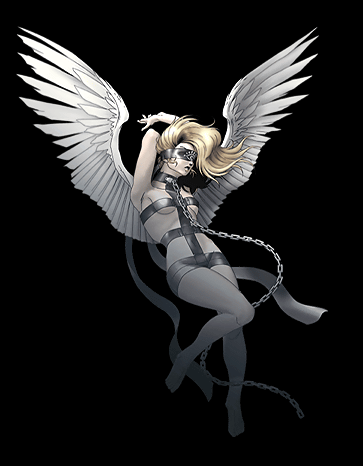 Spartan Cnyte brought his Ninja 650R to stop near Minato and Hamuko's dorm. Taking his helmet off, he heard footsteps behind him. Then the scent of blossoms and Tartarus wafted to him. Turning to face Hamuko, he watched her approach him slowing. 'Why did Nyx have to hang me and her as barriers? On separate timers, for the same damn reason? Ungrateful witch.' he thought heatedly. Catching her ascending hand in his, Spartan pressed it to his cheek and sighed. "You made it." He nods at the comment, "No thanks to Nyx." he said softly.
-
"Doesn't matter to me how long it took Cnyte-kun. All that I care about is that you are here now." Spartan pulled Hamuko into his arms and squeezed her tightly. Feeling her arms drape over his neck, he blanks out everything else. Minutes rolled by as Spartan held Hamuko in front of the dorm. 'Not getting separated from her ever again.' he thought, as he felt her kiss his jaw. "Let's go in Cnyte-kun." Letting her pull him into the dorm, Spartan saw the SEES members lounging about. Giving the group a small wave, he went up to his room and flopped. Crossing hands under his head Spartan closed his eyes.
-
Drifting into his inner scape, he saw his five personas there. All reconstructing themselves from the kernel he saved before he was hung in front of Nyx. 'Pale Rider, Samael, Lilim, Hell Biker, and Lamia thanks for coming back.' he thought. The personas just nodded as leaving him to re-strengthening his ties with them. Walking toward the small table that held the cards of his personas Spartan laid a hand in the center of star.

'I, Spartan Cnyte, give my word that I will take full responsibility for the consequences of my decisions.' he thought as a blue butterfly materialized for a second. Once that was squared away, and the butterfly vanished, Spartan loosed a soft sigh. 'What next?' he wondered, as the room faded away.
-
Coming to minutes before sunrise, Spartan sat up in his bed and listened to air-con kick on. Reflectively glancing about, a habit he picked up after being released from the seal, he roughly rubbed his face to clear any remaints of sleep that lingered. 'Relax Cnyte. You aren't on the seal anymore.' he thought shaking his head. Feeling the anger and sadness that dogged him since the seal raised up from his scarred psyche, Spartan rose from the bed. Catching his reflection in a full length mirror, he traced the raised scar on his neck. Knowing that the rest of it, which bisects his back right to left, was hidden from view by his white tank top. Reaching up and staring hard through his hand, he growled silently at his reflection. "Leave me alone Nyx. I did my time as your damn seal. So why can't your darkness leave mine alone so I move on?" he inquired, anger spiking through his voice. Closing his gunmetal eyes, while taking a calming breath, he spun away from the mirror and exits his room.

Stopping near one of the couches, Spartan noticed what time it was. "Twenty till five." he whispered also noticed that the sun hadn't risen yet. Sprawling out, he drops his head and listens to the surroundings. Taking a deep breath Spartan attempted to center himself from his ever present emotion turmoil. 'A day at time Cnyte.' he mused. Throwing an arm over his eyes, he gradually tuned out from the world and began to drift inside of himself.