Sitting in the dark of the warship's war room, the captain watched his lieutenant sulk in the dark as they made their back to safe harbor. "It will get better, trust me." he said as Caliban stood up and just shrugged. Leaving his captain in the room Caliban passed everyone in the corridor. Ever since the battle for Thogonia 10 and death of his girlfriend, he has been in a emotional black hole. No one could get him out of it, not even the ship councillor. 'No one can help me.' he thought as he reached his quarters. Entering and dropping on his bed, Caliban stared into the pillow. 'Enter the darkness.' he pondered, then fell in to a dreamless sleep of darkness.
Four months later
Caliban walked through Old DC, stopping at his old haunts to reminisce about the better times. Coming upon his old dojo he went to when he was fifteen. He a crush on his sensei who was female, and wondered if she remembered him. 'Why not.' he thought, as he entered. The attendant bowed as he saw Caliban entered. "And how are you doing?" he asked. Caliban shrugged and slipped off his duster, sighing as something came back to his mind. 'I shouldn't be entertaining the idea, but I can't help it.' he mused. Seeing her getting the class ready to go, he felt that small humming feeling he hadn't felt in weeks come back. 'Hope I remember the steps.' he thought, placing himself in the back of other students. As it started, everything came back to him. He had been coming here regularly for three years, till he joined the military. Caliban had always wondered if his teacher liked him than just a student. Because she always seemed let him off while others were knocked down. 'I was just dreaming.' he thought, shaking off that notion. But he didn't notice that she did see him. As the class went he got that feeling back he felt when she smiled at him. He never considered how much he missed it. The class ended two hours later, sitting down in his old corner Caliban rolled his shoulders. "You looked rusty Cal." he heard, smirking. "I know, out of practice. Military remember." The attendant just smiles and leaves him to his privacy. "Sensei, who's the giant in the corner?" Nagate asked as he saw Caliban. "A former student." the attendant replied as the sensei watched Caliban sit there and cooled down. 'Caliban.' was all she thought as she watched her former student.
Nagate also stared at Caliban, but for different reason. He was very suspicious of him, 'Who is the pest?' he thought with an inward snarl. Going over, he decided to put Caliban in his place. But as he started to speak, Caliban surged up and decked him. Sending him flying across the floor and into a wall. The sensei came over and stood in front of him. "Cal, come with me to my apartment." he heard her say in that pretty Asian ascent of her. Which he always found alluring, even when he was young. Nodding, he watched her head for her office. 'What now?' he thought, sitting back down in his corner. "Guess I just wait." he says.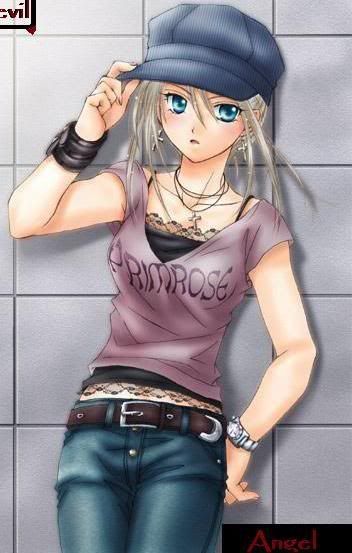 [pm if you want play the female sensei]