---
---

---
---
---
---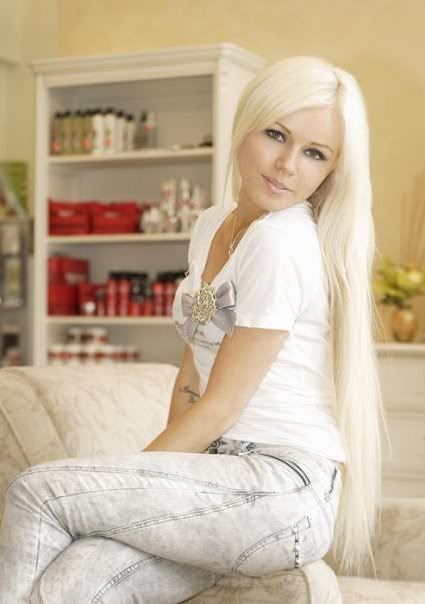 Full Name:
Reinette Elise Oswald

Nicknames and Aliases:
Reinette
Rei

Gender:
Female

Age:
22

Ethnicity/Race:
Caucasian
25% Irish || 25% German || 50% English

Sexual Orientation:
Heterosexual

Species:
Human

Place Of Origin:
Eastville, Virginia

Birth Date:
July 30th, 1991
---
---

---
---
Hair Color:
A true platinum blonde - one that, in the right lighting, appears almost white

Eye Color:
Amber

Height:
5'4

Weight:
125 lbs.

Description:
Reinette is what some might consider to be a classic beauty, although obviously styled in some very non-traditional ways. Her appearance is malleable - she can adapt to many different styles when necessity calls, and does so quite willingly in almost every situation. The most obvious thing about her, and the first thing people always tend to notice, is her hair. The nearly hip-length hair is quite healthy for something so long, and Reinette takes pride in it, making sure to care for her platinum locks carefully. She can be found many times in various types of up-dos, and half-up half-down styles, although letting her mane free is her primary choice. She can usually be found wearing at least basic makeup, and has smooth pale skin to compliment her overall appearance. Her face is "her own", as she would say, with a slightly defined chin and slightly sharper cheek bones than would be considered "normal". Her body shape is definitely that of a womanly sort, but she isn't super well-endowed in the bust department. Instead, she has a relatively average figure - curvy, up to a point. As for her fashion sense, Reinette is very fond of frills but is adaptable in clothing choice. She wears anything from tight dresses to baggy pants, though she prefers to be well-dressed most of the time. She believes the saying "Diamonds are a girls best friend" is accurate, at least in her case - she blames the many years of sequined dance costumes she wore as a child for her love of all things sparkly. Due to the many years spent dressed in tutus, leotards, and scratchy costume materials, Reinette can be comfortable in almost anything. She is comfortable in her body, and is comfortable in any coverage of clothing. She can usually be seen smiling, whether its because of something someone said or did, or just due to her own thoughts. Her fingers are slim and long - those of a piano players - with nails that are usually well taken care of. If they aren't designed or painted, they are relatively close cut and clean. Reinette's arms are toned, but her real strength lies instead in her legs and core - symptoms of the time she spends at the gym.
---
---
---
---








Personality:
Reinette is an overall happy person, at least for most of her life. Up until her parents passed, she loved to be around people... But that changed all too quickly. After her parents passed, she pulled into herself - effectively cutting out each and every person who had been there her whole life, including her Grandparents. It goes without saying that she isn't someone who is happy all the time – she experiences the same range of emotions as the average person. She tends to lead more towards the happy end of the spectrum, and considers herself more optimistic than anything - at least, that was the Reinette of yester-year. In the end, she is the type of person who would be there for you at your worst time in your life without a second thought... Even though she's cut out the people who would do the same for her. In her mind, she just wants a fresh start. She wants to forget who Reinette Oswald is, because Reinette Oswald has been hurt more than some can imagine...
Hobbies:
Going to the gym.
Getting lost in her imagination.
Thinking about Tolkien spin-offs.
Reading alone in her room.

Habits:
Twirling her hair when she's nervous.

Oddities:
She truly believes in ghosts, and has a hard time going into very old places at night when she "has a feeling" about them.

Likes/Loves:

The World of Tolkien
Reading
The Cello
Handmade Birthday Cards
Classical Music
Singing
Silent Films
Theatre
Aquariums
Thunderstorms
Quiz Apps
The Civil Wars
Smiles From Strangers
Hot Tea
British Comedy
Elvis
Dislikes/Hates:
Cars
Tanning
The News
Trampolines
American Idol
Most Bugs
The sound of clocks
Extreme, Unsecured Heights
People Who Chew With Their Mouth Open
The Feeling One Gets Right Before Sneezing
Being alone
Freefalling
Squirrels
Senseless Arguments
Glee
Snowstorms
---
---

---
---
History:
Reinette grew up and was raised in a small town, one where nothing much ever happened. She was close with her family, being the only child. As a youngster, she danced at the local dance studio, right up until she was accepted to the local community college - Eastern Shore.
Her life through schooling was rather uneventful. Her whole life, for that matter, was uneventful. Reinette was a pretty popular girl, having friends of all sorts of ages and backgrounds. Even so, she felt that she was slightly out of place, as if every piece of her life was off by just an inch. She was someone who would get lost in the woods, books... anything where her imagination would just run rampant. In middle school, she discovered the world of Tolkien, becoming almost obsessed with the books, and eventually the movies. It was this that made her determined to write books of her own one day, helping pave the way for her chosen major in college: English.
But some stories, simple as they are, are rocked with tragedy. That's how all great stories come to pass, anyway. And Reinette's tragedy was simple, but vast. On Christmas Eve, her parents went out for a party. She decided to stay home, wrapped up in re-reading the Tolkien masterpieces once again. She fell asleep with "The Two Towers" clasped tightly in her right hand. The next morning she woke to an empty house. It felt colder than usual, empty. She searched for her parents, and when they weren't present, she called them multiple times. On the tenth time, she got panicked. She called her aunts, grandparents... anybody who might have seen them. One final attempt to call her mother was cut short when she heard three sharp knocks at the door.
Her parents were dead.
Reinette doesn't remember passing out at the news. But when she awoke, reality came flooding back to her. And if was as if her life had been pressed into fast forward, while she remained in slow motion. She was moving in with her Grandparents. She was taking time off of school. She was ignorming the people who wanted to help. She just wanted to be alone...
One fateful night, she made a wish on a shooting star. A wish to be anywhere but where she was now. To be anybody but Reinette Oswald...
Sometimes, great stories start out simple. Sometimes, they start with Reinette.
Theme Song(s):
The Violet Hour - The Civil Wars
In This Shirt - The Irrepressibles
---
---
Face Claim:
Kerli Koiv