---
THE LOST ONE | BASIL CHO
---
Basic Details:
---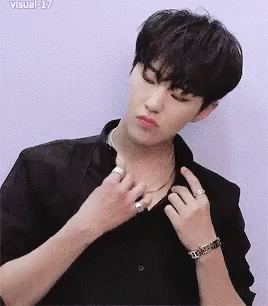 FACE CLAIM(S):
Hoshi of Seventeen
[color=teal]CHARACTER BIRTH NAME:
Cho Min-Ki
CHARACTER PREFERRED NAME:
Basil Cho
ALIAS | NICKNAME(S):
Bass; Miki; Kiki
AGE APPEARANCE | PHYSICAL AGE:
21 | 154
GENDER:
Male
SEXUAL ORIENTATION | PREFERENCES:
Genderfluid | Prefers Men
RELATIONSHIP STATUS | SIGNIFICANT OTHER:
None | None
---
Magic Details:
---
SPECIES:
Belua
SPECIES DESCRIPTION:
type of Magi, that can turn either into a familiar or into a creature - due to elvish blood in their ancestry, most likely.
More soon!
CLASS OF MAGIC:
Caedis
TYPE:
Familiar | Magus
[color=teal]POWERS & ABILITIES:
x Ability to take the form of a midget cat or a beautiful, cat-like young male.
x Ability to feed on dark, negative energies that would give him the extra energy.
x Capable of seeing in the dark, in either form.
x The power to become transparent for the short period of time.
STRENGTHS | WEAKNESSES/LIMITATIONS:
x Has superhuman speed and agility.
x Using his claws in human form. Basil has trained himself to unlock easier locks with his claws.
x
x
x
o Can be easily killed by beheading or stabbing to heart.
o Electricity can weaken him a great deal, unless he is bound to an electric wielder.
o He isn't the strongest type and his light weight, small height often makes him a good target.
o His smartass-mouth.
o Slight addiction to negative energy and chaos.
o When surprised or scared out of the blue, Basil has the tendency to automatically turn into his cat form. It doesn't happen all the time, though, but quite often.
o Can be bound to witches, demons and vampires.
DETAILS ABOUT FAMILIAR (IF ANY):
None, because he himself is one.
---
Personality Aspect:
---
PHYSICAL DESCRIPTION:
PERSONALITY:
What Basil certanly is that from the first look, this young-looking boy is bubbly and goofy to the core, his eyes looking a lot like a cat and people are often not too far off with their guesses, only because this is what he actually is - a cat. He is rather prideful about whom he is, and may fall into conflict if there is something or someone that opposes his beliefs. Independent and spontaneous, Basil is prone to create chaos around him and actually enjoy the aftermath, feeding from the negative energies that become present; be it acting malicious or just simply breaking hearts by his cute, adorable self.
Despite a lot of weird tendencies, the feline can come off extremely charming - being adorable, cute and hopeless romantic deep within, Basil is actually lonely deep within. Not having to keep any actual friends throughout his path of living or witnessing them to die in front of him, he generally pushes anyone away and takes a leap into the unknown, only to be strangely happy in his lonesome solitude. There is one dream, which Basil has hunted since very early age and it is to have a witch to accompany as their bound companion, yet to this day he has only been thrown aside like trash.
Although having been treated poorly, he still has kept that smile on his lips that draws people in only for him to use them. Sometimes acting foolishly and agressive, even, Basil knows how to hold his ground and with his dark, yet witty sense of humor this boy has managed to sail on the wave of life despite wanting to die, but something keeps pulling him forward and he just needs, has to give in to this pull.
Basil can get quite competitive, nearly obsessing over it until something better or more alluring comes along the path. Breathing for petting and praise and to belong somewhere, although he has pushed this craving down deep inside for a long time, he does anything not to face that truth about himself, only because he knows it can make him weak and an easy target.
PERSONALITY STRENGTH | WEAKNESSES:
x Good acting skill.
PERSONAL TALENTS | DREAMS:
PERSONAL SECRETS:
PERSONAL TREASURES:
LIKES | DISLIKES:
♥
Getting pets from people while in his cat form.
♥
Sunbathing.
♥
Chaos.
♥
Climbing tall trees.
♥
Tricking people.
♥
Sweets.
♥
Walking in rain with an umbrella.
♥
Purring, when he sees something he likes.
♥
Cuddling.
♦
Being scared or surprised out of the blue.
♦
Waterfalls, rivers.
♦
Taken as a weakling.
♦
Spicy food.
♦
Chit-chat annoys him.
♦
His own paranoia.
♦
Direct skinship in human form.
FAMILY | FRIENDS | ENEMIES:
KNOWN LANGUAGES:
---
History:
---
IMPORTANT CHILDHOOD MEMORY:
HISTORY:
Will rewrite later!
Being born to a human mother and demonic cat father, this is how he became to be. As one of the children out of many, Basil wasn't happy with his current situation and left home without a word with bunch of his friends, when he was nearing to age twelve. Whatever had happened to his family, he didn't really care as he wanted to get away from his older brothers as much as possible - mainly for being bullied and teased for being so small and fragile. As they ventured, they stumbled upon a clan of demons, whom used some of his friends as an experiment and saw them being killed or simply sacrificed in front of his eyes. This scarred him, and using his transparency skill, Basil managed to escape from the near death, heartbroken and not ready to bond with anyone as of yet.
He met with coven of witches, whom took him in and teached him in the ways of being a cat familiar, but he turned out to be more troublesome than they wanted and thus let him go, but the dream had already settled into him. Witnessing the other familiars interract with their Witches and Warlocks made him crave for the very same relationship, until he met yet another group of people, whom were part of the traveling circus. He became part of their family, until he saw them taken down by hunters gone rogue, and Basil had decided that he will never let anyone close to him again. Ever. His heart was broken to pieces and there was no way that no one was ever able to fix that...
Traveling alone from that moment on, he saw different happenings in the world and never cared to go to school, as he never was in one place for too long. He felt like he needed a change of pace, and thus as if being pulled to Solteria, he happened to come here, unknown by the fate that was placed upon him.
---
Other:
---