On one fateful day, August 1, the heroine lost all her memories. In order to gain them back and to ease her pain in remembering, she tries to interact with 'him' hoping to live each day as happily as she can, and to make a bright future with him, as the players play through the game, male or female, Heroine mysteriously disappears without a trace, soon the gamers get infected with a disease called 'Sleeping Beauty Syndrome' leaving their bodies in a coma, while their souls are transported to the Amnesia: Hearts, Spades, Clover, Diamond and Joker game in a new character their subconscious mind created.

Main Characters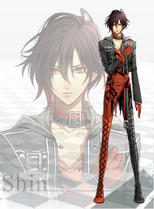 Shin (シン?)
Shin is 18 years old, and a high school graduate studying hard to get into university. Both Shin and Toma are childhood friends. His father accidentally killed a man who was under the influence of alcohol - he was bullied and avoided because of this during his childhood. Shin is trying to make a successful future for himself to stop people from comparing him with his father. He enjoys playing card games and is a member of the track-and-field club. His favourite animals are dogs, and his love for melon soda is evident in the anime, game and several drama CDs. His symbolic route in the game is the 'Heart' route. Shin loves the heroine in one of the worlds.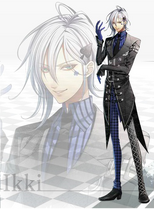 Ikki (イッキ?)
Ikki is 22 years old and a fourth year university student. He is best friends with Kent and has a 19-year-old younger sister (in the game). Ikki's hobbies include playing darts, billiards, and table tennis, as well as solving Kent's math puzzles. He is notably skilled at 'anything requiring him to use his hands'. His favourite animals are apparently hamsters. When he was a kid he wished on a shooting star for girls to like him and was granted with eyes that make him irresistible to any woman. However as time passed, he began to think of it as a curse. These eyes, however, do not affect the heroine. Ikki is always surrounded by girls and has a fan club that would do literally anything for him to be theirs - they bully the heroine often due her being close to him. He dates women for three months before they break up with him due to his fanclub having the rule of sharing him and only allowing club members to date him for three months. His symbolic route in the game is the 'Spade' route.
(taken by Ikki)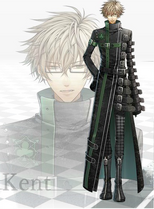 Kent (ケント Kento?)
Kent is 25 years old and a university graduate, as well as Ikki's best friend and came to know the heroine through being her tutor. His parents raised him with the belief that everything has some sort of logical conclusion, thus he believes anything can be solved using logic. His interests include devising math puzzles and observing things. His symbolic route in the game is the 'Clover' route.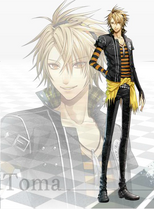 Toma (トーマ?)
Toma is 20 years old and a second year university student. He is a childhood friend of both Heroine and Shin, and acts as an older brother figure to both of them. He loves the heroine in a few routes. In addition to being in a number of school clubs, including soccer, broadcasting, archery, and the newspaper, Toma enjoys playing basketball, cycling, surfing the internet, playing video games, cooking and reading. His symbolic route in the game is the 'Diamond' route. Toma loves the heroine in one of the worlds.
[reserved]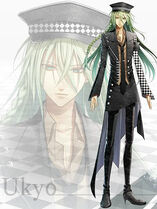 Ukyō (ウキョウ?)
Ukyō is a 24 year old photographer with a split personality who seems to know the heroine, but remains distant. He is in a lot of different clubs: triathlon, cheerleading, hula dance, soccer, lacrosse, rugby, kabaddi, dance, art, riding, debate and more. His symbolic route in the game is the 'Joker' route. It is revealed in this route that he wished to Orion's superior to let the heroine live, and thus he has to die on every route where she survives, as they can't live together on the same world
[Taken by XFaithyx123]

Others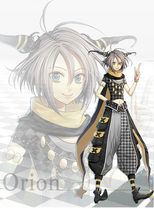 Orion (オリオン?)
A spirit which came from a completely different world. From the view of humans, he takes the appearance of a twelve year old young boy. He wears eccentric clothing. No one can see or hear him but the heroine.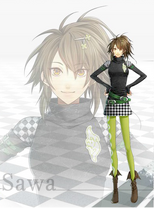 Sawa (サワ?)
A female university student with a bright and sporty personality. She speaks in a very lively way, but is someone one you can rely on.



Mine (ミネ?)
she works part-time at the shop. She has a crush on Waka.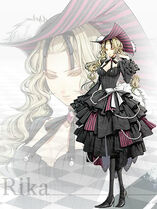 Rika (リカ?)
A mysterious woman who dresses in old fashioned clothes. She is the head of the Ikki Fan Club.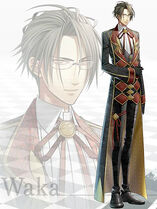 Waka (ワカ?)
The manager at the place where the heroine works part-time. He is a wise businessman who holds a firm policy. It appears that he has a habit of being too devoted to the ideologies he believes in, and outwardly, he has a little bit of a blown-away behavior. In the game Waka has a different personalities, he's unpreditable.
Pictures are optional, but are preferred.
Basics
Name:
Age:
Gender:
Race:(fairy or human)
Personal
Personality:
Sexual Orientation:(straight, bi, gay?)
Likes:
Dislikes:
Appearance
Hair Color:
Eye Color:
Weight:
Height:
No godmodding
Write descriptive and complete sentences- no runner sentences, fragment or short sentences
Write at least 1 paragragh
Please check spelling, grammar, punctuation, etc
Wait for my approval
Please be nice
OCs allowed
Have fun!!! :3
Taking place in...
13 posts here • Page 1 of 1
13 posts here • Page 1 of 1
Arcs are bundles of posts that you can organize on your own. They're useful for telling a story that might span long periods of time or space.
There are no arcs in this roleplay.
There are no quests in this roleplay.
Welcome home, Promethean. Here, you can manage your universe.
Arcs are bundles of posts from any location, allowing you to easily capture sub-plots which might be spread out across multiple locations.
You can create Quests with various rewards, encouraging your players to engage with specific plot lines.
Settings are the backdrop for the characters in your universe, giving meaning and context to their existence. By creating a number of well-written locations, you can organize your universe into areas and regions.
Navigation
While not required, locations can be organized onto a map. More information soon!
There are no groups in this roleplay!
By creating Collectibles, you can reward your players with unique items that accentuate their character sheets.
You can schedule events for your players to create notifications and schedule times for everyone to plan around.
The Forge
Use your INK to craft new artifacts in Amnesia: New Heroes/Heroines. Once created, Items cannot be changed, but they can be bought and sold in the marketplace.
Notable Items
No items have been created yet!
The Market
Buy, sell, and even craft your own items in this universe.
Market Data

Market conditions are unknown. Use caution when trading.

Quick Buy (Items Most Recently Listed for Sale)
None
Discussions
Topics

Replies
Views

Last post
Most recent OOC posts in Amnesia: New Heroes/Heroines