---
---
Bad || Wale (ft. Tiara Thomas)
Is it bad that I never made love?
No, I never did it
But I sure know how to fuck
I'll be your bad girl
I'll prove it to ya
I can't promise that, I'll be good to ya
'Cause I have some issues
I won't commit, no, not havin' it
But at least I can admit
That I'll be bad, no, to you (to you)
Yeah, I'll be good in bed
But I'll be bad to you
---
---
---
Hold Me Down || Halsey
I sold my soul to a three-piece
And he told me I was holy
He's got me down on both knees
But it's the devil that's tryna

Hold me down, hold me down
Sneaking out the back door,
Make no sound
Knock me out, knock me out
Saying that I want more, this is what I live for

---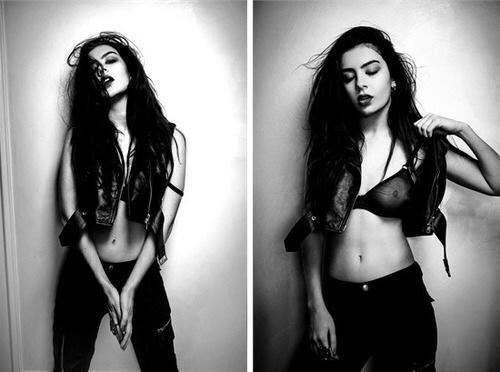 || Full Name ||
"It's an old lady name."
Leona Lavender Augustine
|| Nickname(s) ||
"I can be your baby, if you like."
She doesn't really mind her name too much and won't kill you if you use Leona. However, she does have some nicknames.
Leo [ Most preferred ]
Lola [ Likes ]
Leon [ Doesn't mind ]
Lee [ Hates ]
Lolita [ Lovers only ]
|| Age ||
"Young, but experienced."
Nineteen years-old
|| Sexuality ||
"I love love."
Bisexual
|| Current Residency ||
"It's dangerous, but I'm hard to scare."
Harlem, New York City, New York
|| Occupation ||
"Whatever my baby needs to pay the bills."
Prostitution || Drug mule || Cocktail waitress || Thief
|| Face claim/Role ||
Charli XCX || Girl One
|| Relationship Status ||
"He takes care of us, I don't mind sharing."
Shares Arthur "Arty" Kelty with Andie.
---
---
Cherry || Lana Del Rey
Darlin', darlin', darlin'
I fall to pieces when I'm with you, I fall to pieces
My cherries and wine,
rosemary and thyme
And all of my peaches (are ruined)
---
|| Addictions ||
"I'm all vice and no virtue."
☠ Hard drugs ☠
☠ Money ☠
☠ Kinky sex ☠
☠ Powerful men ☠
☠ Recklessness ☠
☠ Pain ☠
☠ Tequila ☠

|| Likes ||
"I'm a bad girl baby."
▲ Power ▲ Money ▲ Patron ▲
▲ Spanking ▲ Rough sex ▲ Clubs ▲
▲ Cigarettes ▲ Coffee ▲ Adrenaline ▲
▲ Arthur (sometimes) ▲ Andie ▲ Guns ▲
▲ Fast cars ▲ Fighting ▲ Causing trouble ▲
▲ Dirty dancing ▲ Red wine ▲ Bondage ▲
▲ Stealing ▲ Lipstick ▲ Parties ▲

|| Disikes ||
"Don't get on my bad side."
▼ Beer ▼ Arthur (sometimes) ▼ Cops ▼
▼ Lawyers ▼ Being told no ▼ Prostituting ▼
▼ Pussies ▼ Emotion ▼ Foster homes ▼
▼ Being called princess ▼ Being alone ▼ Cold nights ▼
▼ Snow ▼ Rules ▼ Laws ▼
▼ Being told what to do ▼ Bitches ▼ Early mornings ▼
▼ Losing ▼ Cats ▼ Questions ▼
---
---
Kinda Outta Luck || Lana Del Rey
I was born bad
But then I met you
You made me nice for a while
But my dark side's true.

You never cared what I did at all
Motel singer or the silver pole
I did what I had to do...

Femme fatale, always on the run
Diamonds on my wrist, whiskey on my tongue
Before I give back, I gotta get drunk
So get over here, pour me a cold one.
...
Is it wrong that I think it's kinda fun
When I hit you in the back of the head with a gun?
My daddy's in the trunk of his brand new truck
I really want him back, but I'm flat outta luck.
---
|| Basics ||
"Pretty girls get what they want."
Eyes

→ Dark, chocolate brown.

Hair

→ Dark brown, nearly black, falls just under breasts. Typically, it's like a wild, uncontrollable mane of waves, but sometimes she styles it in smooth curls, or pin straight.

Height

→ About five foot, three inches

Weight

→ 115 lbs
|| Piercings ||
"You'll have to get me naked to find them."
Leo has both of her nipples pierced as well as her belly button.
|| Tattoos ||
"I like ink."


Left forearm

→ On the inside of her left forearm, Leon has a nice linework tattoo of a woman smoking a cigarette.


Between breasts

→ Sitting on her breast bone, between her breasts, Leo has a traditional-style dagger tattoo.


Back of neck

→ On her spine, Leona has a tattoo of an upside down, completely black rose.


Right Elbow

→ On the back of her right elbow, Leona has a simple hand tattoo, this, she got while doing time in prison for the murder of her foster parents.


Left ribcage

→ Just under her left breast, off to the side a little on her ribs, Leo has an outline tattoo of a girl and a wolf.


Right shoulder

→ Her most complicated, and detailed tattoo sits on the back of her right shoulder, of a lion and a skeleton.
|| Scars ||
"I did three years in prison, what the fuck do you think?"


Lower left abdomen

→ Sitting just above her panty-line, off to the left, Leona has a few inch long scar. This, she got while she was in prison, shortly after getting there. She was sleeping at night when her cellmate jumped on her and stabbed her brutally with a homemade shiv. Leo fought her off and managed to stab her back, an inch from the girl's heart.


Top of left shoulder

→ Along the top of her shoulder, Lola has a small groove. This, she got from a bullet. She robbed a five-and-dime store and the owner had a gun. As she was running away, a bullet grazed the top of her shoulder, leaving a scar.


Inner elbows

→ The telltale sign of a junkie. Leona's inner arms are covered in a multitude of track marks from years of drug abuse.


Right eyebrow

→ The scar is small, and almost invisible, but sits just above her right eyebrow. This, she got in a drunk driving accident. She was fourteen at the time and had stolen her foster parents car to go to a party. She ended up in the hospital.


Left shoulder

→ High on her upper arm, just below her shoulder, Leo has an old, faded scar. The name Miguel is scratched there in her skin, her uncle's name, carved into her skin with a knife, marking her as his property.


Right wrist

→ Along the inside of her right wrist, all the way up to the inside of her elbow, Leo has about seven circle shaped burn scars. Some are from cigarettes, others cigars. Her first few, cigar burns, were given to her by her father and uncle. Recently, Arthur has taken to adding to them with cigarette burns when she's disobedient.
---
---
You Can Be The Boss || Lana Del Rey
He has a white Corvette like I want it
A fire in his eyes, no, I saw it
He's bleeding from his brain and his wallet
He's sick and he's taken but honest
The liquor on your lips, the liquor on your lips
The liquor on his lips I just can't resist
As close as I'll get to the darkness
He tells me to "Shut up, I got this."

You taste like the Fourth of July
Malt liquor on your breath, my, my…

You can be the boss, daddy
You can be the boss
Taste like a keg party, back on the sauce
I like you a lot, I like you a lot
Don't let it stop…
---
|| Personality ||
"I'm a wild child."
Trouble maker → Leo is practically fearless. The only thing she's afraid of is herself because she's got destructive tendencies. She makes dangerous choices on purpose, because she likes excitement and craves thrill almost like it's a drug. The only thing she likes more then breaking rules is sex. When people give her limits, she does everything in her power to push them, just because she finds it fun. She makes rash, impulsive decisions without really thinking of the consequences first and this often gets her into trouble, but she rarely cares. Trouble making is like her bread and butter.

Addict → Lola has an addictive personality to say the least. When something makes her feel good, she quickly becomes obsessed. There is almost nothing in the world Lola can't turn into a drug. Her major addictions include sex, drugs, alcohol, and even minor pain. Standing between her and these things would be a devastating mistake because, once she's addicted to something, there's nothing she won't do to get it.

Stubborn → Leo is stubborn as an ox. She likes to be dominated in bed and lets Arthur control her life, yes, but that does not mean she's a pushover. She's got a lot of determination, and when she wants something, she gets it, one way or another. Butting heads with her is never a good idea, because someone always gets hurt and she usually gets her way.

Seductive → If there's one thing in this world Lola knows, it's sex. No man can resist her and she knows it. Sex is her best weapon, and she uses it to get her way all the time. Despite her young age, she is no novice, she's experienced well beyond her years and knows exactly how to drive men wild. She's never met a man she couldn't seduce, and likely never will.

Bold → Lola has little to no filter. She says what comes to her mind, and does not care who she hurts or pisses off. She's not afraid to do and say things others won't and isn't easily intimidated. Essentially, she does and says what she wants, when she wants, simply because she wants to. Only Arthur seems to have control over, and she even pushes his boundaries more then she should.

Fighter → When it comes down to it, Leon is no stranger to fighting and, often, enjoys it. She's been in her fair share of disagreements, both physical and verbal, and tends to win. She's always had to fight to survive and knows how to throw a punch as well as sling an insult. Do not be fooled by her small size. She can really pack a punch, and, put a weapon in her hand, and you can bet your ass she's not afraid to use it.
---
---
Going to Hell || The Pretty Reckless
Father did you miss me,
Been locked up a while.
I got caught for what I did but took it all in style.
Laid to rest all my confessions I gave way back when.
Now I'm versed in so much worse,
So I am back again, and he said
For the lives that I take, I'm going to hell!
For the love that I make, I'm going to hell!
---
|| Family ||
"What family?"
Maritza Augustine || Mother || 27 (at death) || Deceased
Victor Augustine || Father || 42 || Alive in prison
Miguel Augustine || Uncle || 35 || Alive
Andie Naess || Foster sister || 19 || Alive
Arthur "Arty" Kelty || Boyfriend || 25 || Alive
|| History ||
"I've always had front row seats to the shitshow."
Leona has always had to fight to survive. Her roots are thoroughly Mexican, and she was actually born in Mexico, only she never really had a family. Her father was a powerful Mexican sex trafficker and her mother was a prostitute of his, one of his many mistresses. Her mother raised her until she was three before she was taken from her and moved into her father's house, mostly so that her father could use her as leverage against her mother and keep her complacent and obedient. She only got to see her real mother once a month or so, if she was lucky and her mother had been good that month.

Her father's trophy wife hated her, and made sure she knew it. From the early age of three, Leo suffered horrible abuse from the woman, both physical and verbal. She lived in her father's house for five years. Her father was too busy running his empire to pay too much attention to her, and her step-mother was constantly making sure she knew she wasn't wanted.

When she was eight years old, Leo was visiting with her real mother for the day when she kidnapped her right out from under her father's men's noses. The two of them managed to evade her father's men for three whole days before they were found and her and her mother were both dragged back to her father. Before killing her mother in front of her, her father made sure to make her watch him sell Leo off to one of his worst traffickers, her uncle Miguel, for a bag of coke. Miguel carved his name into her upper arm with a knife while her mother watched before her father put a bullet in her mother's head.

Miguel was in charge of running Victor's American business, and Leona was moved to the U.S.A to work for him, not speaking even a word of english, only eight years old. Thankfully for her, she only had to live under Miguel's control for three years until an undercover cop managed to bust her father and tear his whole empire apart. Her father ended up in prison, and Miguel narrowly escaped to Puerto Rico, escaping justice. She was thrown into the American foster care system at eleven years old, and from there, things didn't exactly get much better.

Leo was a rebellious child and a trouble maker. She wasn't exactly placed with the best homes, and spent years being moved from shitty home to shitty home. She was sexually, physically, and verbally assaulted by both foster parents and siblings over and over again.

If by some miracle she actually managed to get placed in a decent home, she was too much for them to handle and always managed to fuck it up somehow. At thirteen, she was placed in the same home as another thirteen year old girl, Andie. The home wasn't bad, in fact, it was pretty nice compared to her other homes, but they were highly religious. Andie was Leo's first real friend, and the two of them shared a room and grew close. Needless to say, her bible-thumping foster parents were pretty horrified when they caught the two girls kissing one night in the same bed. It wasn't her first kiss, but the first time she'd ever kissed another girl and, if she was being honest, it was the only kiss she'd ever really enjoyed.

Over the next several years, she and Andie were separated and reunited multiple times, but, seeing as they behaved better when they were together, they tended to get placed in the same homes. Up until she was fifteen and Leona slept with another boy in the home, Andie was the only consensual sexual relationship she'd ever had, and the two of them were practically glued at the hip.

When she was sixteen, she and Andie were placed in a particularly horrible home. Their new foster father was especially sick in his perversions, while their foster mother abused them physically. It was pure hell to put it lightly. Leo had survived some pretty horrible shit, but this man and his wife were by far the worst of it. She managed to swipe a kitchen knife from the cutlery at one point and told herself she would only use it if it was a matter of life an death. She'd always been a fighter, but she wasn't exactly a killer, not at that point.

He snuck into her room the next night and Leo didn't think, she just reacted. Before she'd even realized what she'd done, she'd stabbed the man in the stomach six times. When she finally came back to herself, she was standing over him, covered in blood and holding the knife. She let out a scream and dropped the knife and Andie was in the room in mere seconds, trying to calm her down and get her to stop screaming, knowing it would wake their foster mother. It was too late, however. A minute later, their foster mother was standing in the doorway, witness to what she'd done. Lola was too shell shocked to react as the woman turned to run for the phone, intending to call 911. Andie didn't hesitate though. She picked up the knife, gave Lola a kiss, and went down the hall after their foster mother, murder in her eyes.

For two sixteen year old girls who'd never killed before, there was no hiding what they'd done and the only witnesses to their abuse were dead. Surely, they were staring down the barrel of long prison sentences. They couldn't afford decent attorneys, and their fate seemed practically sealed. Thankfully, however, the media picked up on their story blowing, making them front page news and drawing the attention of a major law firm. The firm was one they could only dream of affording, but, to their luck, the Ramsey brothers took on several probono cases every year and theirs became one of them.

Thanks to incredible work done by the Ramsey brothers in their defense, the girls only ended up doing three years time in a New York prison. Now nineteen, their case was finally coming to a close and they were free again. They moved into a shitty apartment together in Harlem. They started fucking their landlord, Arthur simply to pay rent before it became a sort of three-way relationship and he moved in with them and started to control their lives and they just let him because, while he was controlling, he also kept food on the table and a roof over their heads, and could be pretty decent to them, when he wanted to be.
---
---
LEONA
Code: Select all

[hr][/hr][hr][/hr][left][img]http://placehold.it/5x515/9E8BA3/9E8BA3[/img] [img]http://placehold.it/5x515/9E8BA3/9E8BA3[/img] [img]http://placehold.it/50x515/523A59/523A59[/img] [img]http://placehold.it/5x515/9E8BA3/9E8BA3[/img] [img]http://placehold.it/5x515/9E8BA3/9E8BA3[/img][/left][right][img]http://placehold.it/5x515/9E8BA3/9E8BA3[/img] [img]http://placehold.it/5x515/9E8BA3/9E8BA3[/img] [img]http://placehold.it/50x515/523A59/523A59[/img] [img]http://placehold.it/5x515/9E8BA3/9E8BA3[/img] [img]http://placehold.it/5x515/9E8BA3/9E8BA3[/img][/right][center][img]http://i63.tinypic.com/24x4efo.jpg[/img]
[img]https://fontmeme.com/permalink/171211/78babbcf3a981cc5ef44c43b0b8070ae.png[/img]
[IMG]https://78.media.tumblr.com/dd04247198fe2b6b97bc640e18129c72/tumblr_onprntuLYw1v58zjoo1_400.gif[/IMG] [img]https://78.media.tumblr.com/616bc2d65c990ca3252620cecb810e28/tumblr_onprntuLYw1v58zjoo3_400.gif[/img]

[img]http://i63.tinypic.com/24x4efo.jpg[/img][/center][hr][/hr][hr][/hr]
[font=times new roman]POST[/font]
SEBASTIAN
Code: Select all

[hr][/hr][hr][/hr][left][img]http://placehold.it/5x465/7886B2/7886B2[/img] [img]http://placehold.it/5x465/7886B2/7886B2[/img] [img]http://placehold.it/50x465/2B3040/2B3040[/img] [img]http://placehold.it/5x465/7886B2/7886B2[/img] [img]http://placehold.it/5x465/7886B2/7886B2[/img][/left][right][img]http://placehold.it/5x465/7886B2/7886B2[/img] [img]http://placehold.it/5x465/7886B2/7886B2[/img] [img]http://placehold.it/50x465/2B3040/2B3040[/img] [img]http://placehold.it/5x465/7886B2/7886B2[/img] [img]http://placehold.it/5x465/7886B2/7886B2[/img][/right][center][img]http://i63.tinypic.com/24x4efo.jpg[/img]
[img]https://fontmeme.com/permalink/171211/840ce137ef7fa463eb26258a7dda806c.png[/img]
[IMG]https://media.giphy.com/media/W7GtMEe5J6PQs/giphy.gif[/IMG]

[img]http://i63.tinypic.com/24x4efo.jpg[/img][/center][hr][/hr][hr][/hr]
[font=times new roman]POST[/font]
---
---