---
---
NAME



Carter Johansson



NICKNAME



Is Carter too long?



AGE



Twenty



GENDER



Male



SEXUALITY



Bisexual



OCCUPATION



Passive Aggressive Narcissist
[student - chemical engineering major]
---
---
HEIGHT



6' 2''



HAIR COLOR



Blonde



EYE COLOR



Green



MODIFICATIONS



Ears are pierced
---
---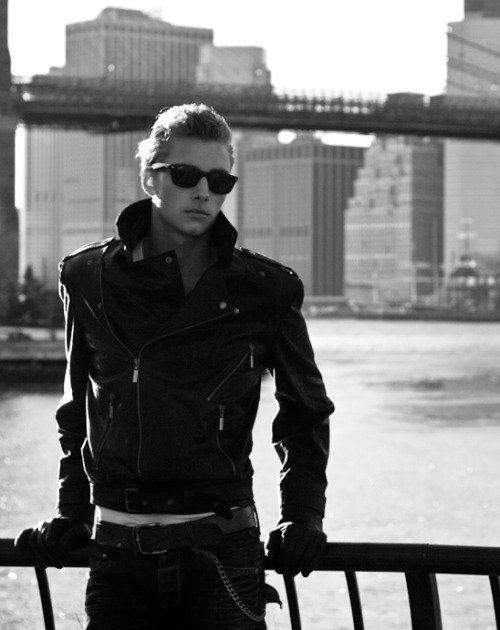 PERSONALITY



Reality called and Carter hung up. Literally. The type of person who honestly believes nothing ever works out for him, and that everyone from his mother to his classmates to the guy at the bank and the girl at the drive-through sabotages his every attempt to achieve his dreams. It's a fucking sickness. Mild paranoia if you will. Carter just can't go a day without at least feeling like the professional victim and eternal pessimist that he is. Of course, the few misfortunes he has experienced in life (and fuck him by the way, his parents make too much money for his fabricated slights, baby) are more often than not the result of his many character flaws. Lack of demonstrativeness. Lack of effort. Inability to fulfill even routine and mundane tasks. Then again, as far as Carter is concerned, nothing negative in his life is the result of his own actions. For one, each and every "weakness" he has serves a purpose, and for two, everyone around him just sucks. When he's not lying and acting, his attitude towards others is rather neutral with his contemptuous nature kept in check by a lack of assertiveness in normal situations.

Of course, he won't say any of this to you ninety percent of the time. Passive aggressive to a fault. Carter works on a system of deny, avoid, blame, and martyr. He has an uncanny ability to deny and distort facts (aside from those that put him in a good light), from the most obvious and trivial to serious ones, and finds that avoiding or "forgetting" a situation works just as well as tackling it head on. The king of excuses. It's his way of telling you without telling you that he'll do things his way and, in cases where he's expected to actually do a task or come through for a person, a way to keep you off of your game. When the bottom falls out it's back to blame. Back to turning the focus away from his own screw-ups and onto you for being a jerk to him. He feeds on others feeling sorry for him or making the recipient of his resentful, hostile, and dilatory behaviors seem crazy and judgmental.

And since his mind has been thoroughly deceived into feeling as if no one understands the magnitude of his struggle, the depth of his angst, or the suffering of his soul, he has no choice but to take preemptive measures. If the opportunity pops up, he can make chaos out of thin air, and gets off on the ability to do so. It feels like control to him, and that is what he honestly longs for. Carter can't approach situations, feelings, relationships or communication directly, so the only logical choice is to do so indirectly. He never has a preference until you express yours; in which case, he'll want the opposite. He can't own up to his own feelings, expressing love for a person he may actually hate. He's ambiguous to create insecurity. Procrastinates because he feels it punishes the other person. Carter feels as if all the qualities that make a person dislike him are just tools that help him get further and further underneath their skin, or someone else's. He'll make you feel guilty for dragging him out someplace he didn't want to be at, even if he expressed indifference about the choice before hand. He makes light of your problems in the hopes that some semblance of insecurity will spark within you and you'll drop the issue on your own. God forbid he just say what he really wants.

Of course, he generally keeps his dysfunctional mindset contained beneath a facade of apathy and disinterest. That's not to say he doesn't really feel those things. Carter will deny anyone the chance to really get to know him for lack of interest and shrugs off long lasting attachment in favor of temporary satisfaction, dismissing the fact that other people have feelings all the while refusing the accept any of the responsibilities and actions that go along with any kind of relationship. Hell, he can barely get a grip on his own unsteady emotions. He couldn't give a fuck about your issues. However, his comments often come out deadpan or in a manner that would attempt to lead you astray of his real intentions. Even when confronted, Carter will insist he doesn't harbor any ill will towards someone or deny his involvement in something. He's just not one for confrontation. Better yet, he manages to delude himself into believing he isn't the cause of any derision or stress. You can't convince him he's being rude or fake. That something is his fault. I suppose a feeling of blamelessness and innocence allows him to keep a half deluded smirk on his face, arms folded with silent uncertainty.

He'll never admit to defeat, but Carter can understand when he's met his match. Someone who's not down for any kind of pity-party or jealous bullshit he may stir up. In which case, he'll fume silently and take his act elsewhere.
---
---
HISTORY
I suppose Carter's past wasn't that bad. Long before he was even in the picture, his mother sued her wealthy parents and other relatives on accusations that they were taking money from her own trust fund. Was it true? The court seemed to think so. The family fortune was chopped up and one more Johansson found themself resting comfortable in the arms of Forbes 400. Her family, on the other hand, were a little less welcoming after that fiasco.
/wip