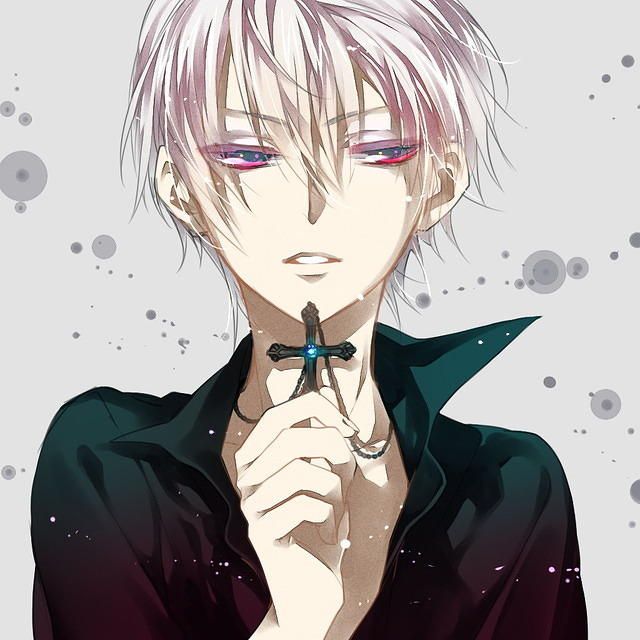 ---
---
23 || Homosexual || King of the Fire Nation
---


Siya is five feet and five inches in height, with a lithe body tone. He is not overly muscular, but toned just enough. He wears black mostly which accents his bodies figure, giving him an elegant look. The long robes of his station are his everyday attire and though the long cloth looks like a single piece, it in fact opens up at his waist into three separate pieces of cloth. Underneath he wears black pants tucked into knee high boots. The black robes are tight across his chest with silver symbols etched along the edge of the sleeves and collar. Siya has deep crimson eyes that have a kind of 'allure' to them. Long silvery hair is usually kept in a braid that often falls over his shoulder, coming just passed his shoulders.


---
---


Siya has many abilities with his Fire. The King of Fire can summon large balls of flames that he can launch at his opponents; he can summon a wall of fire as protection to melt down materials that are going to be used against him. In cases of being injured, Siya can cauterize wounds to stop the bleeding, but he is no healer by any means. Should Siya ever be pushed to the point of doing so, he can ignite his whole body and extend it outwards in an explosion that can burn everything around him. This takes a lot of energy and sacrifice to create and it takes a lot to get him to such a point as well. Siya has many skills in the art of wielding his fire magic, and almost anything is possible for him, especially since he has a very vivid imagination.

Aside from his wide range of fire manipulation, Siya does use some weapons. He favors a very light sword, but no shield. His body isn't built for anything more than that. He's fairly good at wielding the weapon, but he's by no means a master at it. When worse comes to worse, Siya will more than likely fall back on the use of his power to protect himself.




Siya's ability to wield his fire is probably the only thing going for him. Should he run out of sacrifices or find himself in a situation that calls for more energy than he's sacrificed for, he is practically useless in a fight. Siya relies on his fire magic far too much. His skills with a sword leave much to be desired. Though he can wield the weapon, he's definitely not the greatest and can easily be overcome by a far stronger opponent.

In addition, the young King is quite small in stature. He's definitely not rippling with muscle, he's very lean. Therefore any opponent larger than him will have the upper hand against him, especially if he doesn't have the use of his fire. A weakness that can tie into this, is that Siya is a bit naive. He trusts too easily. However, he is not afraid to fight back when it comes down to it (which is a good thing... thank god!). He's especially weak to those wielding the water element and should he find himself drenched in one way or another, it would be very difficult for him to produce a flame.


---
---
---


His protectors would most especially know that he is not the most timely person. He tends to be late sometimes for his morning audiences and other meetings of importance. They would also know that he tends to sneak out of the palace and visit his city that lays right below the enormous stone structured castle without letting anyone know. Anyone would know that the King is very generous and kind in all things. He has a bit of a sweet tooth as well. In addition, they would know that he yearns for knowledge. All sorts of knowledge. He can often be found in the castles large library, reading deep into the night hours and sometimes even into the morning with no sleep (which would be part of the reason to his tardiness at times). His protectors would know that he is not of royal blood and that the other nobles despise Siya for it. Which causes a bit of distress in the young King.




There isn't much that people wouldn't know about Siya. He's fairly open and easy to read, just like a book really.


---


Siya is quite calm through most things, though even if he's surprised he can work though it fairly well. He does exhibit a wide range of emotions at times, all depending on what's going on around him. Though he can be embarrassed quite easily and this is shown by a slight widening of his crimson eyes and a flush to his cheeks. He smiles easily and likes to talk with people. Because he's so sociable, his reputation in his kingdom has preceded him, marking him as humble and nice, but also at times, childish. It is a well known fact that he was very young to be a King when he took the throne, and Siya tried his best to counter that by knowing as much as possible about nearly everything.

He studies hard in every subject that he can, he practices with sword play every day and as often as he can, he will take a ride through his city where his palace is located. He likes to keep up with the gossip of the townsfolk. Siya dislikes the thought of being caged up in the castle, a result of his sociable aspect. He likes to be around people, and he would much rather be out and among his people then lording over them. Siya does his best when problems are brought to him, to evaluate each side equally and come to a just decision. This has proven to be most difficult, as he has brought himself up to see the good side in everyone.

It is very difficult to make Siya angry, however, if he is angered he can be a force to be reckoned with. He hates being angry though and does what he can to stay in better spirits. Though on the flip side it is quite easy to make him sad. He does his best not to show it, though and will force a smile to help push it aside. Depending on what has made him sad will depend on how easily he can hide it. Despite his young age, Siya does often display a level of competence that would match someone far older than himself. His studies and the efforts he's put in to becoming a good King could be said to be the reason why he often surprises many with his deep knowledge, but it also abounds from where he came from as well.




Siya was not born into royalty. Some of the royal families have had it easy with finding their predecessors because their son or daughter would have inherited their ability to manipulate the elements without a sacrifice. However, the former fire King had not been so lucky. Two of his sons had died, one at birth and the other during a training accident. The third son did not show any signs of being able to manipulate fire without the aid of a sacrifice and as time went on, the King's wife did not bear him any more children.

So, the former fire King was forced to score the land for a new predecessor. That predecessor came in the form of a very young Siya. Siya had no home to begin with, his parents had lived in poverty and when he was born, his mother had died. Siya's father passed away when he was seven. Siya knew nothing of the outside world, nothing other than the streets of the lower city. However, one day as Siya was wandering the main road in search of something to eat from one of the merchants that may have taken pity on him, he was suddenly thrown into a fight between several other boys of the streets.

It wasn't the first time, seeing as the boys were the very same that had always picked on him because of his small size. Not to mention that they had found out that Siya could work fire without the need of a sacrifice. They teased him and called him names, and often fought with him. Siya would have just let them have their way, but they had already been in a fight with someone else before he'd arrived. Thrown into the midst of it, Siya noted the much smaller boy curled in a ball and shivering from fear.

At that same moment, a procession of the Kings guards, and the King himself were heading down the street, unknown to the boys. Siya, angry and afraid at the same time, ignited his fire to scare off the other boys and to help the child before him. The King spotted this and approached him immediately. The boys that had been fighting, were startled and ran off both because of Siya's fire and also because of the guards.

Siya was taken in then, and raised as one of the royal children even though he was not one. He learned the art of fire, how to control it and manipulate it. He learned how to speak properly and how to read and write. For several years, he learned the basics that he had never gotten to use when he was on the streets. He also learned about the truth regarding the Kings and the elements of the world. He'd even gone to see the former Kings and Queen's once.

However, he was left alone far too quickly. The Queen fell ill and passed away from sickness, the only son of the King scorned Siya and left the kingdom all together and finally the King had grown too old. Siya was at his deathbed on his eighteenth birthday. The old King parted with him that night, a smile on his face and the orb came into Siya's possession from that moment on.

During Siya's twentieth year, the world took a turn for the worse. History that had long since been buried brought itself to light in the form of two brothers. Both of which were after the orbs that the four Kings held. The Water King was killed in the chaos. From there, war was nearly at each King's doorstep until one of the brothers, the youngest, finally revealed himself and asked for help from the Kings. Things didn't start off between them very well as the young Prince had taken drastic measures and was actually the one who had killed the Water king, but not on purpose. It was purely accidental. However, saying that to the Kings was almost near impossible and getting them to trust him was almost just as impossible.

Yet, he pushed forward and convinced them to go with him back to his own realm, the realm of Reimrand. Reimrand was like the other side of a coin to Iveirn. Without one, the other could not exist. The orbs belonged in Reimrand and treachery had put them in Iveirn. The effort to return the orbs nearly cost the Princes' life, but with the help of the Kings, they managed to kill the Princes older brother and restore balance. Though that was only the beginning. Currently, Lord Siya and Prince Valrien continue to meet periodically with each other as well as the remaining two Kings to keep things in order.


---
---