---
---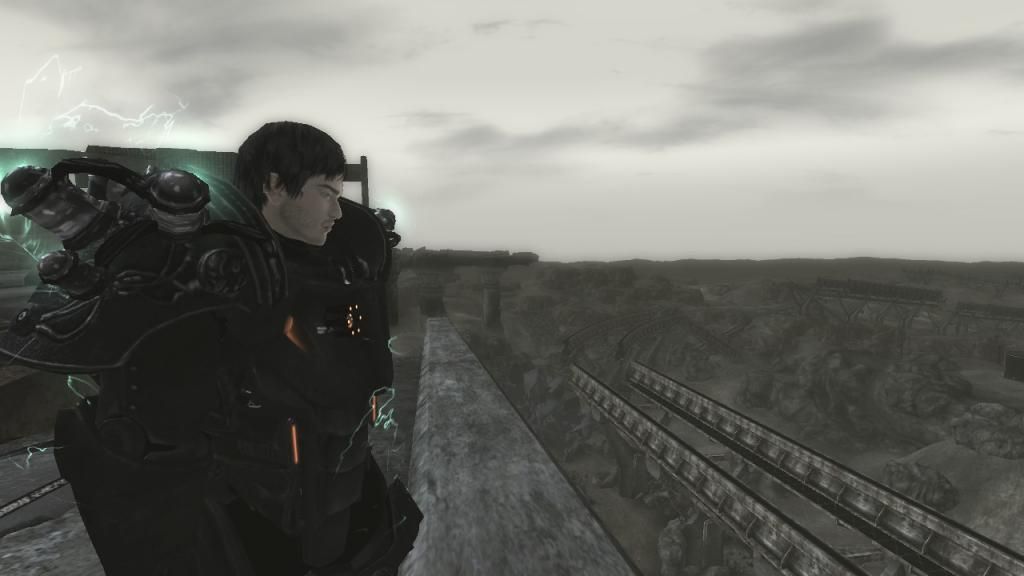 ---
BIRTH FACTS:

Full Name: Michael Walker (never used; very few living individuals are aware of it)

Nickname: Callsign 'Null'; occasionally uses the pseudonym 'John Brown'.

Gender: Male

Race: Pure Human

Ethnicity: Caucasian (and damned pale at that, due to spending so much time in his armour)

Eye Color: Blue

Hair Color: Dark
---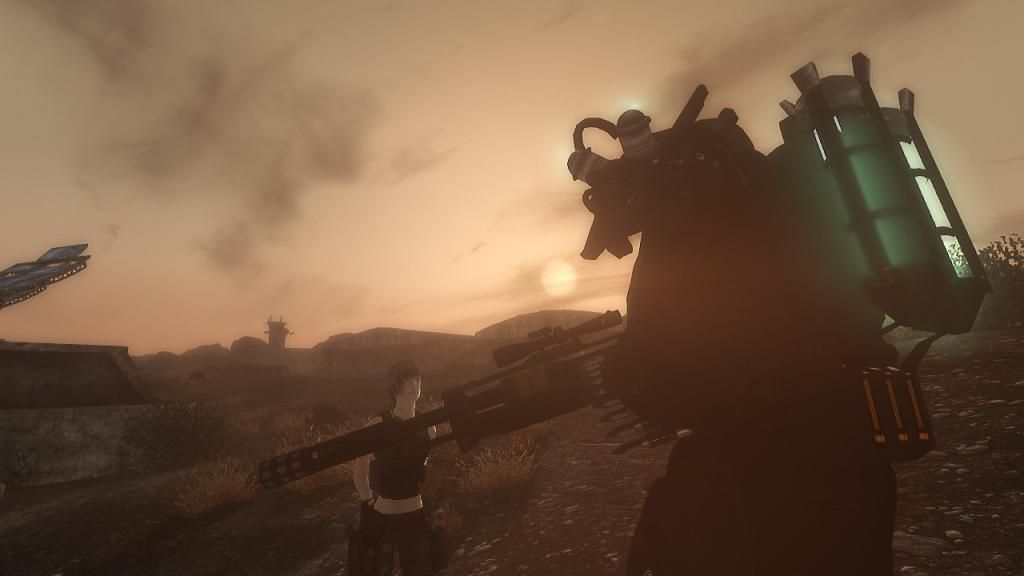 ---
PHYSICAL DESCRIPTIONS:
Height:
6'5"; power armour adds another 4" onto his height.
Weight:
96kg
Body Type:
Very strong, tall and muscular; his body is in extremely good physical condition, as he was trained from an abnormally young age.
Hair Style:
A little longer than average, due to not having had access to a pair of decent scissors for a month. Perpetually messy.
Appearance:
Cutting an imposing figure, Null is what could be considered the very epitome of a young Enclave soldier, the sort of man one could imagine would have looked excellent on a pre-war recruiting poster. Dark hair hangs around clouded blue eyes, his features cold and unforgiving, revealing nothing about the man beneath them. A muscular body, built from years of warfare, honed for killing; on the battlefield, every shot is placed, every slash is timed, every punch is thrown with perfect agility, muscles simply going through routines practiced for years. He has surprisingly few scars for a veteran, his power armour having protected against most; however, this simply masks the many fractures, damaged organs and other internal injuries his body has sustained over the years from hundreds of impact to his armour. This has begun to weaken him, as it does all Sigma operatives; after all, Sigma are considered to have a use-by date of 25, and he is getting dangerously close to that date...
---
THE OTHER THINGS:
Sexuality:
In his words - "I have only ever loved one individual. She may be gone... but I have no need for any other."
Age:
24
Scars:
Surprisingly few, given the years he has spent on the battlefield; his armour has usually proven sufficient to protect against enemy weaponry. His most distinctive scar is a long one across his chest from a Deathclaw, which cleaved through his armour plating with a single strike and punctured his lung. For that reason, he is generally unable to fight for extended periods of time; any extreme physical exertion drains him, and can lead to him passing out, particularly in hand-to-hand combat. Nonetheless, he has the condition sufficiently under control that he has been cleared to return to duty despite it.
Ink/Holes:
None, save the emblem of the Sigma Institute tattoo on his upper left bicep. The Institute's emblem is largely identical to the Enclave seal, but with a stylised 'S' in the centre instead of an 'E'.
Attire:
Typically wears a set of Reinforced Leather Armour; it offers competent protection, but is also light enough for him to move freely and common enough for him to avoid arousing suspicion.
When he deems it necessary, he wears advanced Special Forces-issue Tesla Shocktrooper Armour; he keeps its components stashed on the back of a four-legged robotic equipment dummy, which he pulled together out of robots and scrap metal in a junkyard outside Dallas.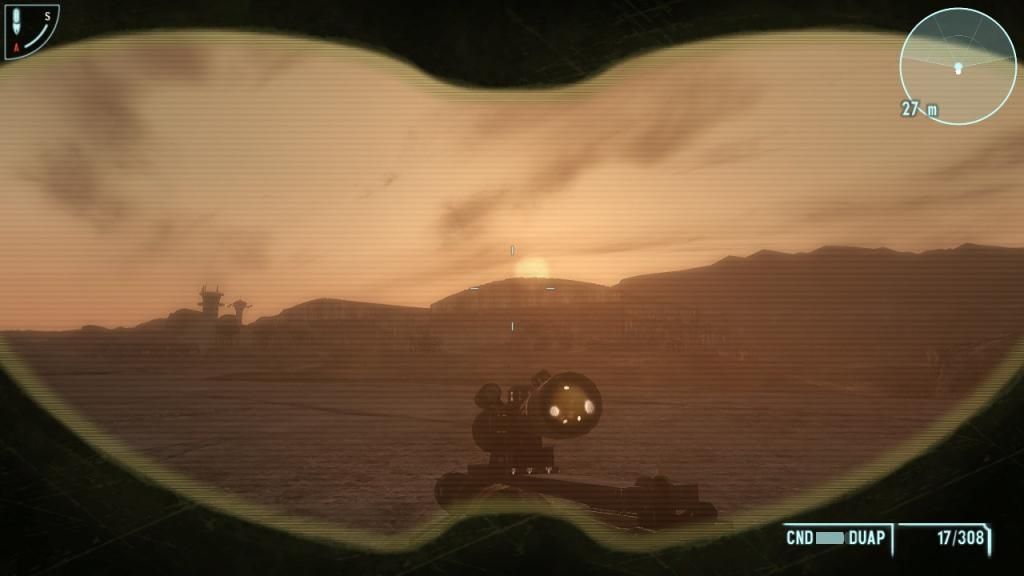 [Setting the sunset]
---
PERSONALITY:
THE GOOD:
A cold, consummate killer, but not a murderer - Null is very clear about this distinction.
Raised from a young age by the Sigma Institute to become a perfect soldier, he - like all his fellow graduates - has known little kindness in the world. While seemingly cold, hard and ruthless, he has a strong belief in the future of mankind, albeit one that he rarely speaks about. He is a genuine idealist; Anna proved to him, in his eyes, that there is some inherent worth in the human race.
He still feels the pain every day from Anna's death; every night, he relives that horrible day, watching her executed before his eyes. For a long time, he considered suicide; however, over time, the sadness turned to a cold hatred. He came to realise, over time, that there was no way the Enclave could justify her death; thusly, he chose to turn against them quietly, and until a week ago, was simply waiting for the right moment.
A deeply philosophical man, Null's morality is rather complex. He believes absolutely in his cause, and will do anything to reach it; however, this is as much a flaw as an advantage. Nonetheless, Anna taught him the value of human life, and to honour her memory, he saves those who he can, often pausing to help those in need, but never losing sight of his true objective.
The nature of that ultimate goal?
Nothing less than the total and permanent destruction of the Enclave.
AND THE BAD:
While Null might believe in the good of the human race, one can never forget that he is and remains a Sigma graduate, and everything that entails.
Those whom the Sigma Institute trains are chosen for optimal intelligence and physical ability at a young age, and are brought into the Institute to be trained and turned into the elite Sigma soldiers of the Enclave. Every trace of humanity is beaten out of them; they are indoctrinated, taught to believe absolutely in the ideals of the Enclave, to hate any who are not 'pure humans'. They know no other life but the battlefield, going on their first combat operation at twelve.
The remnants of dislike for Wastelanders remains in him, and he still has difficulty working alongside them; he still feels the remnants of derision within him, and he has, from time to time, been known to let disparaging comments regarding them slip from his lips unchecked. He doesn't know how to deal with people, never needing to deal with anyone except the Sigma Institute; Anna taught him the very basics, but he still knows little, and doesn't care.
Anna changed him; she taught him that Wastelanders were human, that there was value in life. But she did not change him enough, and after her death, he has become consumed once more by hatred - only now, directed at those who created him. He will do anything to reach that goal; it is ideological, not practical, and he cares not if the entire Wasteland would have to burn for the sake of his revenge. All he knows is that he will track down every last scrap of the Enclave as he journeys north, and that eventually, he will reach the irradiated snow, and crest the mountain he lost her upon, and see the Institute laid out before him.
And on that day, America, the last traces of the old world, would die, as so to pay for his stolen future.
---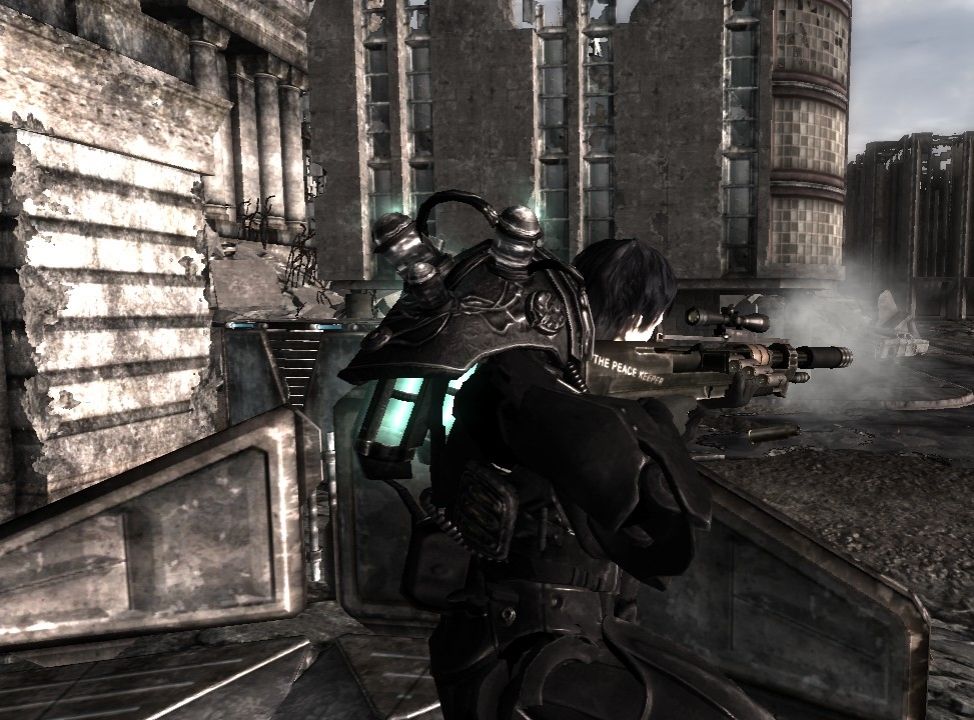 [To kill is to live; to hesitate is to die]
---
STATISTICS:
S.P.E.C.I.A.L.:
- 9 Strength
- 6 Perception
- 7 Endurance
- 2 Charisma
- 10 Intelligence
- 8 Agility
- 3 Luck
SKILLS:
Combat:
- Energy Weapons: He knew how to use a Laser Pistol before he could write his own name.
- Guns: His primary weapon is a .50 BMG machine gun, and it shows; he knows guns intimately, and can use many of them purely by feel.
- Melee: Described by some as an artist with a knife, he is exceptionally talented in knife fighting, graduating top of his class in close combat from the Sigma Institute. Also practices with a sword in his free time as a form of meditation.
- Explosives: Trained in dozens of different explosives, primarily for sabotage and demolition work.
- Unarmed: An expert hand-to-hand combatant, courtesy of hundreds of hours in the ring; he is taught the signature grappling-based combat style developed by the Institute's instructors for use between power armour-wearing combatants.
Active:
- Medicine: A trained combat surgeon, as with all Sigma graduates, although he has little regard for such pathetic things as 'anaesthetics'.
- Repair: Capable of repairing a full suit of Tesla Shocktrooper Armour, to say nothing of a mere robot or generator.
- Sneak: Knows how to stay hidden very well, which has served him amicably over the years.
Passive:
- Pilot: Capable of flying near-anything, be it a state-of-the-art Vertibird or a rocket put together out of jerry cans and scrap metal.
- Deception: While not charismatic by any means, he is a consummate liar through and through.
PERKS:
- Intense Training x5: +5 SPECIAL points
- Power Armour Training: Able to use all forms of power armour, an exceptionally rare and valuable piece of knowledge in the Wasteland; given enough time, also capable of teaching others to use power armour.
- Eye For Eye: As a Sigma graduate, he is indoctrinated to only fight harder when injured.
- Implant GRX: All Sigma institute graduates are given this Enclave-developed implant; leaching off naturally-produced adrenaline, it is able to be activated roughly once every 24 hours and gives a massive adrenaline hit, tripling reflex time.
- Mad Bomber: Possesses the knowledge and experience to make nearly
anything
blow up with the right tools.
- Terrifying Presence: His size, build and unflinching gaze are enough to terrify near-anyone into submission.
- Unstoppable Force: His enormous physical strength, combined with the added force of his powered armour and the speed of his strikes, allows him to pass or break an enemy's block almost instantaneously, whether in hand-to-hand or with melee weapons.
- Chem Resistant: Carries on his person a range of combat drugs. Extensive psychological conditioning and experience with using them means that he bears no risk of a crippling addiction to them; however, it also means that he is largely immune to weaker drugs, including standard Stimpaks.
- Hit The Deck: Having spent many years on the battlefield and having had many large explosions go off in dangerous proximity to him means that he knows how to relax his body when too close to an explosion, reducing the effect of the concussive shockwave.
- Toughness x3: The determination of a Sigma graduate, combined with the Institute's exceptionally strict selection regime, renders him significantly physically tougher than most humans beings.
BONUS SKILLS:
-
Enclave Commander:
An expert in planning and executing a wide range of military operations, from leading small-scale surgical strikes to coordinating entire theaters of war.
-
Sigma Graduate:
The will to survive is ingrained nearly from birth for the Sigma graduates. They will keep fighting until they are no longer capable of physically doing so, regardless of the pain they're subjected to.
-
Ruthless Operator:
Cold, pragmatic and detached after the death of the only person he's ever cared about in this world, he is capable of witnessing things that would drive others to madness, and nonetheless continue unperturbed - which is, perhaps, a kind of insanity in itself...
---
EQUIPMENT:
T-67x Tesla Shocktrooper Armour:
A unique variant intended to be issued to the Enclave's 1st Airborne Legion, only a few prototypes of the Tesla Shocktrooper Armour existed before the fall of Adams Air Force Base, where the entire 1st Airborne Legion perished in battle against overwhelming Brotherhood forces. Developed at the Sigma Institute in Nova Scotia, it is a comprehensive update from the Tesla Armour used during the Capital Wasteland War, using lightened ceramics to reduce weight to allow for easier Vertibird transport and heavy-duty leg servos to act as shock absorbers during parachute drops, as well as being fitted with pouches for ammunition.
The characteristic Tesla system has been altered; it is now capable of dispersing the force from energy weapons fire with roughly 93% efficiency, as well as being able to overcharge most unshielded electrical systems for a variety of effects. However, to achieve these alterations, the Tesla system's power draw was increased by roughly 2000%; thus, it can only be activated for short bursts without overloading the armour's Ceramic Ultracapacitor, which results in the armour shutting down for an extended period of time, effectively trapping the pilot inside.
Frederica:
A four-legged robot, constructed mostly out of scrap metal and a few rusted Protectrons. Completely unarmed, she is fitted with the TX-28 Microfusion Pack from a ruined suit of T-51b armour Null found in the junkyard, granting her a near-unlimited power supply. Her primary use is that she can carry close to a full ton of equipment, and she is incredibly sturdy, capable of taking .308 armour-piercing rounds and continue walking. She has always appeared as his loyal companion over the last month in the Wasteland, since his leaving of the Enclave.
Combat Drugs:
Carries a range of combat drugs on his person, including Med-X, Buffout and Psycho, as do all Sigma graduates. In the event that they are wounded in combat, they are expected to simply inject one and keep moving; he is no different, although his supply has begun to run low.
WEAPONS & TOYS:
The Peace Keeper:
A highly unusual .50 BMG machine gun, this weapon was custom-developed by the Enclave due to the relative commonality of the M2 and its .50-calibre ammunition in southern parts of the United States and the unreliability of energy weapons in sandy conditions. Typically feeding from 20-round belts of depleted-uranium .50 BMG shells, this handheld variant uses a large suppressor; while it does little to reduce the enormous noise of the weapon firing, it does serve to reduce the weapon's recoil and can help conceal the firer's position in the dark. Only capable of being used by power-armoured Enclave commandos due to its immense weight and recoil, its primary weakness is its sheer size; it is nigh-impossible to use in anything resembling close quarters, and it is highly inaccurate for extended bursts. Additionally, ammunition for it is generally quite expensive, and stealing it generally necessitates starting a fight with someone already carrying an M2, which is not a clever idea. Typically carried with his armour on Frederica's back.
952 Custom Carbine:
His typical weapon when not wearing power armour, this weapon is a standard-issue US Air Force Assault Carbine rechambered for the 9mm round. Possessing a very high rate of fire, light weight and minimal recoil, this is an effective close-quarters weapon with notable stopping power, although it lacks the punch to deal with large beasts or heavily armoured foes. Purchased for a few hundred caps near the New Mexican border, it has served him well thus far, although its condition is beginning to deteriorate.
Sig-Sauer 12.7mm Pistol:
A standard 12.7mm pistol, a moderately common weapon across Middle America. His Enclave-issue sidearm, it packs an extreme punch, enough to cause major damage to armoured foes and stop a Yao Guai dead in its tracks with a single magazine. However, its recoil is extreme, and it is very difficult to handle when not wearing power armour.
Trench Knife:
A standard Sigma-issue combat knife, fitted with a 'knuckle duster' grip for better traction. Constantly sharp, he is exceptionally talented in its use.
OTHER:
Still keeps her dog tags around his neck, even to this day. He refuses to let them go, no matter what happens.
---
CHILDHOOD: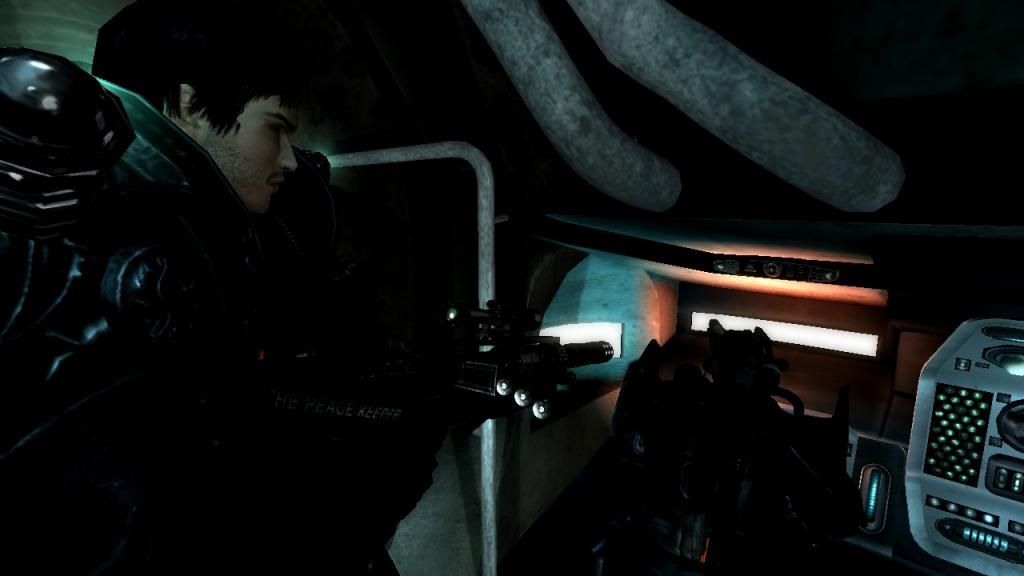 [Day after day...]
Born to parents in Fort Eagle, the last Enclave military base remaining after the fall of Adams AFB, located to the north, in snowy Nova Scotia. His father was an engineer; his mother, a psychologist. That is all he knows, as that is what his file says. To his mind, he was born on June 2nd, 2305.
The day he was inducted into the Sigma Institute.
After the fall of Adams AFB, the Enclave no longer had the numbers to mount an effective war against the Brotherhood of Steel - that much was clear. They did not, nor would they within any practical timeframe, have enough people to wage war on the Wasteland. So instead, the Sigma Institute was founded.
The last members of Enclave High Command fled from Adams AFB to Nova Scotia, the location of Fort Eagle, the north-most outpost of the Enclave. Home to some six hundred people, it was a tiny facility, but housed the Sigma Institute - the Enclave's chief research organ. An elite squad, trained by Sigma, were sent to defend the Mobile Base Crawler as a last line of defence; while slain by the mysterious Lone Wanderer, they managed to defeat hundreds of Brotherhood soldiers, and proved the effectiveness of elite units.
Therefore, the remaining Enclave commanders directed the Sigma Institute to build a new army. Small, but skilled, well-trained and well-equipped enough that they could defeat the Brotherhood through guerrilla tactics, and thus allow the reclamation of America. To this end, a group of children between the ages of three and eight were pulled from the general population of Fort Eagle; kidnapped, they were trained ruthlessly for ten years, and at the end of it, emerged the finest soldiers the Wasteland had ever known.
Five years later, they did it again.
Null was part of the sixth generation of Sigma combatants. By this stage, Sigma forces had been deployed through the Wasteland; performing reconnaissance, destroying Brotherhood patrols before they could radio in to base, harassing supply caravans, anything they could to weaken the Brotherhood's grip on the eastern Wasteland, all the while remaining completely undetected. Null grew up hearing stories of the terrifying wastes, of the mad savages who inhabited them, who dared to believe that they represented the true, great and peaceful nation of America. Of the totalitarian, ruthless Brotherhood of Steel, who massacred anyone they came across.
He was subjected to the brutal training of the Institute, and accepted every second of it without question. He would go days without rest or sleep, or be deprived of food and water until he physically collapsed, or participate in live knife fights where you won or you died. He questioned none of it; just fought, again and again, quickly showing promise as a Sigma operative. After he took command of a group during an exercise in the winter and managed to achieve victory against a fully-armed previous-generation combat team by ingenious use of an avalanche, he was promoted to leader of his squad. He was quickly becoming a prospect for being given the role of Commander of the entire Sixth Sigma Legion when they graduated.
He was fifteen years old when everything changed.
It was a routine operation in the Capital Wasteland. He'd been going on live operations for three years by that point, and had proved exactly as effective in the field as he had in exercises. He and his squad were observing the Brotherhood forces in Old Olney from a nearby ridge when things went wrong.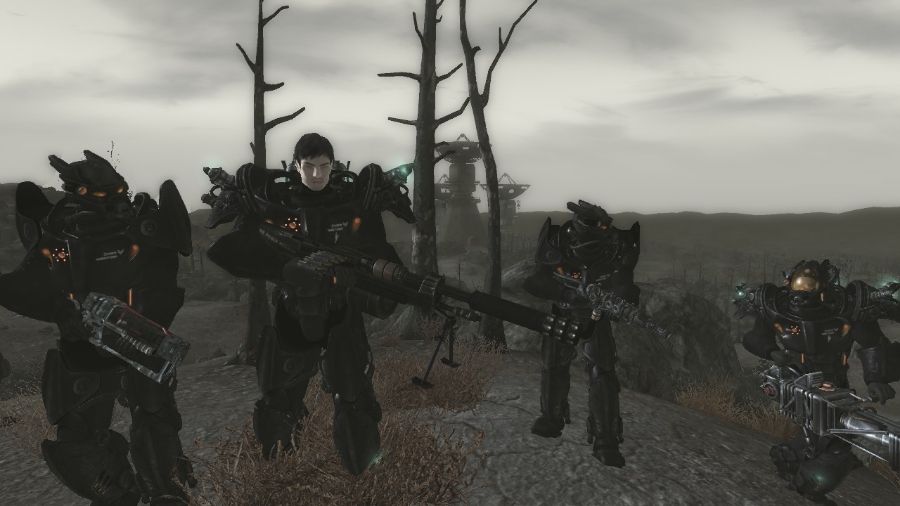 [Death incarnate]
Null had missed the shadowed entrance to a cave in his sweep of the area before they made camp, and learnt only a few short hours after dark that this cave was home to a family of Deathclaws. They approached silently on the camp; Null was lucky enough to be on watch, but by the time he saw them, it was too late. They pounced on the camp; he was hit by one, knocked backwards, sustaining a severe chest wound. When he got up, eyes bleary with pain, he realised that he stood on the edge of the ridge, trying to ward them away from the camp with belt after belt of .50 BMG ammunition, but they paid him no heed, simply tearing into his unit, their screams lighting up the night sky. Suddenly, he felt himself yanked backwards, off the edge of the ridge-
And found himself staring up into the blurred, thin-featured face of a young woman.
Who promptly hit him on the skull.
He awoke some hours later, underneath a radio mast on a distant hill. Still in his armour, he sat, quickly realising that his weapons were gone; he cursed himself for being so slack as to allow himself to be caught like that. Nonetheless, it was a relief to be alive, and he realised that his chest wound had been bandaged. That was when he saw the same young woman - barely more than a girl, he now realised - sitting about fifteen feet up on the skeleton of the radio mast, a smirk upon her features, a pair of dog tags around her neck and a sniper rifle cradled in her arms.
He tried to demand answers from her, to which she responded by pointing her sniper rifle at him and pointing out the obvious tactical disadvantage of his position. After a few long minutes, he relented, and she explained that she was Anna West, a hunter around those parts from a family in Arefu. Only fifteen years old, she was already a talented marksman, and she said that she had taken to hunting wild dogs and mole rats with her father's .308-calibre sniper rifle to keep her family fed.
Null - realising that there was now little value in lying - explained that he was from an Enclave base to the distant north, and that he would very much like to be allowed to return. Anna agreed to this, on one condition - that he let her go with him. With little other choice, he agreed; she knew the roads, knew the terrain, and would likely be a better hunter than he was, too. So she accompanied him north.
It was a long walk, taking the pair more than three months, and the two had quite some time to converse, at which point Null realised that he really did not like Anna. The Enclave had always taught him the traditional American values; women should be quiet, domesticated, obey their fathers and husbands and stay in the kitchen. As it stood, she was brave, headstrong, and had a tendency to shoot things even more than he did. She infuriated him; the only times he would speak were when he argued with her about which way to go. But over time, he began to respect her opinion; he began to understand that, even though she was nothing like what he was told a woman should be, she was strong, and competent, and useful. Over time, he began to warm up to her.
Eventually, as the weeks dragged on, she became the closest thing he'd ever had to a friend. He told her about life in the Institute, about the years of harsh training; it was only her shock at it that caused him to ever imagine that life could be different, thoughts that while he quashed quickly at first, he began to wonder about over time. He told her about what the Enclave said America could become, about the stories he'd been told of the good old days, when children had been able to play in the street and fathers would come home every night to a warm meal cooked by a loving wife. Stories of white picket fences and nuclear-powered cars and a world where everyone was safe, no matter where they went.
And in return, she told him stories of growing up in the Wastes. Of learning to hunt, taking pot-shots at mole rats from the Arefu overpass, of camping in the wastes with her father, of being handed packets of bubblegum by Brotherhood patrols and of Old Man Vance's heroic defence of Arefu from a band of Raiders. She showed him her dog tags; originally her father's, she explained, printed with his information on the other side and hers scratched in with a knife on the other side. It was in these months that Null began to question everything he'd been taught; he came to realise that maybe Wastelanders weren't so bad. Maybe the Sigma veterans had been mistaken, and not all Wastelanders were mindless savages.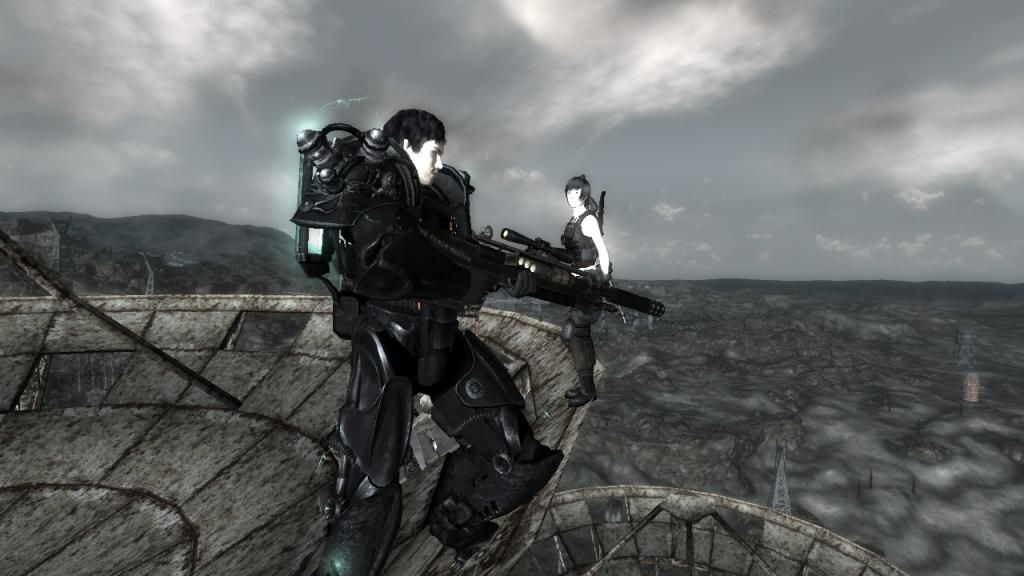 [How far has it been...?]
As they reached further north, the snow began to fall around them, and one night, Anna lay next to him to use the heat from his armour's Microfusion pack to keep warm. A few nights later, she explained to him the way body heat worked, and he removed his armour; she slept next to him again that night, the two keeping each other warm, her head upon his chest. The days went on and the nights grew colder, and soon, two sleeping bags changed into one, and clothes became fewer and fewer. One night, she explained to him the truth of why she'd wanted to go with him - her father had been an Enclave veteran, who'd surrendered to the Brotherhood at Raven Rock and who had been allowed to go free after interrogation, albeit stripped of his power armour and weaponry. After a few years of wandering, he married a young woman by the name of Lucy West in Arefu, and some years later, the two began having children.
Anna was the youngest, and was out checking on the Brahmin when the Raiders came.
Old Man Vance wasn't strong enough to hold them off this time, and as the screams grew louder, she ran; she grabbed her father's rifle from the safe in the ruined farmhouse next to the Brahmin pen, and she fled north, hearing the screams of her family every step of the way, sprinting all the way from Arefu to a radio mast north of Olney. She lay awake the whole night, unable to forget what she'd seen and heard, and was awake when the shooting and screaming started again. She crept along on a tiny ridge that jutted out from beneath the main one, poking her head up to see a power-armoured figure on the edge of the ridge, bleeding heavily, and had pulled him backwards to save him from a charging Deathclaw. He tumbled down the ridge, hitting the ground, appearing dead for all effects and purposes; she remained silent, creeping down the hill, bandaging him and managing to drag him up towards where she'd made camp at the radio mast.
It wasn't until morning that she recognised Null as an Enclave soldier.
She was headed north because her father had told her to find the Enclave if she needed help; that because part of her was still 'pure human', because he'd taught her what America stood for, they might take care of her. That's why she went with Null - to find what remained of the Enclave, and seek refuge there.
[Just before that fateful night...]
As she finished her story, Null realised that he felt pain for her trials. Pain - not something he'd ever felt before, not towards even his most loyal squadmates in Sigma. He sympathised with her, felt for her, and wanted to protect her.
He realised that he'd been in love with her for a very long time.
So he kissed her, and she kissed back, and within a few short hours, they were lying together, panting, having just made love for the first time, operating off nothing more than raw emotion and impulse. That night, for the first time, she held him as he slept.
And for the first time in as long as he could remember, he was happy.
The following morning, they covered more ground than expected, and at sunset, made it to peak of the mountain that overlooked Fort Eagle. For a moment, they stood, and talked; he realised then that he was actually, for once, looking forward, as though he could see a little bit of light in the world, as though there were a future worth fighting for. Quite suddenly, they were greeted by the distinctive chopping of Vertibird rotors, and from the Vertibird, a fully-armed Sigma squad stepped out, led by the commanding officer of the base, Colonel Smales.
The Colonel explained that he'd been watching Null since about 11am that morning, and that he had great admiration for the odds that Null had survived in making it back to Fort Eagle; after his speech finished, Anna stepped forward, and told of her identity as daughter of an Enclave soldier and her belief in the future of America.
Before Null could react, Colonel Smales spat out "Filthy half-breed," and put a 10mm round between her eyes.
As Null stood there in utter shock, jaw dropped beneath his helmet at the events that had just transpired, Smales declared Null an example to all Sigma graduates, taking the Sigma trainee's silence for compliance. He said that Null had showed exceptional ingenuity in manipulating the "disgusting Wastelander" into working for him. He thanked Null for allowing him to "purge the Wasteland of such vile creatures", and then proceeded back into the Vertibird and flew back to Fort Eagle without another word.
Null stood there for a very, very long time, gazing at her corpse in utter shock, unable to react. As dawn broke, he buried her, using only his armoured hands to dig at the hard ground; at the last moment, he removed one of his gloves, took her dog tags, and touched her face one last time, closing her glazed eyes, a silent goodbye to the only person he'd ever loved, the only person who had ever been able to make him feel... human.
Placing his glove back on, he shovelled the dirt and then snow back on top of her grave, and planted his Sigma-issue knife there, the closest thing to a gravestone she would ever get.
He turned, facing the rising sun, and walked forward towards Fort Eagle, her dog tags around his neck, stepping into the new day ahead of him. As he walked off that mountain, he made himself two promises.
That one day, he would reclaim that knife, and with it, he would kill Colonel Smales, for taking from him the only future he had ever wanted.
And that one day, he would destroy the corrupted Enclave, those who had abandoned the ideals America stood for in favour of a doctrine of hatred.
But most of all, he promised
her
one thing -
He would create the beautiful world he'd told her of.
Even if he had to burn this one to get there.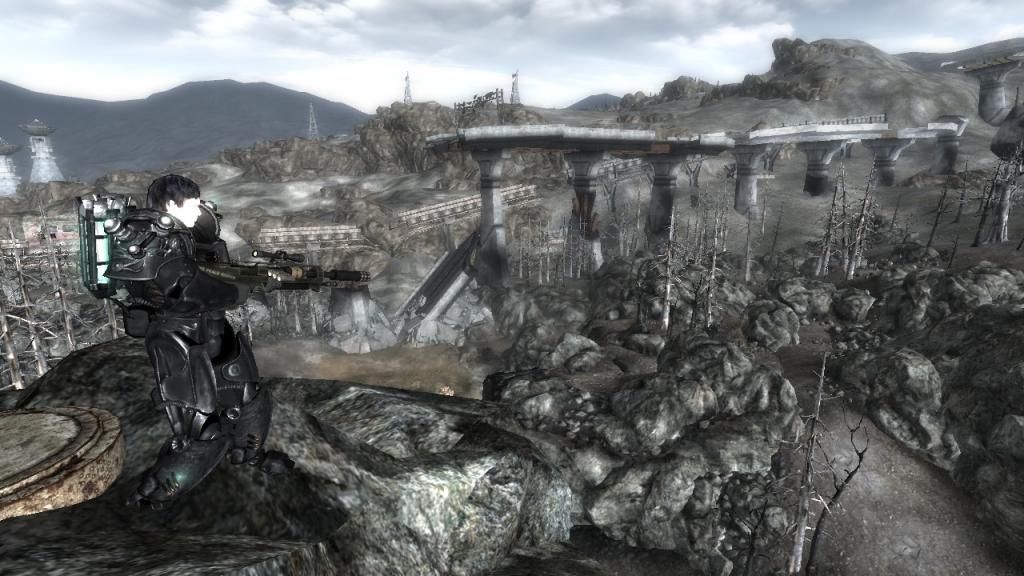 [Freedom's price...]
NOWADAYS:
Nine years have passed since that fateful day.
He went back into training; everyone who knew him said that he had changed. Not changed in the form of having become more caring, or colder - but instead, become
better
. In training, when he fought, it was with more force than even the Sigma instructors had ever seen; strikes that should have caused permanent injury, to say nothing of disabling him, barely slowed him down. He nearly killed two instructors in a sparring match.
He was observed to spend every free moment poring over books of two kinds. The first were military histories - complete details of the battles of history, from the ancient world to the war with the Brotherhood in the Capital Wasteland some thirty years prior. Every detail, every strategy, was comprehensively examined; when questioned on it, he could recite the exact tactical manoeuvring required to defeat any given opponent. When time came for graduation, when he was eighteen years of age, he was placed as Lieutenant-Commander of the Sixth Sigma Legion, the second-highest position there was. His allies lauded him as one of the greatest fighters and tacticians the academy had ever produced.
He hated every moment of it.
He plotted the downfall of the Enclave, and it was for this that he read the second kind of books - philosophy texts. From Aristotle to Rand, from Descartes to Nietzsche, he examined every possible philosophical avenue, every school of thought on life, as so to be able to understand the
why
of it all, to understand why the Enclave had fallen so far and to produce for himself just laws for the new world he would create.
However, one day, he was on recon with a four-man unit in New Mexico when he took a Cazador sting to the side. Slipping through a gap between his armour plates, the venom coursed through him; after reaching safety, he collapsed, and was treated by his team. Accidentally, while stripping off his armour, they found her dog tags.
He wrote it off at the time as a memento of his 'victory', but knew that this would be included in their report, and that it might be the final thing needed to arouse Colonel Smales' suspicion. He wasted no time. The second he was on watch that night, he slit each and every one of their sleeping throats, their knowledge dying with them.
Now truly alone, he began the long trek north-east, stopping at a junkyard near the New Mexico border and putting together an improvised robot that he called 'Frederica' to carry his armour for when he needed it; he could not afford to arouse suspicion on his trip north. Stealing a set of Reinforced Leather Armour at the first town he found, he now walks along the Wasteland, a mysterious figure with a junkyard robot, on a mission that he refuses to speak of.
Little does he know what lies in wait...
[All that's left is the future.]
---
[Anna's sketch of him; among his few possessions.]