Maka Albarn
Role:
Meister
Gender:
Female
Appearance: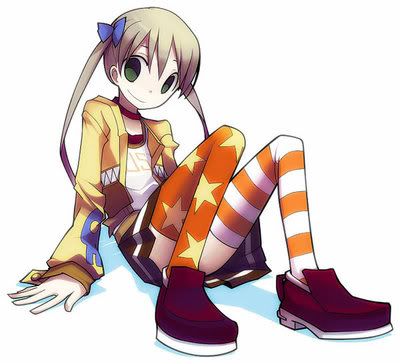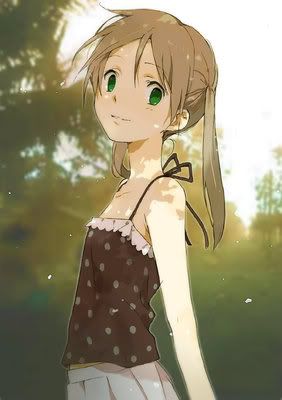 Her primary outfit is a typical schoolgirl outfit and a trench coat with a cloak-like end (that constantly alters its shape in various parts of both the manga and anime), a white blouse with a yellow sweater vest, a red plaid skirt, and black boots with white buckles. When using Soul, she usually wears white gloves. Her hair is ash blonde and always in pigtails, although there are certain times at her home where she will wear them in buns or straight down, or sometimes styled on formal occasions. She has large olive green eyes.
Age:
15
Maka in Crona's mind, when she helped him break free of Medusa.
Personality:
She is Soul's technician. She is the more level-headed of the two but when her anger gets the better of her, she will put her foot down. Where Soul seems to be the brawn, Maka is the brain. She always tries to think of a way to beat their opponent by exploiting the opponent's weaknesses. Her father is the Shingami's current death scythe. She seems to hate her father for constantly flirting with other women but she still loves him. Her mother was also a scythe technician; she and Maka's father are divorced. Maka seems to be annoyed at the fact that her body hasn't developed yet (which is the center of some jokes in the series). She usually kicks Soul after he does something perverted or if he and Blair have been acting too friendly. Dr. Stein saw her soul and told her she was a "serious person who tries hard."
Likes:
* reading books
* doing puzzles
* being at home
* poetry
Dislikes:
* running out of books
* sports (she stinks at them)
* feeling helpless
* someone being sad
Quirks:
When Maka is annoyed by someone she often uses a book to smack them on the head it's called the Maka Chop.
Hobbies:
reading and writing poetry
Goal:
to help Soul be the best death scythe.
Friends:
Soul Eater
Crona
Tsubaki
Black Star
Death The Kid
Patty
Liz