| Yoshino Sohma |
---
| Name | Yoshino Sohma
| Nickname | "Yoshi"
| Age | 16
| Gender | Female
| Zodiac Animal | Tiger
---
---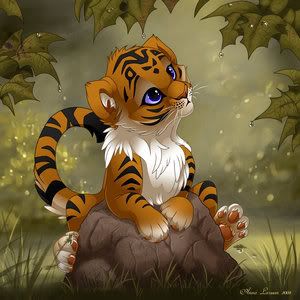 | Physical Description | Somewhat small for her age, Yoshino stands at an even five feet two inches tall. Her body type is slender yet strong with a flat stomach, arms and legs proportionate to her body, small hands and feet to match. Her skin is a tad lighter than ivory, making the girl appear rather luminescent at times, but can darken quickly with time spent outdoors in the sunlight. Though, sadly to her, this lovely tan fades just as fast as she can attain it. Adding to her innocent appearance, Yoshino has white-pink hair which is usually kept in two messy ponytails as well as inquisitive red eyes.

Yoshino can typically be found to wear a plain black tied-spaghetti-strap camisole dress that falls just above her knees and is trimmed with red and white ribbons. This is often paired up with dark socks and shin-height black lace-up boots or, if she is home, bare feet.

| Personality | As the Tiger of the Zodiac, Yoshino is rather clever as well as resourceful and determined. She uses these traits, as well as others, to succeed in her life despite the curse that tends to hold her back from regular teenage activities.. such as finding herself a boyfriend. Yoshi is more of a leader than a follower and, thus, can sometimes come across a bit bossy, although she doesn't mean to.

She is truly a kind-hearted teenager who is the type to be there for others, 'round the clock, no matter what else could possibly be worrying her mind at the time. She's the girl who'd put aside her own important duties for another. Additionally, this is the kind of girl who, despite her fragile appearance, rather enjoys being outside; rain or shine. Whether it's laying in a field of flowers or sitting on the porch to watch the stars, Yoshino adores to do such things and can sometimes forget other important things due to this.

Although her moods can change swiftly, she always appears rather composed and, somehow, manages to hold a sweet yet also seductive side of herself. This, along with her secrecy regarding her family, has drawn a few boys to crush on her at school but nothing, of course, has ever come of them.
---
---
| Special Skills |
Singing
Resourcefulness
Mental barriers, or walls, that allow her to distance herself on occasion
| Likes |
Reading
Shopping
Most of her family members
Boys
The sun
Sushi
The colour red
Fire
Being alone
| Dislikes |
Cold
Chocolate
Another's sadness
Pain
Tardiness
Stupid questions
Dishonesty
---
---
| History | Yoshino was the quiet one, especially during her youth. She always had an odd fear of the God of the Sohma family, as well as some curiousity she could never quench. A girl who loved to read, sing and dance; sometimes all at once, though that had always ended with fits of laughter on her part. Even as a child, she'd held a sort of grace and elegance in her movements that seemed to have come with her curse as the Tiger of the Sohma family.

She'd never been overly close to her parents but she'd been a dutiful daughter in making sure she did her part in ensuring chores were completed and her homework was done to perfection, especially now that she no longer lives with them but at a shrine with a few others of the Sohma family.

Yoshino never had many 'friends', per se, as she didn't like letting people past the mental walls she kept built up within her. Although, she always had plenty of other children, mainly of the Sohma family, around her to keep her company. She was never lonely in anything nor was she ever unhappy, doing all the things she loved regularly.

| Anything Else | N/A