Name: Adalya "Ada" Johnson
(A-doll-ya)
Age: 17
Gender: Female
Addiction or Disorder:
Alcohol Abuse and Anorexia
Appearance: She has ice pale skin and pale pink lips. She also has long black hair, that she dyes from time to time; and deep emerald green eyes. She's 5'5" but 5'6" to 5'7" in her shoes, and very skinny.
She has 4 piercings in her right ear; lobe, two above her lobe, and a bar; and 5 in her left; her lobe, three above her lobe, and one across from the top piercing (the two top ones could be a bar if she gauged it); she also has her belly button pierced.
On her right side
Leads up to this on the back of her neck
On the back of her left leg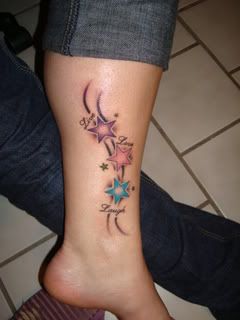 Tramp Stamp

Personality: Ada is a quiet child and doesn't like to talk to people she doesn't know. She does well in school, and enjoys hanging out with people she does know. Due to her past she has major trust issues.
Crush: Jason
Likes:
Strawberries
Reading
Tea
Doing Puzzles
Writing Stories
Baking
Sweet Things (pastries, desserts)
Sun Bathing
The summer season
Swimming
Lilies
Dislikes:
Spiders
Disappointing people
Pain
Homework
Winny People
Being cold
Being stuck in the rain or snow
The winter season
Brief History: Believe it or not Adalya grew up a pretty normal child. She had a loving, caring family, nice (although goth) friends, and didn't need to be dependent on a man. But the nice, happy life could only last so long. When Adalya turned 13 her mother just up and left; no warning, no "Goodbye, I love you", nothing. She just left Adalya, leaving her father to take care of her. Adalya went through a tough patch for awhile, but soon picked herself back up and deiced that she just had to move on. However when Adalya had turned 16, the P.I. that her father hired had finally found her mother; with a new family and two other children. This was a very hard blow to Adalya and the Abandonment Issues that she had been fighting against for sometime now had consumed her.
Adalya wanted the pain of knowing that her mother left for another family to just go away, and a guy by the name of Devon Jackson knew just how to get rid of them. They started dating the beginning of their sophomore year, and the two were inseparable. At first the relationship was harmless, nothing past the make-out sessions they had every now and then, but the relationship took a turn for the worse. Devon started pressuring her to drink, and heavily. He also took her to his cousin's tattoo parlor, against her will, and paid for her first tattoo. Slowly she became use to this life style of drink and being a rebel, and soon got and paid for her other tattoos. However the feeling of being abandoned was still to much for her, and she often cried herself to sleep because of it. She started drinking harder liquids and even found very clever was of sneaking it into school. She also stopped eating normal amounts of food too, which lead to her being so skinny.
After Adalya turned 17, word about her mother leaving finally broke out. Most kids were sensitive, and never brought it up, but there are always a few who take it to far. On the day of the anniversary of the day her mother left, and some kids decided to make fun of Adalya. They picked the wrong girl to pick a fight with that day. Adalya put up a good fight, but the 3 boys over powered her in the end, and left her black and blue. This fight was the start of an even bigger down hill spiral for Adalya. She started getting in more fights; leading her get suspended often, and she started throwing screaming, crying, rage fits while at home in her room whenever she started remembering her mother.
After a couple of months her father felt that it would be better for her to come to Gold Canyon Rehab Center, then continue to live in that type of environment. He knew that she'd be safer there, and would harm herself or anyone else. She didn't want to go there at first, and even bit her dad while he was trying to get her in the car. However on the ride over, she stopped fighting it and accepted that her dad wanted to leave her too, and this new place might be full of people who would never leave her.