Introduction
"Welcome to the kingdom of Fiore, a neutral country of 17 million people. This is a world of magic, where it is sold there every day and is an integral part of people's lives. There are those who use magic as part of their occupation, who are referred to as 'mages'. These mages belong to various guilds and perform jobs on commission. There are a large number of guilds within this country, and in a certain city there lies a certain guild. A guild from which various legends were once born , and still are today!... Fairy Tail!"
"Wait, wait, WAIT! This is supposed to be OUR story!"
"What? I'm just reading what it says in the book."
"Well ya grabbed the wrong book then. Fairy Tail may be the guild to be in over in Fiore, but here in Ebel, it's pretty obvious what the number one guild is! GOLDEN LEO!"
Welcome to Golden Leo: A FTRP, a roleplay loosely based off of Hiro Mashima's hit manga, Fairy Tail! Don't worry if you've never heard of the manga before, however. Us Game Masters plan to write a completely original story simply based on the world of the manga. For a brief summary of the story, check out the Wikipedia page! (
http://en.wikipedia.org/wiki/Fairy_Tail
)
So if you're looking for a great RP filled with mystery and magic, sign on up and welcome to Golden Leo!
This guild is set in the beautiful canal town of Hisbiscus,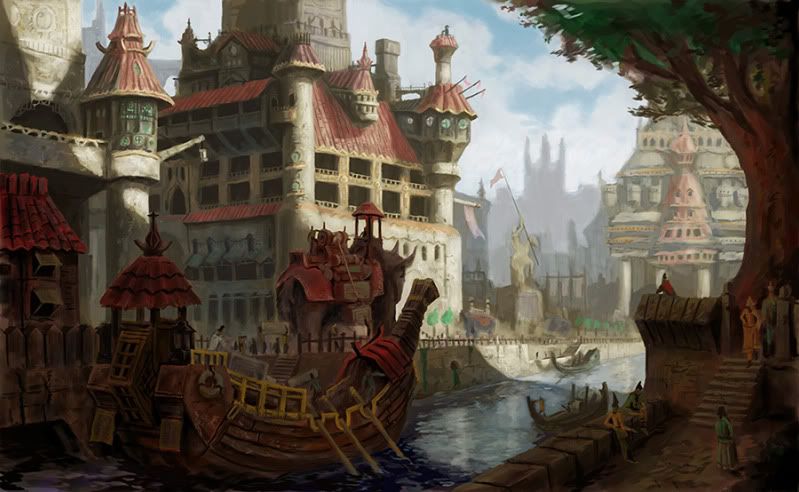 With the guild hidden beautifully amidst the rocks, facing towards the sea. It has been around for 3 generations now and is widely known across all of Ebel as an incredible guild.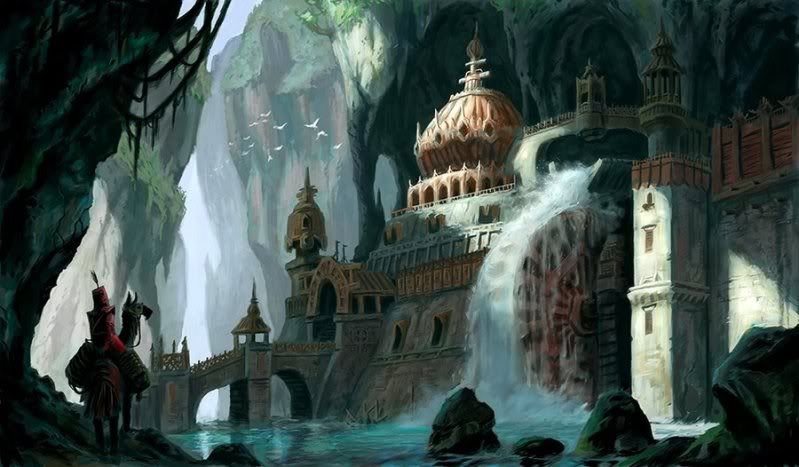 Basic Character Sheet:
Name:
Age:
Gender:
Appearance:
Pictures are helpful (and encouraged), but a little bit of detail on anything a picture can't depict (specific clothes, birthmarks, etc) is good too.
Color/Location of Stamp:
Where do you wear your proud sign of our guild?
Personality:
How does your character act? Are they happy-go-lucky? Are they goofy? Are they dead serious? Try going into detail here, we really want to get to know your character!
Stats:
You are given 12 stat points to use on your character. This will give us a good idea on what your character's strengths and weaknesses are, and will help keep things fair in fights. (For example, two people are in a fight, and person A with high attack hits person B with low defence. This way person B can't say "The attack was fairly ineffective on person B, he just brushed it off.") These stats are ***FINAL*** and will be recorded once submitted to prevent anyone from changing their stats around behind our backs. Now, we know that sometimes characters change. If you feel that a character's stats don't really fit who they are anymore, PM us and we will discuss changes WITHIN REASON.
Strength: How physically strong is your mage?
Defence: How well can your mage take a hit (Physical and magical)?
Agility/Acrobatics: How fast and flexible is your mage?
Magic: How adept is your mage in their magical ability?
Magic:
A description of your magic and what you can do with it.
Signature Abilities:
Here you list off any signature moves of yours, such as Natsu's "Dragon's Roar", or Gray's "Ice Make: Lance" etc. You are limited to 3 signature moves in the beginning, but the more you participate, the more moves we will open up to you! Note to Key Wielders: As with the abilities, you start off with only 3 keys. More participation = more keys! PS, try to keep these starting 3 abilities relatively low key. It's no fun if you start off with God-tier moves!
-
-
-
Equipment:
What does your character usually carry around with them? Weapons (not necessary) / Everyday items.
History:
Give us your character's background! We understand if you want to keep their background a mystery for later character development, but still try to put something here. If you wish to be a 'mysterious character', please PM us and let us know. We just want to make sure you history doesn't conflict with anything we might have planned. *****TWO PARAGRAPH MINIMUM. *****
Fun Facts:
Got any quirks you'd like to mention? Does your character have their own personal theme song? Put it here!
Roleplay Sample:
We're slight sticklers for roleplaying skills. Just ad lib here, write anything to show you can RP, whether it be your character getting in a fight, getting into shenanigans, or just your character enjoying their day off. *****ONE PARAGRAPH MINIMUM*****
As with any guild, there ARE a few rules that one must follow if they want to be in the RP!
Golden Leo Rulebook:
1. No canon characters/ playing characters with relations to canon story (Ex// "This is Natsu's great great grandson, Hatsu, he's super strong!!")
2. No interactions with the canon characters/events. We will mention the infamous guild now and again, and you are free to do so as well, but remember this story takes place 5 years after the current events of Fairy Tail, and is located overseas. Try to refrain from "This is character XXX, they're strong one time they beat Natsu in a fight".
3. No dragon slayer magic (This includes Lacrima-induced) is allowed for characters.
4. Spirit Keys are allowed. However, try to be original and come up with your own set different than the original Zodiac celestials (Ex// Try Olympian gods or Norse Mythology or just your own series!)
5. Original magic is encouraged, but not mandatory. If there's a magic from the anime/manga you really like, feel free to use it!
6. Try to post at least once a week. We're going to be a fairly active RP, so make sure you can keep up!
7. Try to have a one paragraph post at least. A paragraph consists of about 5-6 sentences. Come on people, it's not that hard.
8. If you plan on joining make sure you're committed to staying until the end! If you do not post for a long period of time we reserve the right to kill off/ remove your character. However if you do mention to us that you will be unable to post for a long we will make sure that you can be brought back in.
9. Reading this means that you are actually reading the rules! Please put the following phrase at the start of your character sheet: Plue brings all the girls to the yard!
10. Your character is not a God, you cannot block, dodge or negate every attack, otherwise all the fun and drama of fighting is lost. If you do this we will deliver an ass kicking of grand magnitude down on your character!
11. There are no 'C/B/A/S' rankings to choose from. There is either 'S' Rank and 'Not S Rank'. To keep everyone from going "I want to be S-Rank cuz they're so strong", we're not allowing any S-Rank mages.
12. Romance between fellow characters is acceptable. Just make sure you don't exclude yourselves and use this RP as an outlet for any romantic fantasies. There are plenty of more suitable RPs out there for that.
13. This is a GUILD. Try to get a group dynamic going with everyone! Last thing we want is a lot of Mystogans/Sasukes/<insert loner character name here> in the guild. We're not forbidding you from doing so, but it will be a lot less fun in our opinion. So make sure you interact with people!
14. Most importantly, have fun and enjoy yourself!
These characters are currently marked as available. Why don't you consider viewing their profiles and making a decision on whether or not you can roleplay them accurately?
There haven't been any official reviews of this roleplay yet!
---
These poor, unfortunate souls were once a part of this great world, but have been abandoned. Why don't you consider viewing their profiles and making a decision on whether or not you can roleplay them accurately?
---
There are no places in this roleplay!
There are no groups in this roleplay!
There are no arcs in this roleplay.
There are no quests in this roleplay.
Most recent OOC posts in Golden Leo: A Fairy Tail
---
---
---
---
---
---
---
---
---
---
---
---
---
---
---
---
---
---
---
---