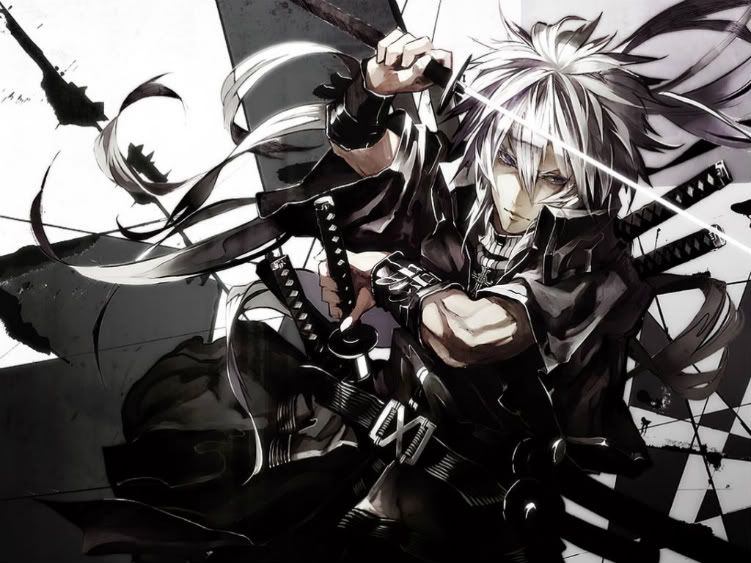 ---
---
Age
26
Gender:
Male
Sexuality
: Heterosexual
Height:
6"1'
Weight:
140 lbs.
Nationality
: American
Written Description:
Asher is a full grown adult. He's tall and has a slight muscle build- nothing too buff. You'll only see it when his clothes are off. He has pale skin with no scars or marks at all. His silver hair is usually like the one seen in the picture, but he'll cut it sometimes.
His usual casual attire includes a white T-shirt from Echo Unlimited and a black hoodie designed for Winter with navy blue jeans. During missions, he wears a dark attire with a crucifix (the picture right under the name; Asher does NOT have that many swords).
In school, when teaching, Asher has a buttoned up shirt on (various colors), a tie, and black slacks complete with matching dress shoes and a belt. It's formal, but the only difference would be the rolled-up sleeves.
Now, for his face. Asher has a pair of icy blue eyes. He is mostly seen with a smile that would calm anyone down and tell them that he's a kind guy. Of course, there's a certain aura around Asher that makes certain people intimidated, but that same aura makes others think he's dependable and trustworthy. During battle, Asher's face turns to an emotionless one. The only hint about what he's doing is that his eyes move everywhere, examining everything.
Weapons, Equipment, and Abilities:
Uchigatana:
An old Japanese sword. It was popular in it's time for being light and easy to carry as well as to attack with. Asher uses this sword to attack quickly and sheathe his sword into a scabbard he always carries in his hand during battle for defense purposes (the scabbard is secretly reinforced for this purpose; no one knows how).
Shadow Manipulation:
Asher's power is the element of darkness, specifically the shadow itself. His power grows greater at night, when the shadows are purely black and is everywhere. Asher can bring the shadow out of the ground/wall, making it into an actual object that Asher can use. The shape can be anything, from a sword to a human. However, Asher struggles more with considerably large objects than himself, so he tends to use it as a sword or spear.
Strings attached to blades:
In addition to his sword, Asher is also seen fighting with strings. They're used as trip wires or set like them to cut through Asher's opponents. Asher also has strings attached to the blades of several hidden knives, so Asher can easily throw his knives and pull them back to trick enemies and backstab without getting too close.
---
---
Once you meet him as an ally or student, Asher is actually a nice guy. He welcomes anyone into his class, and his teaching plans aren't boring. Despite knowing that fighting is a serious thing, Asher tries not to make his class so monochrome. He's loose and doesn't give out homework other than to practice. He makes up activities for each lesson in order to make it fun. On the other hand, though, Asher is definitely serious when it comes to certain things. At the event of something occurring, Asher drops every loose string and commands the class to do what they're told. He cares for everyone, and if there was an attack, no one's getting lost. If there's an appropriate time to be angered and/or agitated, Asher would stay calm anyway. If there's a class clown, Asher will simply make them as a temporary target for the sparring days.
When it comes to strategy, Asher's your man. He can easily pick out the best strategy even IN battle, fully participating in it in the front lines. His eyes also help along with this, as they take in everything with a photographic memory. With Asher's line of thinking, a single crack can mean a break in a chain; just strike it.
In social life, Asher's a fun guy to have around. He's not one to drink, but give him a call and he'll drive home with you. Asher would make a lot of jokes to make everyone laugh, and obviously he's the right friend to have around in parties.
With love, however, it's a different story. Let's just say that Asher can love, but he's too afraid to have a relationship...
Likes:
+ Partying
+ Being with friends
+ Seeing people smile
+ A good fight every now and then isn't harmful to anyone.
+ Strategy Games
Dislikes:
- Selfish people
- Having to deal with paperwork
- Anyone who dares to attack his friends
- Using lethal force against other people, no matter which side
- Betrayal
Pros:
+ Strategy
+ Being fun
+ Able to be quite the adversary
+ Able to make the bleakest moments seem bright
Cons
- Is love-shy
- Around flirtious women, Asher is practically rendered useless
- Seduction works best against him to break concentration and removing his edge in battle
---
---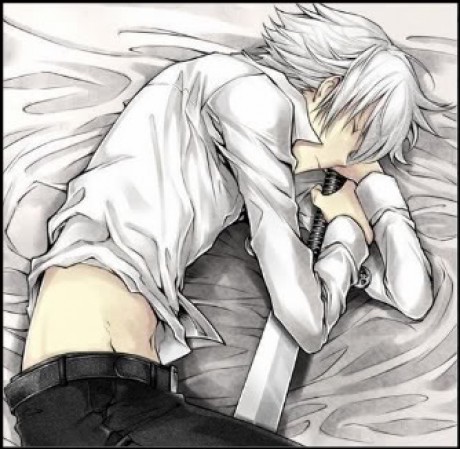 Asher, as a boy, was a normal innocent child with latent powers. There were no hints until his early teenage years, when he started to dream about "being sucked into the darkness." These dreams became progressively worse until they were at the point of actuating his dormant abilities. When that happened, his parents spied on him late that night to see what was happening, and they were caught within a maze of spikes created from the shadows- Asher's unconscious defensive technique at the time. And thus, for the next three years, Asher's family had become afraid of Asher's ever-growing powers. they feared that Asher might kill them, intentionally or not.
At that point, the parents didn't know what to do, until they heard about the Greenfield Academy. From there, Asher prospered until he decided that, after college, he'd go back there to teach the new generation to hone their powers.
First Time Teaching Here?
Yes.
Roommate:
n/a
Love Interest:
n/a (May change)
Relatives at School:
n/a