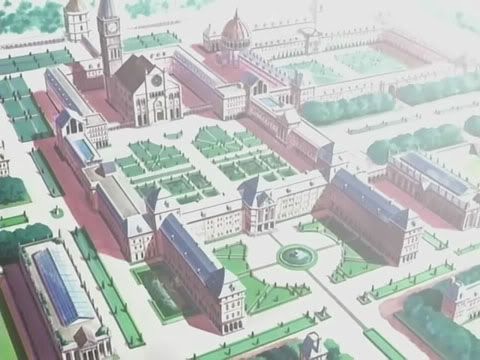 Dear parent of ...
By the IQ tests we gave the children the other day, we have discovered that your child can do much greater than any other person in your child school.
This is why we send you this invitation to let your child enter Gray Stone High.
Grey stone high is the perfect school for children like that of yours who can't show people what they really can do.
Send your child to this school and we promise that you won't regret it.

We hope we can see your child soon
The Principal
This letter was sent to all the parents from the child's who passed the tests. But actually this wasn't an IQ test... This was a test to see if the child could use supernatural powers. Now is the question: Why should we even come to this school as a student? well the answer is that there is a great evil hiding in the shadows and all what they want is killing people with supernatural powers.
Rank system
There are 5 normal ranks in this school. Each rank tells you how long you are already in this school and how strong you are.
1) Entrance student: These are the students who just entered the school and who can't use/control their powers very good. Those students will learn the basics of their power.
2) Grey student: This are the students who passed the exams when they where an entrance student. They know the basics of their powers and will learn to use them.
3) Grey Stone student: This are the students who passed the exams when they where a grey student. They know how control their power and will learn 1 powerful skill.
4) Specialist: These are the students who have stayed here for a long time. They did not need to take exams to become a specialist. But you can become one when you mastered all your powers you learned before. They will learn how to use powerful skills.
5) Power fist: These are the students who can almost leave the school or become a teacher. They know a lot of their powers and will even sometimes be asked to stand in front of a class. They will be tought to master all of their powers and also to lead large groups.
Special ranks
Teacher: This are the people who decided to stay in the school after the graduated from power fist.
Principal: the head of the school.
school uniforms
http://img682.imageshack.us/i/satsuki.jpg/
http://media.photobucket.com/image/11eyes%20yuka/primura/MinaseYuka.jpg?o=5
collor of school uniform.
1) Entrance student: white
2) Grey student: yellow
3) Grey Stone student: green
4) Specialist: blue
5) Power fist: black
Character sheet
appearance: ([ left]image[/left], anime please)
Name: (full name)
age: (higher than 10 years old)
gender: (male/female)
specie: (what are you?)
rank: (what rank are you?)
information about your abilities: (what can you do?)
weakness:
personality:
nature: (bully, neutral, good)
fears:
likes:
dislikes:
history:
No godmod.
No powerplaying.
No Metagaming.
No 1 liners.
Try to post everyday.
You may use romance and violence, but don't go make full romance scenes.
Make a full character sheet.
Listen to me. When I say it is wrong it is wrong.
Please when you can't be active for some time, tell me.
Have fun. If there is still something that bothers you just tell me.
Taking place in...
Arcs are bundles of posts that you can organize on your own. They're useful for telling a story that might span long periods of time or space.
There are no arcs in this roleplay.
There are no quests in this roleplay.
Welcome home, Promethean. Here, you can manage your universe.
Arcs are bundles of posts from any location, allowing you to easily capture sub-plots which might be spread out across multiple locations.
You can create Quests with various rewards, encouraging your players to engage with specific plot lines.
Settings are the backdrop for the characters in your universe, giving meaning and context to their existence. By creating a number of well-written locations, you can organize your universe into areas and regions.
Navigation
While not required, locations can be organized onto a map. More information soon!
There are no groups in this roleplay!
Orphanage
By marking a character as abandoned, you can offer them to your players as pre-made character sheets.
"Nice to Meet You"
"Wow! Your amazing! I wanna hurry up and get stronger!"
"Hi there."
By creating Collectibles, you can reward your players with unique items that accentuate their character sheets.
You can schedule events for your players to create notifications and schedule times for everyone to plan around.
The Forge
Use your INK to craft new artifacts in Grey Stone High. Once created, Items cannot be changed, but they can be bought and sold in the marketplace.
Notable Items
No items have been created yet!
The Market
Buy, sell, and even craft your own items in this universe.
Market Data

Market conditions are unknown. Use caution when trading.

Quick Buy (Items Most Recently Listed for Sale)
None
Discussions
Topics

Replies
Views

Last post
Most recent OOC posts in Grey Stone High
There have been no posts in the OOC topic for this roleplay!