Demon or Angel name:Darlison
Human name:Derek
Age: 18
Image: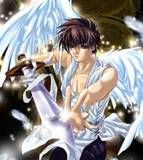 Description: He wears a suit of armors
Job:Guardian angle
Personality:very stern, comes out as a ass, When he tells you to do things you better do then or else. He's not one to say no to, he is aggressive, and sometimes forgets what he is. If he wants information, he intends to take it by force without thinking. But He will harm up to people it just takes time for him to understand the meaning of relaxing for a change. He is very blunt, and very headstrong.
Likes:just about anything
Dislikes:Doesn't like it when people talking back to him
Other: He sometimes does the wrong thing to get someone to listen. But most of the time is right, kinda.