---
---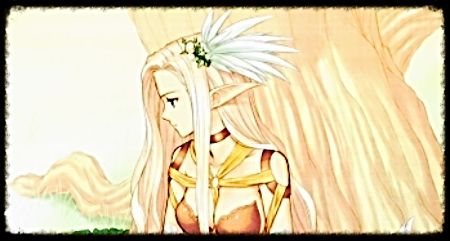 ---
---
"As the sun sets, As the moon wanes, the lingering fire of resolve continues to burn within the cage of time. I believe that is what makes every moment, makes everyone, a beacon of different worlds. So, what will I see with you?"
---
---
"Remember... Remember... the 34th of November"


"Desha linn..." (So quiet...) A murmur, a whisper in the night, yet it echoed like a lullaby. The winds were calm and soothing to the senses. The coolness of the evening brought certain chills which are comfortable. The stars above flickered so delicately, as if luring unsuspecting wanderers into a sea of dark luminous. It matched the illumination below present in many structures as if they were all floating. Yes, night had descended on the city of Ezevoir. This scene had an air of mystery and beauty for a specific individual. That someone who looked with those mesmerized aquamarine eyes also has a gentle smile. The world was truly a mystical place, this is what this person believes but, nothing truly defeats the beauty of one's own homeland.

"Seldi Eona, ta naa commae nae shan e." (Princess Eona, it is time to go inside.) It was the familiar voice of her handmaiden and best friend, Freida. It was too soon for her liking as a notable pout could be seen on her lips. Eona looked at the person who called her and released a sigh. She had just recently returned from a business affair in the realm of Levia' Nhaal. She was sent as an envoy to discuss possible new trade routes. The discussion was successful, but the journey was quite long. She didn't mind. She learned a lot along the way, but she does want to enjoy the peaceful night of the city at her own pace, at her balcony. For tomorrow, it will be another hectic day for her.

"Yewl amin ner commae, Freida..." (Give me more time, Freida...) Her eyes were glistening with utmost fervor. Freida knew it was useless to resist the wish, so she gave a humble bow and left the princess to her own devices for a bit more. It was then something different was afoot. Eona returned looking at the scenery before her when there was a change in the breeze. Her long ash blond hair which was recently being played by the wind gently was now being blown with such intensity. She held the great portion of her hair in place with her hand while the other held on to the stone banister. Her eyes drifted towards the skies above. The silent sky which was a basin of stars earlier was now void of it. The clouds were also being blown away with such ferocity, swept away to a red horizon.

The trees and the plants were being rattled so strongly. The animals in the distance were singing in fear. As for her, she was not sure what to feel at the moment. Her prevalent emotion will be confusion if she was correct in her assumption. What was happening? Was there a storm? She was not certain about that. There was nothing natural about this. Well, there was the case of this being conjured, then again, this was too spread out. It seemed to occur far into the reaches of the realm. Furthermore, there was something odd about the air, because there was nothing normal about the erratic movement of mana. It was electrifying and hot. It reminded her of her brother Ortherus' magic, but that is where the similarity ends. There was something sinister behind it. If this was being manipulated, she could not think of anyone who could do so, unless...

Her thoughts stopped as the flashes of light decided to play a cadence. It took her attention and as time ticked away, the lights which was limited to the apocalyptic skies soon touched the grounds like jagged daggers with such great force. This phenomenon was spreading undeniably across the realm. She could see it clearly from her position, but she did not know the intensity of such sinister lightning, until she experienced it firsthand. It struck her balcony which was 10 stories high without warning. In an instant, it crumbled to pieces as it all fell to the ground like rain. She was also falling down and it was like time was slowing down at a great pace. Was she going to die like this? She did not want to, but all she could do was close her eyes and await the inevitable outcome. Is this really the end?

Then, she felt something or rather someone grabbing hold of her wrist with such urgency. Eona opened her eyes as she saw Freida trying to pull her up with determination. Her friend was positioned precariously on the broken ledge. "Amin gioy llie, seldi." (I got you, princess.) Eona could not help but smile brightly at that statement. "Freida!" The silence was now broken as the sounds of explosions and screams echoed around them. What was happening? There were fires within the city walls. It was chaos. Was this an attack? As she was looking up, it was then she noticed the sky was breaking. Wait... Breaking? Could that even be possible? It was like a mirror having cracks upon its smooth surface. She could hear it break as the crevice seemed to get longer and soon overlapped with another, forming a cross. Then, it opened like a gaping hole.

Eona was not sure where the intersection met as it was far from her line of sight. But if she would take a guess, it was in another realm. In any case, her thoughts did not linger on that for long. Oozing or rather pouring out from the gap was a black mist. Maybe, it was a black cloud. Well whatever it was, it descended to the grounds like a ravaging fog. She was not certain if it was poisonous, but something inside of her was telling her to run away, to fear it. Soon, that notion became the truth as the seemingly cloud of black smoke materialized into hundreds, no thousands of tiny creatures, beings she had never seen before. They were something out of those books depicting creatures of damnation. They flooded the city and even the palace was not exempted. She did not know what they were after, but it soon came clear to her. They were attacking everyone they see. It was chaos.

"Seldi... Eona..." Hearing Freida's voice, Eona gazed at her friend who seemed to be getting a bit pale. She was about to reach the ledge, so all was needed was one final spurt, but she felt the grip on her hand loosening. Her eyes looked at her friend with a question, and she took notice that Freida seemed to be in pain. "Freida?" The girl simply looked at her with eyes that were losing its light and then, she felt a viscous liquid dripping on her face. She determined its source and it was coming from Freida. "Freida, naa llie ilya forya?" (Freida, are you all right?) The girl being asked gave a sad smile and seemed to be saying something, but it was no longer audible. The hand preventing her from her fall released her along with Freida who fell off the ledge. It was then Eona realized that Freida was stabbed by the creatures who came out of the black mist. The revelation rendered her in complete shock and all she could do was shout at the top of her lungs. "Neh!"

Then, the next day came, like clockwork...

"Ta naa n' llie feile, amin hin..." (It is not your fault, my child...) Eona looked at her mother. The queen of their people who aided many with her skills in healing. It was good to know that her mother was spared from the brutality of those unknown attackers, but it could not be said to the others. Her father, the king, was busy with assessing the damage within the realm and restoring order to the city. The mysterious attackers vanished into thin air without a clue to their purpose. They only left the proof of their coming, torn bodies and bloody pools. Many had suffered from these monsters. Yes, they were monsters. It was fortunate her family was spared. Her brother, Ortherus had managed to defeat some of these creatures before their disappearance. But, Eona still lost someone very dear to her.

Her eyes were all red and all puffy. She had cried endlessly through the night and still even now. Many had been killed and injured from the attack of these beings, she does not understand why this happened. Most of all, someone she cared for, her friend was killed. Freida was killed. As for her, Zweiruth, her brother, saved her from the fall by breaking her fall with his magic. Her tears continue, she just couldn't bear the death of so many and the death of someone beloved. It was then she had decided. She would not allow herself to wallow here. She will find out the truth, then seek justice. "Atara, Amin ant nae uum soeali." (Mother, I need to do something.) Her eyes were now alight with fiery strength and her mother knew that Eona was determined to avenge the lives that were lost today and feels that she is responsible to find out the truth. If that is so, she cannot stop her daughter. All she could was ensure that she will be ready for this travel.

With that, Eona was rearing to go to the outside world once more. This time, she had no idea that this would be a journey, she will never forget.