---
---
╔
╗
"I CAN BE A LOVER, A HATER, A FIGHTER, A PLAYER, BUT THAT JUST AIN'T MY STYLE. I'M NOTHING BUT A MYSTERY WITH A PRETTY SMILE."
Shake it off
╚
╝
---
---
---
FULL NAME:
Josephine 'Blake' Evelyn Taylor

NICKNAME:
Blake | Everyone
Princess | Enemies/Haters
Bee | Close Friends

AGE:
19

HOMETOWN:
McKinney, Texas

GODLY PARENT:
Aphrodite

GENDER:
Female

SEXUAL ORIENTATION:
Pansexual

ETHNICITY:
50% Mexican, 50% Irish

DOB:
February 13, 1998

HEX CODE
#b21eae
---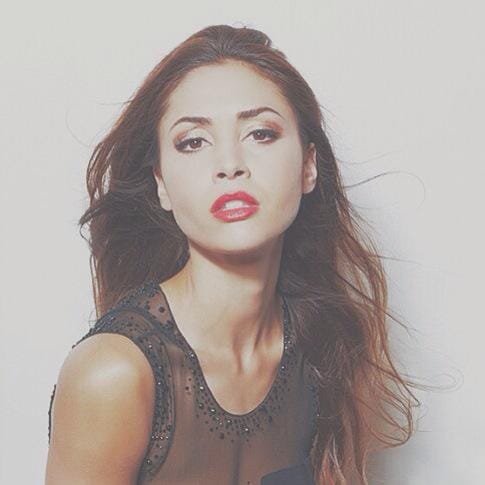 HEIGHT:
5'7 ft.

WEIGHT:
125 lbs.

APPEARANCE:
Being the daughter of Aphrodite, Blake has been blessed with a curves in all the right places and naturally beautiful appearance. She keeps her dark brown hair long, often curling it or adding waves at the end. She never leaves her room without makeup on and always highlights her lips and brown eyes. Her skin is flawless, void of any scars or tattoos. She has three piercings: both earlobes and belly button. She likes to wear a playboy bunny belly button ring. Her fashion sense consists of three factors: sensual, tight, and flattering. She is always dressed to impress, never failing to show her body. She tries to make her clothes comfortable, but will sacrifice her comfort for style.
---
---
---
PASSIONATE ❖ FEARLESS ❖ INDEPENDENT ❖ RECKLESS ❖ INTIMIDATING ❖ CONCEITED




Looking back, Blake could never understand how Aphrodite fell for someone like her dad. If it was Demeter or Artemis, she would understand why they fell for her farmer father. The two apparently met when her father was out in the fields. Aphrodite had been wandering in his corn field and got lost. He showed her the way back and she claims she liked that he was kind and beautiful. Her father was beautiful in a masculine way, after working so hard in the fields. The two had short, blissful romance after she left to go back to Olympia. He was upset to lose her, but went back to work on the farm. A couple years later, Aphrodite left their daughter at his house, explaining that she was pregnant and couldn't care for the child. He ended up naming her Josephine after his mother. Raphael, her father, took his new fatherhood in stride, but he had no clue how to raise a daughter. He didn't know a thing about clothes, dolls, or anything girly. He tried his best with Josephine, but ended up raising more of a tomboy than girly girl. He even ended up calling her Blake, because that would've been her name if she was a boy. Blake only had her father as a stable parent so the two have a positive relationship.

Blake knew her mother was a god. She would come to visit her daughter when she wanted to and was appalled at her little girl being more of a boy. She couldn't believe Raphael raised such a tomboy. Blake liked being in the woods and fighting more than fashion and dating. A power struggle began between the parents. Aphrodite tried to show Blake the joy of being feminine while her father encouraged her to be a tomboy, wanting her to be how she wanted. Many arguments started between the parents with Blake listening to the screaming matches when they thought she was sleeping. Blake began to listen to her mother's encouragement while still being somewhat tomboy to appease her father. She just wanted her parents to get along. Blake knew her parents would never be married or in love like they used to be. All she wants is for them to be happy and to have peaceful childhood.

As Blake began to embrace her feminine side, she noticed things began to change among her friends. She was used to being friends with the boys due to her tomboy nature and attractive appearance. Girls tended to envy her and think it was weird she was a tomboy and pretty. Blake noticed boys and girls would act any way she wanted and whoever she encountered would develop a crush on or be attracted to her. Her mother explained to her that she had gifts due to being the child of a god. Her mother helped her to develop her new abilities. Blake learned to master her emotion manipulation skill and control over the lust one felt for her. Blake tends to abuse this gift for her own personal gain. If she can get something out of it, she'll do it. She does have one secret which only her and a close friend know about. Despite being the daughter of the goddess of passion, Blake is still a virgin. Her father didn't want her ability to control lust to make her think her first time wasn't real. He explained to her how she should wait for someone who truly cares about her, not someone who loves how she looks. Blake has always respected her father so she took his advice seriously. She is still looking for the right person.

Aphrodite was the first to tell her of Legacy Academy. She wanted her daughter to be living and training by the best the gods have to offer. She didn't want to leave her father, but she wanted to go out and become a better person. She is ready to prove that she can not only be beautiful, but strong and mighty.
---
---
QUIRKS
❖ Bilingual (Spanish when Flirty or Angry)
❖ Constantly taking selfies
❖ Always on Instagram or Snapchat
❖ Usually looking in the mirror
❖ Unhealthy love for animals
❖ Stuffs her face with food
❖ Doesn't eat in front of others
❖ Always wears jewelry
LIKES
❖ Animals
❖ Bugs
❖ Martial Arts/Fighting
❖ Shopping
❖ Social Media
❖ Jewelry
❖ The Outdoors
❖ Parties

DISLIKES
❖ Not being the center of attention
❖ Getting Wet
❖ Swimming
❖ Dead Animals
❖ Losing
❖ Bad Filters
❖ Studying
❖ Lectures

---
---
---
GRADE:
12th Grade

TEAM ROLE:
Support

RELATIONSHIP WITH GODLY PARENT:
Aphrodite and Blake have a decent relationship. Aphrodite is still coping with having a daughter who is a tomboy. She doesn't agree with her daughter learning to fight or wanting to spend time out in the woods. With Aphrodite being flighty as a parent, they could never agree on how to spend time together. While they do bond over shopping and relationship talk, Aphrodite is still shocked her daughter is still a virgin. She's been pushing Blake to not be so uptight about it.

HOBBIES:
❖ Photography (Mostly Herself)
❖ Sunbathing
❖ Makeup
❖ Flirting

AMBITIONS:
Blake is doing the Tourney to prove that she can be tough and gorgeous. She is so used to people over looking her, writing her as just the 'hot girl.' She hopes by winning the Tourney to show this and to make her mother happy. Blake is tired of the disappoint from her mother of not being the 'perfect' daughter. She hopes winning the Tourney will let her be proud instead of disappointed.

FEARS:
Swimming: Blake was never taught how to swim and when she was young, she almost drowned when she fell into the pond. She has no problems being in water, but she despises going deeper than her chest. She will have a panic attack
Rejection: Blake has never been rejected before so she is scared one day, someone she actually cares about will reject her. She doesn't know how she'll respond.
Attachment: Blake is terrified of becoming attached to someone. She is used to having a love and leave relationship so she worries one day she will actually care for someone and they won't feel the same. The same thing occurs with friendships, she worries people are only interested in her for what she can give instead of who she is.

STRENGTHS
❖ Emotional Manipulation: Blake has the ability to manipulate other people's emotions. She can make someone happy, sad, and made all at once.
❖ Persuasion: Blake has always been very persuasive. She knows how to get what she wants and how to get it from other people.
❖ Survival Skills: Blake is used to being outdoors and understands how to manipulate the environment to her benefit.
(what does your character bring to the team? Any skills they accel at that make them desirable to the lineup, or deserving of favor from their godly parent?)

WEAKNESSES
❖ Strength/Combat: Blake may love learning to fight and practicing, but she's not very good compared to other gods' children.
❖ Intellect: Blake has never been a studious person so she lacks intelligence. She is by no means dumb, but is very much an average or slightly below student.
❖ Team Work: Blake works best by herself. She doesn't enjoy working with others.
(What does your character really struggle with, their Achilles heel so to speak?)
---
REPUTATION:
Blake is the Queen Bee at Legacy. She is beautiful, charismatic, and confident. Who wouldn't admire her? She's also a scary person to make enemies with so students tend to stay out of her way. She is well liked among the student body, but many people are jealous of her. A rumor is going around that she is the school slut. Being Aphrodite's daughter, it would sense, but no one knows she actually hasn't had sex yet.

FAMILY:
Raphael Taylor | Father | Alive

MISCELLANEOUS:
❖ Blake has several pets at Legacy Academy. She keeps a pet tarantula in her room. His name is Oxford. She also has an aquarium with six fish. They are all named after the zodiac signs.
---
---
FACE CLAIM
Lindsey Morgan

USERNAME
TheNewb08
---