╔
╗
MARISOLE NADEAU
DAUGHTER OF DEMETER


"She breathes the lilies and daises awake, and the sun

xx

alight."
╚
╝
---
---
---
   
FULL NAME:
Marisole Jean Nadeau

NICKNAME:
Everyone always calls her MJ, but Mari is also a favorite.

AGE:
17

HOMETOWN:
Ontario, Canada

GODLY PARENT:
Demeter

GENDER:
cisgender female

SEXUAL ORIENTATION:
pansexual & panromantic

ETHNICITY:
Canadian

DOB:
April 1st

HEX CODE
Dialouge ;

#5ac15c


Thought ; #367337
---



HEIGHT:
5' 5''

WEIGHT:
112lbs

APPEARANCE:
Marisole is quite small in stature, and is the least bit intimidating when you first meet her. Her skin is quite pale, but often gets tanner in the summer when she gardens constantly. From her constant activity in the sun, she has a multitude of freckles dotting her face, that is defined by soft features and a round face. However, her softness is completely contrasted by her piercing light blue eyes, and slightly pointed ears that almost give off an elfish look. (she hates them) In addition her hair is a dark brown color, that naturally falls in wispy waves. To keep it out of the way she normally braids it or pins it back away from her face. Her style is that of a hippie, overalls, pastel colors, and she's nearly always covered in dirt from her day-to-day gardening. In all, Marisole is beautiful but in a strange way. You have to look for it to really appreciate it.
---
---
---
KIND-HEARTED ❖ SASSY ❖ PASSIONATE
STUBBORN ❖ CONSIDERATE ❖  WITTY




Marisole is the definition of underestimation. Her small stature and elfish features, do play some part in her personality, but underneath she is a little spitfire. She is daring, bold, passionate, but shy, timid, and humble. Complete polar opposites make up her persona. She has always been a bit quirky, but deep down is a gentle soul. Marisole yearned for adventure as a child and that curious nature still holds a small bit of her heart. She is very goal-oriented and when she knows what she want, she wont let anyone stop her from achieving her goal. Whether that be through subtle charm, or cutthroat competition. As a child of Demeter, her persona can be entirely misleading but she thrives in that aspect. Even though she has qualities of a hot-head, she truly has a mothering way of approaching things. She will always be there to comfort others in their time of need which makes her especially good at being the Support. While she dislikes the fact that most think of her siblings as the 'pacifists' she still won't give up the kindness that is in her heart. However, if anyone is being an ass, she'd gladly hog tie them up with vines and leave them there overnight.

Marisole has never been approached romantically ever, and she likes to think that they're just intimidated by her spunky personality. While she is a social butterfly, you can catch her calmly singing to herself while planting in her various gardens, she has several. Negativity has always had a strange affect on Marisole as well. It's almost as if bad attitudes pollute her strong character.


Marisole was born to a large family of seven, and was the product of an affair that her father had with the goddess Demeter. The father had no idea that his one night stand would lead to a baby in a woven basket on their front door step. She was wrapped in a handspun, cotton blanket with a small note that read, "Marisole Jean". Fortunately for her, her real mother gladly scooped her up and took care of her like she was her own. Her family quickly began to realize that Marisole was different from the rest quite early on when she sprouted an apple tree out of the ground in a matter of seconds. At first her parents were afraid, but they came to understand that it was a part of their daughter. Her mother's job as a nurse quickly rubbed of on Marisole as she began to learn the different types of natural remedies and core plants that went into most modern day medicines. With her mother's help she became a great healer.

When Marisole was thirteen she saw her real mother for the first time. Demeter visited her family on a warm summer evening, and she was entirely graceful and truly a regal being. She informed her parents of Marisole's lineage, and offered her a future at the academy. Marisole was hesitant to leave her family, but they insisted that they were very proud of her and knew this was a step in the right direction for her. Finally, she reluctantly agreed to go and doesn't regret it one bit.
---
---
QUIRKS
She often crinkles her nose when she doesn't like something, or is unappeased. She also snorts when she laughs and it is quite possibly the most unattractive thing. Again another thing she hates. Oddly, Marisole is also ambidextrous.
LIKES
Marisole loves to garden, and she keeps her own little greenhouses on the academy campus. She also enjoys traveling and backpacking in her free time. She loves to gorge on French Fries even though she knows how terrible they are for your system. She also loves the rain, and cannot resist running around in it or getting the Poseidon and Zeus kids to team up and give her, her own little shower. On a nice day, she loves taking a stroll through the Academy. Whenever she is invited to an event or party, she never refuses. The music, food, and atmosphere is an experience altogether for her and she loves it.
DISLIKES
Marisole hates cold temperatures, and snow in general. She also only wears shoes when she has to and hates the feeling of shoes, she'd rather go barefoot her entire life. As a total eco-centric hipster she also hates littering and pollution. She has never been too much of a sweet-toothed person and would prefer maybe salted pretzels instead.
---
---
---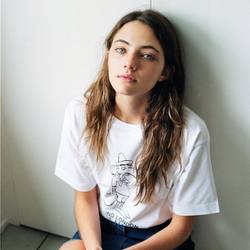 GRADE:
11th // Junior

TEAM ROLE:
Supportive

RELATIONSHIP WITH GODLY PARENT:
Marisole's relationship with Demeter is neither good nor bad, more of a neutral standing. Marisole would never consider Demeter her true mother, and instead holds her 'adoptive' mother closer to her heart. Demeter has seemed to understand this and leaves Marisole to herself.

HOBBIES:
Gardening - Drinking Lemonade - Swimming - Horseback riding - Dancing - Making bracelets and various jewelry

AMBITIONS:
Marisole joined Agon to prove that you shouldn't underestimate anyone. She also wants to destroy the pacifists and altruistic stigma of the Demeter children, and show that they are just as capable.

FEARS:
Not being able to accomplish her goals, is quite possibly her biggest fear. She cringes at the thought of being all talk and no walk. That's not who she is.

STRENGTHS
Marisole's chlorokinesis has been proven to be quite strong as she has ensnared and pricked countless students when she's in a fight. She has also been proven to be a great healer and nurse on the battlefield.

WEAKNESSES
Marisole has no real combative abilities, while she can shoot thorns and trap enemies it's nothing compared to some of the powers of the other campers. She is quite defenseless.
---
REPUTATION:

MJ is known as the sweet-hearted spitfire. She is quite popular among the other students for her infectious and sassy attitude, and her beautiful flower arrangements. Most boys and girls don't tease or flirt with her afraid of getting a thorn to the face, but the daring few still try to make the flower girl quite prickly.
---
---
FACE CLAIM
Amelia Zadro

USERNAME
geminiblues
---