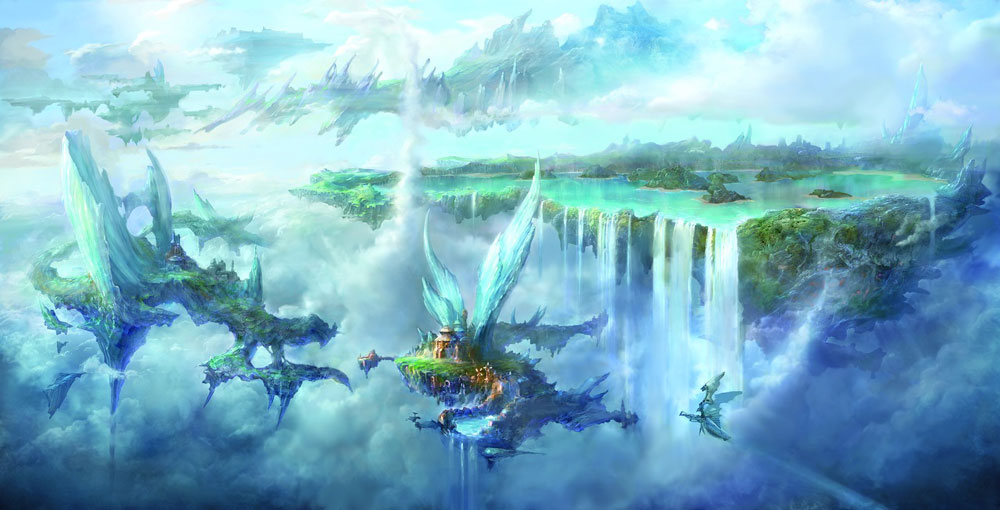 Greetings and welcome to Memoria!
The World of Memoria and Its People
Memoria, a world of wonder, consisting floating landmasses set adrift among the clouds, encircling the Great Memoria Tree. A place both beautiful, and surreal in its construction. Travel between the floating islands is through the ḩ̴̫́e̶͈̤̔̅l̵̡̥̀͘p̷̭̿̐ of Cloud Ships, ships that sail the...
okay, that is pretty self-explanatory you get the idea.
The residents of this world, the M̵̞͊̆e̷̳̞͆morians, equally as wonderfully absurd, one of the few common traits shared among them is the presence of a third eye.
In this world, fantasy and reality are one in the same, magic is a projection of the psyche, as is the appearance a reflection of the mind's desires, often forming at a point in childhood when receiving one's first "vision," or dream, and often this is how talent and magical skill is shaped around into adulthood. Rarely a Memorian changes much after this point, physically, but magical talent may continue to expand and refine within their specialties. Memorian physiology and powers can be beautiful, amusing, full of wonder, and confusing
(and terrifying)
.
Peaceful coexistence is valued among Memorians, and conflict
(like the cowards they are)
is often avoided or resolved as peacefully
(coercion)
as possible. This way, the well being
(lies)
of all can be maintained.
Be careful out there!
Perfect as it may appear, dissidents
(HOPE)
have banded together, the
Harlequins
as they've come to call themselves! They threaten the very well-being of this world with their violent crusade. Each a powerful Memorian, once so wonderfully talented, now tragically dangerous and deranged. Despite efforts to reason with them, to bring them back to their senses, they have committed atrocities in the name of some mad crusade against a so-called "void." Members of this group have actually killed for their cause, actual... murder, so be careful out there!
This all started, likely, over an illness that spreads through the lower islands, that robs the dreams and replaces them with horrors. But worry not! Efforts are being made to cure it, but do try not to travel the Depths, alright? Maybe when this is all cured, the Harlequins themselves will return to the people they once were...
and perhaps the monsters will stop appearing at night.
Be safe out there, traveller!
One by one the void swallows whole
the loves we endear and dreams we hold
of tales forgotten, left untold
legends do without the glory they're owed

void, not of dark, nor of light
the eyeless gaze takes our sight
and yet we struggle, yet we fight
to bring and end to its horrid might

Harlequins brave, fools for their truth
life and grave, nail and tooth
1. While this world has extreme levels of magic, always remember that you are still mortal and not an unstoppable force. Avoid infinite regeneration or perfect immortality. Generally speaking, don't be a Mary Sue who can do everything. Vulnerability makes a character more interesting than one without, after all!
2. No godmodding, do not decide the fate of another player on the spot or autohit an opponent!
3. Morphology is up to your decision, this is a world not bound in terms of species, but morphology. That being said, try to be reasonable to some extent. Try not to have a character be so freakin' huge that you can't enter most scenes! Transformation can mitigate this, of course.
4. Try to be creative! This is a weird world with lots of variability at your disposal!
5. Try to be able to invest some time each week, and be sure you actually want to be involved.
6. Try not to wander to far off from everyone else, it is harder to do scenes with everyone split far and wide!
7. Have fun!
Code: Select all

[b]Name:[/b]
[b]Age Group:[/b] (First Age [Elder, limited, knew there was something from before], Second Age [Knew vaguely of the time before], Third Age/Neo [Youngin's life all in the clouds], Memorians do not count by years, but generations in this manner)
[b]Gender:[/b]
[b]Height & Weight:[/b] (Can include details on alternate forms, but don't exhaust yourself on overthinking it)
[b]Morpholgy:[/b] (Basically, what kind of creature this character resembles, e.g. Lagomorph for rabbit-like.)
[b]Appearance:[/b] (Details further on how they look and dress)
[b]Profession/Hobby:[/b]
[b]Magic/Abilities:[/b]
[b]Gear:[/b]
[b]Brief Bio:[/b] (This includes strengths, flaws, and brief personality profile)
[b]Extra:[/b] (Can be a theme song)
Oh, and if you have any suggestions, or want to co-GM, send me a PM! If this gets enough popularity, a Discord server may be created!
"Nothing but a bit of dust. All things considered we all got off easy this time around." Raimondo replied as he gave a heavy sigh and lowered his mechanical arm. "But at least everything is back to normal...Somewhat..." He then looked around. The damage was not too severe it would appear that of course such a display woke up everyone sleeping and of course caught the attention of everyone. And to that some people were out yelling and pretty scared that they were attacked.

Well this did not concern him mostly, while the others were speaking he grabbed a cigar and lit it up. Nothing like a somewhat victorious smoke, that and now he was not sure what to do now since the paint monster retreated. Maybe it retreated back home...Or it could have retreated elsewhere...Back to square one again! Gah.

"What to do now..." He muttered.
---
Aeila looked on at the mayor carrying on in hysterics and scoffed, shaking her head. Not even a thank you for risking our lives?, she thought, quite annoyed that the mayor was clearly focused on riling up citizens rather than trying to calm the people who were terrified at what just happened. She looked over at the mayor as he was pleading for Raimondo's help, "I'm sure the 'arm of justice' would be delighted to help, mayor, but perhaps you should provide him with payment, after all, saving the city isn't cheap." The only reason that Aeila mentioned payment was because she was hoping that would nudge Raimondo into visiting her shop and getting some work done, and surely business would pick up when a powerful vigilante like himself used her enchanting services.

Aeila's ears perked up as she heard the governor mention the beast's name, she wrote in down in her notebook, maybe she would be able to learn something more at the library or in public records. Despite the recent chaos, she couldn't help but feel a little excited at the prospect on learning more about the creature and why it showed up trying to get its hands on the governor.
---
Heading back to the university, Vortahar was mentally preparing his excuses. Drayden could be quite persuasive and Vortahar had to be really sure of his words.

Crossing the entrance to the herb garden, Drayden was already waiting and came running to him with a worried expression.
"Where have you been, Vortahar? I was worried sick about you! I've heard rumors of trouble near the city hall; were you near the confusion, boy?"

"Yes, master. A huge creature, seemingly made of paint attacked the governor and some warriors helped to fight it back. I crouched behind a rock and watched the whole thing." Vortahar says excitedly almost blurting about his participation in the fight.

"A creature...made of paint...! You could have been killed, you lunatic! What were you thinking.... ?" Drayen shouts.

"But master...I was trapped there. The creature was tossing paint projectiles and I almost...

"Silence, Vortahar! If you had not defied me, this wouldn't have happened in the first place." Drayden yelled angrily. "I am responsible for you. Can't you understand how important you are...if..." Drayden dramatically stops mid-sentence as if having said too much.

"Important...what are you talking about, master?" Vortahar tries to probe him for more information but Drayden starts to walk towards the herbs with his tools.

"The Harlequins are getting too bold to attack like this at daylight." Drayden mumbles changing the subject and Vortahar follows him.

"Master, during the mayhem, I got a sample of the creature's paint. I suppose you would like to study it." Vortahar takes the small vial from his pouch and hands it to Drayden with a confused expression. Drayden takes it with a nod and puts it inside his tunic pocket but turns and continues his chores silently.
---
Arcs are bundles of posts that you can organize on your own. They're useful for telling a story that might span long periods of time or space.
There are no arcs in this roleplay.
There are no quests in this roleplay.
Welcome home, Promethean. Here, you can manage your universe.
Arcs are bundles of posts from any location, allowing you to easily capture sub-plots which might be spread out across multiple locations.
You can create Quests with various rewards, encouraging your players to engage with specific plot lines.
Settings are the backdrop for the characters in your universe, giving meaning and context to their existence. By creating a number of well-written locations, you can organize your universe into areas and regions.
Navigation
While not required, locations can be organized onto a map. More information soon!
There are no groups in this roleplay!
By creating Collectibles, you can reward your players with unique items that accentuate their character sheets.
You can schedule events for your players to create notifications and schedule times for everyone to plan around.
The Forge
Use your INK to craft new artifacts in Memoria Irae. Once created, Items cannot be changed, but they can be bought and sold in the marketplace.
Notable Items
No items have been created yet!
The Market
Buy, sell, and even craft your own items in this universe.
Market Data

Market conditions are unknown. Use caution when trading.

Quick Buy (Items Most Recently Listed for Sale)
Notable Items
No items have been created yet!
A large island and major hub, Lunalake City is here, along with a few fishing towns situated around the river and lake. In the middle of the lake is a strange clock tower where the governor lives. No one knows why he lives there, he just... does.
The center of Memoria, flowing with intense power, sustaining vitality throughout the islands, and a conduit for dreams.
Beyond the clouds below the floating isles resides a land of danger and unknown. Few venture this deep, and the few that do, usually do not return.
Memoria, the world of Dreams
Discussions
Topics

Replies
Views

Last post
Most recent OOC posts in Memoria Irae
There have been no posts in the OOC topic for this roleplay!