Name: Alyania Desina
Age: 121
Race: Half Dark Elf/Half Frost Elf
Gender: female
Height: 5 foot 7
Weight: Around 110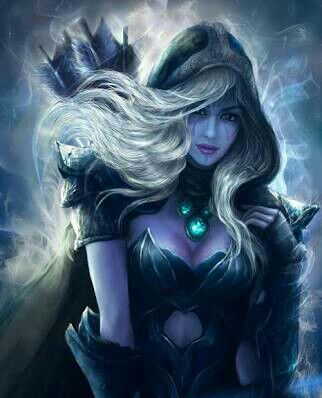 Beliefs:
Alyania is the champion of a Dryad of the Scalwood. She protects these woods she calls home as well as traveling the lands to plant seeds where others have turned forest to wasteland. While she understands the need for felling trees she knows the balance must be upheld between nature and the races.
Alyania has a hatred of Orcs and often clashes with them as she tries to fill the Deadlands with life. Part of her though while she hates what they did to her father knows that without them her mother would have never found her love.
Due to this Alyania rarely sees the world in black and white and looks for the right in each situation.
Personality:
Alyania spends much of her time alone in the woods with nature and it's creatures. As such she is often seen as shy and awkward in her relationships to others.
Alyania can come off as cold and unfriendly due to this. As she is able to open up to others her true nature is seen. She is deeply caring and would do almost anything to help one she has called a friend.
Once you earn her trust Alyania will trust you until you break that trust and should you break it she may never truly trust you again.
Alyania can not stand people that kill for no reason or for evil reasons. If you destroy nature without need or for "fun" she is likely to kill you on the spot.
For the most part Alyania keeps a cool head. But if pushed too far or you harm her friends or nature she will show anger and rage.
In short Alyania is much like nature. If you respect it you have nothing to fear. But if you cross it…
Equipment:
Frost Rune Bow - a gift from her mother this bow turns normal arrows to frost arrows that will chill and in rare cases freeze those hit by them.
Dark Elf Dagger - a wicked looking curved long dagger given to Alyania by her father. When the blade strikes a foe it releases a poison effect that weakens them unless they resist it.
Runed White Tiger Figure (see magic for details)
Leather armor and a cloak acts as both armor and clothing.
Backpack filled with medical herbs, food, water, camping gear and other survival items.
Known Magic:
Dryad Pact: A pact made when Alyania was still considered a child with a Dryad named Sylivi. This pact grants Alyania the power to control and even speak with plants. It also gives her a knowledge of which plants are good for medicines and food. As part of the pact Alyania is expected to "return" what she takes by using the Dryad powers to regrow what is taken and to bring life to barren lands.
Creature Charming: This power lets Alyania speak and tame most common animals
Racial: Alyania's Frost Elf blood grants her a resistance to cold. It will take cold much longer to affect her. The downfall of this is that she is much less resistant to heat.
Racial: Darkvision granted by Alyania's Dark Elf blood. She can see in the dark.
Runic White Tiger: A figure given by her mother grants Alyania a white tiger companion that is summoned by rubbing blood on the rune of it's figure. This Tiger will remain by her side and follow her orders until the blood's power wanes, Alyania dismisses her, or the tiger dies. If tiger dies Alyania can not summon her again until The mystic tiger reforms. This takes a full day.
Background:
Alyania's story starts over 100 years before her birth with the tale of a very unlikely pairing. Over 200 years ago a Dark Elf exile seeking a new life above ground wandered into a land that no one goes though alone. The Deadlands… A name that almost rang true for this young Dark Elf man.
It was only by chance that the young female Frost elf ranger found what the Orcs had left of the unfortunate Dark elf. Taking pity and feeling compassion for the man despite what he was the young ranger brought him with her into the woods she called home.
The Ranger nursed the exile back to life. As the time passed and the Exile grew stronger in the Ranger's care a bond grew. Friendship formed and that bossemed into love. From that love was born a child.
So now Alyania enters her own tale. Born and raised by her father and mother both now rangers she learned how to live in and from the forest and nature. She learned to hunt and toned her body to be quick and agile as the creatures of the forest around her.
As fate would have it the young Alyania would soon meet with those that granted her parents their gifts. "Do not be afraid." Her mother whispered. "Be strong." Her father added. As they gently pushed her forward into the Dryad's grove.
Alyania's life was forever changed that day. The day her pact began. As she grew so did her powers. So did her knowledge of the world. Soon she learned that the world as not always nice. Not always pure waters and calm breezes. Sometimes it was danger… and fighting.
Alyania found that sometimes you might fight for what is good and for what you love. And so she learned and so she trained and so she fought. She grew to become the Ranger, the protector, the silent arrow that all evil fears.