Python Krimsson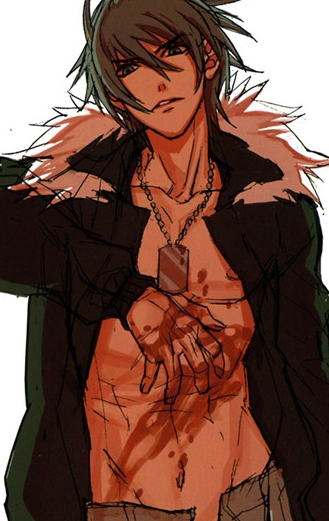 Spine Back Tattoo
Theme Song:
Who We Are - Red
Gender:
Male
Nickname:
Destroyer
Age:
18
Power:
I hope you know how the whole body of a snake is made of muscle except for the spine, well. . . Python inherited that all muscle and has supernatural strength. He can jump higher, punch through walls, jumps from high up and land without a problem, lift heavy weights and run extremely fast because of all that muscle. He never loses a fight and he never backs down from a challenge.
Appearance:
He is ripped (no need to explain), you know those perfect body kind of people, well. . . Python is one of them, and he is not too thin and has no fat. His hands are rough but his face is nicely chiseled out. He has piercing green eyes but they're not mean, people only judge that they are menacing because they don't know him. He usually keeps his hair down and it's almost always messy because of his frequent sleeping in classes, when he's outside, at home or wherever. He has a long scar on the outer side of his left leg that goes from his thigh to his shin and a second scar that looks like a deep bear claw mark on his upper right arm.
Personality:
He isn't shy but he isn't social either, even though he is admired by boys and girls alike he barely says even a few words to them. He is very athletic and scores perfect grades in all classes except history because he never goes, but other than that, no one knows how he gets such good grades because he's always sleeping in class. Because of his good looks, stern eyes and good grades he attracts a lot of trouble but you can't really say it bothers him because he fights whoever dares to start the fight even if they start to run away or surrender, in the end he leaves with his bloody hands in his pockets and a stack of beaten people behind him. But, even though he's a thug doesn't mean he isn't sensitive. Ever Saturday in the morning before dawn he breaks into the library and grabs a book so he can read at his secret view point of the town as the sun rises and then he watches the clouds (of course he brings the book back).
Likes:
- Reading
- Music
- Fighting
- Sports
- Observing
Dislikes:
- Boastful people
- Being looked down on or ordered around
- Ignorant and judgmental people
- Loud mouths