[img]IMG[/img]
---
---
"Everybody is a book of blood; wherever we're opened, we're red."
---
---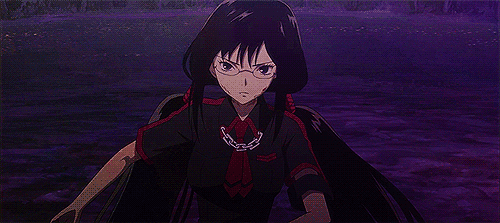 Name:
Maya Kisayuki

Nickname
Mama || Kiki || Vamp


Age:
18


Alignment:
Neutral || Maya seeks to be a hero.. to anyone really, the evil and the good. She just wants a purpose, and if she finds one, then she will help if she sees it fit.


Sexual Orientation:
Pansexual || Never really recognizing herself as a race or gender, she will love someone for who they are, not what


Character Type:
A Magus || Blood Manipulation - Pretty straight forward, she can manipulate the blood of herself or someone elses.


Abilities:
- Blood Manipulation || Controlling blood of others, she can do it by simply glancing at another, making them move without their consent. However what takes the most mana is by regenerating her body by collecting the blood spill (bigger the injury the more mana usually -5 for usually cuts).. but this is very risky and very hard to do. Another mana consuming abilities revolve around anything that involves the whole body of blood (-10). Her offensive moves are usually morphing weapons out of blood if her katana isnt avaliable (-7) and/or for defense the blood near the surface of her skin hardens to an armor (-9)
- Intelligence || She knows to keep a level head due to her understanding of most anything in battle, she is quick to calculate and helps keep her sanity steady.
- Healing || Many diseases and pain come from unhealthy blood, so if it does link with her abilities, she is capable of soothing or healing it. But it doesnt limit physically, she has a way with calming the minds of others with her words and her composed nature so it helps her teammates. (-5) for usual wounds, nothing life threatening.
- Swordsman/combat - Anything under the traditional Japanese arts she learned under her grandfathers shrine, she is mainly revolved around katanas, one called chi. With combat she is a little above intermediate, able to dodge and fight back.


---
---
"We make up horrors to help us cope with the real ones."
---
---

personality: Calm || Composed || Gentle || Mature || Mysterious

Brief History:
TBA

Dark Secret:

Decided to be a vigilante, killing the evil, but she went through a phase to where she couldnt control this craving until she relieved herself by horror books and movies.
---
---
"Perversity is the human thirst for self-torture."
---
---

HP/HP: 110/110


MP/MP: 70/70


Strength: 6


Defense: 13


Magic: 17 (+9) = 26


M. Defense: 10 (+3) = 13


Agility: 14


Evasion: 7


Will: 5 (+9) = 14


Sanity: 8