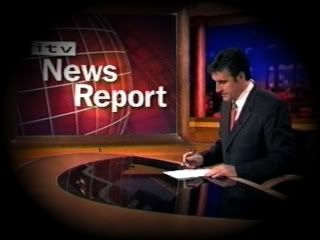 "Good evening I am Terry Mitchell. We interrupt this program to bring you this important news bulletin. We are receiving unconfirmed reports right now, of random acts of violence and mass murder all over the city. Details are a bit sketchy right now and there has been no official statement by the police as to what is happening but we will continue to bring you late breaking coverage of the story as we get it into the station."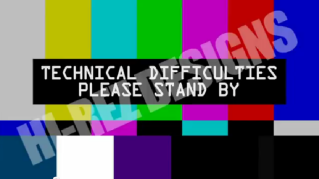 "Good evening I am Terry Mitchell. For those just tuning in we will be remaining live on the air for the remainder of this crisis. As we reported earlier there have been widespread attacks all over the city by what are described as bloody corpses in a trance like state. We still have no specific answer as to why this is happening. Reports are ranging from a germ or virus with a mind altering effect or some sort of chemical spill or behaviour disorder and mass hysteria. All roads and freeways are jammed with people trying to get out of the city. Now the governor has issued this statement 'All people are urged to stay in their homes and lock their doors until the situation is contained."




"There is widespread panic all over the city. Most communities are without telephones, many without power and some without water at this time. Now the scientists at the CDC have realised this statement, 'The bodies of the recently dead are returning to life driven by an unknown force that enables the brain to function.' For people that are trap or are unable to get to the safety of their own homes we are providing a list of rescue stations on the screen below. Please make your way to the rescue stations that are closest to you. The military has been mobilised but the violence is so widespread that it is impossible for rescue services to respond to every situation. People have been left to defend themselves….and people have been taking the law into their own hands. If you are watching this broadcast at this time please get to one of the rescue stations immediately."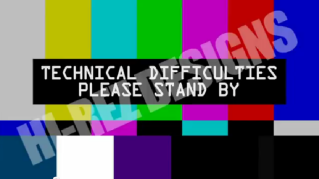 "Again we have reports that the dead are returning to life and are attacking the living. Any unburied human corpse with its brain intact will still function…the dead body must be deactivated by either destroying the brain or severing the brain from the rest of the body. Every dead body that is not properly exterminated will kill…every person that dead body kills will get up and kill…no matter how mutilated or damaged the body is..."
Merus
The Virus
The virus had been originally produced by genetically engineering a strain of the measles virus in order to be a cure for cancer and other diseases soon after. It was suppose to be known as the ultimate vaccine. The strain seemed to have shown successful test results until poured into the New York City populous after mutating into something far worse than what it had been anticipated for. After the evacuation and quarantine of Manhattan, New York City, 90% of the populous left behind died within hours from exposure to the virus. The 10% were either immune to the airborne strain of the virus or "lived" with the gruesome symptoms of the virus. The latter made up most of the 10% on the island. Those that were immune to the airborne strain were not safe, as they became prey to the infected; they'd either be food or they'd be infected through the exchange of bodily fluids, whether it be saliva, blood, or even vomit. With this being the case, the number of infected rapidly grew over the first few days after the quarantine. Humans weren't the only ones infected by the virus as animals could be catch the disease through the transfer of bodily fluids as well. An animal with the virus is a rare occurrence, but it will experience the same symptoms as a human infected.
Though it may seem that no one is safe from the infection, there seems to be a very small fraction of people who are completely immune to the virus as they show know symptoms after any kind of contact with the infected. Just because you're safe from the infection though, doesn't mean you're safe.
Symptoms
The incubation period for the virus has many variables (i.e. strength of a person's immune system) depending on the host. However, some common symptoms that show someone has been infected are:
-Itchiness
-Pale skin
-Chills
-Vomiting
-Sensitive bones
-Fever
-Hallucinations
-Nausea
-Insanity or progressing loss of intelligence
As the virus progresses insatiable hunger and sporadic bursts of antipathy begin to show.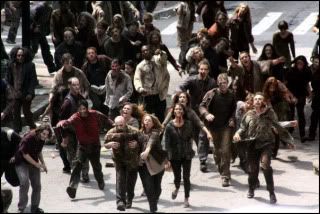 The Infected
There are different types of infected:
Walkers/Roamers
-They walk around aimlessly searching for brains/flesh (basically they are searching for food).
-They are slow and fumbling and tend to be attracted to noise.
-They usually stick around places that were familiar to them before they became zombies.
-Very dangerous in large numbers.
-They can easily be killed, even for an inexperience person.
-Blunt weapons (i.e. baseball bats, tire iron, golf clubs etc) can be used to kill them with.
Runners
-One of the most dangerous types.
-They are very fast, can jump and tend to be more coordinated than the walkers.
-Blunt weapons can be difficult to use on runners, firearms or long distance weapons would be a better choice.
-One needs to be an accurate shooter, or be very stealthy in avoiding these types.
-You can easily escape them by running them over with a vehicle, however this can sometimes result in you being mobbed by dozens of them.
Learners
-They are the newest kind, and most dangerous.
-They are smart and resourceful.
-They can pretend to be normal humans, but their dead rotting flesh tends to give them away.
-They can't necessarily talk, but are capable of gesturing (i.e. nodding/shaking head, pointing).
-They are much like runners except they can use weapons and organize themselves into coordinated attacks.
-Best strategy to deal with them is to avoid them at all costs.
-If you do come into contact with one, surprise attacks or distraction attacks work best.
-Like runners using firearms, explosives and booby trapped can also be used to kill them.
Crawlers
-They are zombies that have been dismembered in a way, which result in them having to crawl on the ground to chase down a humans.
-They can be easily killed and are also easy to run away from.
-Both blunt weapons and firearms can be used to kill them.
Lurkers
-Only zombies that don't go seeking people to eat.
-They tend to just sit around and play 'dead' until someone comes to close.
-They can be easily killed and best way to escape them is to just run away because they tend to not follow.
-However, they can be the real threat because they can pass as dead zombies.
Animal Zombies
-Animals are only immune to the airborne virus strain of the virus.
Attack Methods
Bite:
Zombies mostly tend to just lunge straight for their prey and rip into their flesh with their teeth. The saliva in the zombie's mouth will make contact with the wound and spread the virus.
Scratch:
Zombies also tend to use their sharp fingernails to cut open skin. This can be used to injure potential victims before eating them.
Bile:
Some zombies share a habit for random vomiting and these types tend to vomit at the same time as they are attacking an enemy. The bile tends to inflict damage due to an unknown acidic trait.
"Playing Dead":
A few zombies may lie on the floor in a motionless state; mimicking death. When the prey has moved close enough, they will attack them by grabbing and biting into the leg.
Character Sheets
Appearance: (realistic pictures only)
Name:
Age:
Gender:
Height:
Weight:
Sexuality:
Ethnicity:
Previous Occupation:
Current Location:
Personality:
History:
Other information:
1. sweet_angle66 is QUEEN and FunnyGuy is KING therefore what we say goes :P
2. No Godmodding and Power-Playing (you CAN and WILL get hurt)
3. No Cybering
4. Keep up with your characters especially if someone needs you to post as them. Also watch out that if you're interacting with a bunch of characters make sure you allow time for people to respond before moving ahead.
5. Realism – This is set in a realistic environment and is set in present time so no outrages technology, weapons, magic or any kind of powers/abilities.
6. Weapons – no crazy powerful weapons, basic pistols and rifles. Also there is no way your character will be able to get their hands on a whole stash of weapons and unlimited amount of ammo, unless you robbed an army base or something which is highly unlikely. We want you to survive but be realistic and make it interesting by using household goods as weapons.
7. Characters – we don't want to see 100 soldiers/ex-marines ect., we are looking more for average human beings. Also no double-ups on occupations. VARIETY
8. If you have an argument that breaks out during the OOC that becomes irrelevant to the OOC or an issue within the RP itself such as a dislike of another user please take it out of the OOC, however you are free to discuss any RP related material or even have casual conversation with others in this OOC if you please as long as it doesn't get hostile.
9. Most important have FUN!!
Taking place in...
18 posts here • Page 1 of 1
18 posts here • Page 1 of 1
Arcs are bundles of posts that you can organize on your own. They're useful for telling a story that might span long periods of time or space.
There are no arcs in this roleplay.
There are no quests in this roleplay.
Welcome home, Promethean. Here, you can manage your universe.
Arcs are bundles of posts from any location, allowing you to easily capture sub-plots which might be spread out across multiple locations.
You can create Quests with various rewards, encouraging your players to engage with specific plot lines.
Settings are the backdrop for the characters in your universe, giving meaning and context to their existence. By creating a number of well-written locations, you can organize your universe into areas and regions.
Navigation
While not required, locations can be organized onto a map. More information soon!
There are no groups in this roleplay!
By creating Collectibles, you can reward your players with unique items that accentuate their character sheets.
You can schedule events for your players to create notifications and schedule times for everyone to plan around.
The Forge
Use your INK to craft new artifacts in Restless Corpses. Once created, Items cannot be changed, but they can be bought and sold in the marketplace.
Notable Items
No items have been created yet!
The Market
Buy, sell, and even craft your own items in this universe.
Market Data

Market conditions are unknown. Use caution when trading.

Quick Buy (Items Most Recently Listed for Sale)
None
Discussions
Most recent OOC posts in Restless Corpses