---
---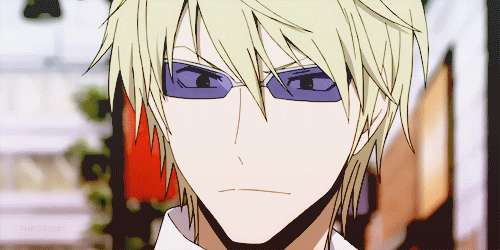 " Just tell me whose necks to break and I'll pull it off before you even know it. And don't piss me off, for a thousand time already."
【

Renegade : STEREO DIVE FOUNDATION

】



【 Dialogue :

#F4A460

: Thought :

#B8860B

】



【 Face Claim : Shizuo Heiwajima | Durarara!! 】
---
" See that guy? He got on my nerves and I think he had stuck in the hospital for three years. "
---
◤
◥
FULL NAME
Victor Hugo
Meaning : Victorious Radiance
NICKNAMES
Vic | Hugh
AGE
29
GENDER
Male
OCCUPATION(S)
Bartender
Member of Odd Jobs Yokohama
ORIENTATION
Homoflexible
ETHNICITY
Japanese-French
◣
◢
---
" In my life, there's no such thing as 'boredom' that exists. "
---
◤
◥
HAIR / EYES
Blonde / Brown
HEIGHT / WEIGHT
6'1'' / 175 Lbs
COMPLEXION
Fair
GENERAL APPEARANCE
Many often commented that Victor is a really good-looking man, who can easily attracts both males and females alike with just his looks alone. Because of his feat of strength, he has quite a strong build and an impressive height that towered many people, but he's not too heavily muscled. Victor is very athletic and he's confident that he could outmatch almost anyone in a race.

Victor is spotted to have blonde hair, which makes him quite stood out in a crowd, and hazelnut brown eyes. These are his most attractive features. Though not visible, he had quite a collection of scars scattering throughout his body.

In terms of clothes, Victor often dresses in a formal suit because of his job as a bartender. He also usually seen to wear a blue sunglasses and has a cigarette in his mouth. He also likes to wear cologne whenever he goes out.
◣
◢
---
" Sometimes just stop by and grab some liquor. Life's about having fun, isn't it? "
---
◤
◥
◇ Laid-back ◇ Gallant ◇ Sociable ◇ Mature ◇ Abrasive ◇
The first impression Victor usually gives off when people first met him is how carefree he is. There isn't a moment that a confident smile doesn't appear on his face. After all, nothing can't be fixed with a relaxed attitude, in his opinion. Though if not taken the fact that he has a lousy mouth, Victor is indeed a perfect gentleman. He knows just exactly what other people need and is in fact a very reliable person. He doesn't have any problem in charming both males and females alike.

As one of the older members of the group, Victor is a mature person. He has a straight way of thinking and knows how to deal with things in an up-right manner. Taking account of his careers, it's no doubt that Victor is extremely outgoing and sociable. He can get along with just about anyone after exchanging just a couple of words and is easy to hang out with.

But whatever you do, don't ever get on his nerves. It wouldn't be exaggerating to say that he had a temper of a baby and there's nothing that can describe what he can do when he's enraged...
◣
◢
---
" I'm a gentleman at day and a perfect monster at night. Problem? "
---
◤
◥
◇ Sweets : Victor really has a sweet tooth and there's no such food in the world that could be as appealing to him as candies and cakes.
◇ Liquors : Well, Victor is a bartender, isn't he? He knows just the kind of alcohol that would get someone's mood high and can drink anyone under table.
◇ Handsome Men : Victor holds a thing for prettiness, so swooning and flirting with good-looking men who come across his bar is something he enjoys.
◇ Kitten : He loves those little furballs. Just don't outright tell Victor that if you want to live and see another day.
◇ Fun People : There's no room for boredom in Victor's life. He would only accept the company of the people he considers as fun.
◇ Quietness : Victor has never been able to stay quiet for 5 minutes because it's kind of eerie when thing goes without a sound.
◇ Cockiness : Make a smug face in front of Victor and the next second, an ambulance will arrive and take you to the hospital.
◇ Flowers : Victor is allergic to pollens, enough said. That's why he doesn't decorate his apartment and bar with any type of flowers.
◇ Violence : As ironic as it sounds, there's nothing Victor hate more than resorting to brute force. But people just don't seem to understand it.
◇ Vegetables : Victor likes to acknowledge himself as a carnivore beast, so yeah, no veggies for dinner.
◇ Street Fighting : Taking the fact that Victor has to break at least a couple of necks everyday there's no doubt that he is a literal beast. He is also an expert in parkour.
◇ Intelligence : If you think that Victor is an idiot who is all brawn and no brain, you're dead wrong.
◇ Cooking : Victor really takes pride in his ability to serve good foods and good drinks.
◇ Temperamental : As stated above, Victor's temper is as equal to that of a baby. And sometimes it can cause some real headaches for his comrades.
◇ Blunt : If there's something Victor is thinking of, he would say it without taking the feelings of people into account.
◇ Impatient : Enough said. Would you expect Victor to just sit quietly and wait for something?
◣
◢
---
" A literal meat shield? Yep, that's who I am. "
---
◤
◥
Victor's ability is called Angelo, Tyrant of Padua. It was quite an impressive name, but in fact quite simple to put into words. He was born superhuman conditions. Which means, he is trong enough to lift automobiles and punch through steel, fast enough to outrun race-cars, agile enough to leap over small buildings and dodge supersonic attacks, durable enough to withstand brute attacks and low-to-medium explosive. He is also incredibly strong in terms of raw strength, vitality and durability. He can crush, lift, throw, or catches items of great weight with little effort.

Victor often commented that his weapons and shields are literally everything around him. This, combined with his street-fighting skills, makes him a formidable opponent to be reckon with when fighting head-on.

While normally, Victor has already possessed a good amount of strength thanks to his ability, Angelo, Tyrant of Padua is only truly effective whenever he's enraged. The angrier he is, the more damage he can deal to his surrounding. That is why it is highly advisable that people try not to do and say anything that annoyed him.

No matter how strong he is, Victor is still just a human. Meaning, he would tire out and become exhausted sooner or later in a long and intense fight. He can lift objects with the weights of a truck or a car, but he'll never capable of lifting something like a building. Another drawback is the heavier an object Victor has to carry, the slower he will become. He will also become more vulnerable to abilities that affect the mind should he lost his temper completely and gone on a rampage.
◣
◢
---
" Come on, if you louts wanted to have a few broken limbs that bad, then get in line. "
---
◤
◥
If Victor is asked about his past, he would grinned and tell whoever asked him that his whole life itself is an never-ending journey that he would always enjoy to the max. Even though he might have had a rocky start and there have been times that Victor was knocked down, but he has never once regretted that he has chosen this path to walk on. Victor is happy with how he is now and all he could ever hope for now is to enjoy life as much as he can, at least during this ever-ending war, anyway.

Victor has completely no recollection of who his parents are or whether they are alive or dead. The earliest memory that he could possibly remember is when he woke up in a deserted alley in a city that he totally had no familiarities with, with his body aching everywhere. And he was just about 7 or 8 years old back then, if his memories serve him well.

He began to learn how to cope with the street life in the city. It wasn't easy at all and it was a miracle, that he had managed to live through all of those hellish days. Dealing with pesky thugs, escaping from gangs, stealing money and food in order to keep a full stomach, are the very things that Victor had to experienced almost everyday. He had actually lost count of how many times he was beaten to a pulp if he was unfortunately being caught, how hard it was to find a proper shelter every night, especially when it was raining, and how he was all by himself, without anyone helping him to stand up or tending his wounds.

Living a life like that for almost 6 years, Victor's life finally turned over a new page on the day he met a black-suited man. The man was being helplessly cornered by a group of thugs, who are seemingly aiming for the briefcase he was carrying. Because Victor is still just a young boy, a sense of heroism flared up in him. Having dealt with these types of guy for so many times, and with his newly awakened ability, Victor managed to take them down by himself. The old man, having anticipated it all, applauded Mikari for the deed that he has just did, much to his surprise.

The man revealed his name to be Hiroyuki Morioka, a successful business man and also secretly an ability user. Impressed by Victor's courage and ability, he offered to adopted him, as his son. Never having lived under a roof before, Victor accepted almost right away. He continued to grow up as his ability become more and more powerful. However, as Hiroyuki isn't granted with a license himself, Victor too have keep his power as a secret from the rest of the world. When he graduated from university, Victor left the town where he had grown up and eventually found himself in Yokohama.

With the money he earned from working here and there, Victor managed to open a bar, which had been gaining popularity with people of all types ever since then. One day, he came across with the members of the Odd Jobs Yokohama and become one of their older members. Life was always eventful for him and Victor care naught for the conflict between the Mafia and the ADA, so long as he always got jobs to keep him going.
◣
◢
---
◇ Maternal Father : Unknown : ??? : Unknown
◇ Maternal Mother : Unknown : ??? : Unknown

◇ Adoptive Father : Hiroyuki Morioka : 45 : Alive
---
◤
◥
cs by StarlightPrincess
inspired by The_Queen , ઽ૮૨Α
modified by Chrian Blaire
filled by Your Username
◣
◢
---