---
[size=250]

❝I am the Gray Knight... Beta Tester... Leave these people alone or prepare to lose.❞
---
---
[size=200]The Inside
| Nickname(s) |

Set, Gray Knight, Aegis


| Gender |

Male


| Age |

17
| Sexuality |

Hetero Sexual


| Weapon(s) |

A sword and a shield, typical no?

| Abilities |

High Endurance, High Stamina, Moves faster then what his armor looks like
---
---
| Likes |
* Food
* Protecting
* Fighting
* Surviving (Duh)
| Dislikes |
* Seeing somebody die
* Noobs
* Being uselles
* Failing his job of protector
---
---
| Personality |
Setsuko is an open book. He is honest, kind, and blurts his mind... well, that does do him alot more trouble then good. He loves RPGs and being in the beta of SAO was an amazing experience for him. Now, he seeks to fight the for the good of all players, to finally get out of SAO and back into the real world. He'd rather strike fear with his armor then his sword... to escape as much conflict as possible with other living players. The NPC though? They're all dead as soon as he sees them... he might not seem like it, but this has really pissed him off....
---
---
| Bio |
Another beta tester, Setsuko has put tears and blood into getting to the highest point of SAO while it was still in Beta. He is a huge RPG fan, your typical nerd. He has great grades, games for 7 hours a night, is a goody two shoes and a know it all. Yet theres a side of him that awakes in SAO. A will to survive, to be the best. Broken are all the bullies. He was the Gray Knight, a bane to monsters... or so he thought.
As soon as the game released, all the blood and tears put down were wasted. He saw this as a new challenge, to rebuild his honor. As soon as he logged into the game, he ran to the nearest shop and got broke off of buying the armor he knew would be there. This was his level 1 armor (see image 3.) He had his name to regain... the Gray Knight had to be out in public.
Then, the incident happened, his looks were made revealed to everybody... but his armor still on him. With this, he had sworn to himself to get out of there at all costs, as fast as possible... He had grades to regain afterall!
---
---
| Other |
I will have a level-armor system. It will go like this.
Image 1 = Level 46-60
Image 3 = Level 1-19
Image 4 = 40-45
Image 5 = 60- Max Level
Image 6 = Level 20-40
So the armors will go from 3, 6, 4, 1, 5. Soooo... depending on what level we -can- start at, this will differ. I don't expect it to be over the top, but it's just to let you know of the armor progression I've established myself.
---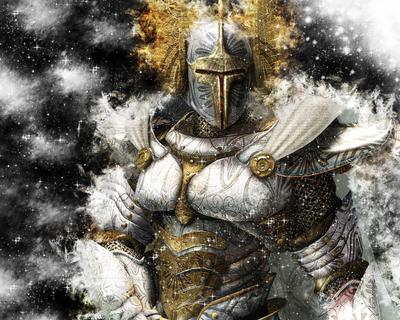 ---