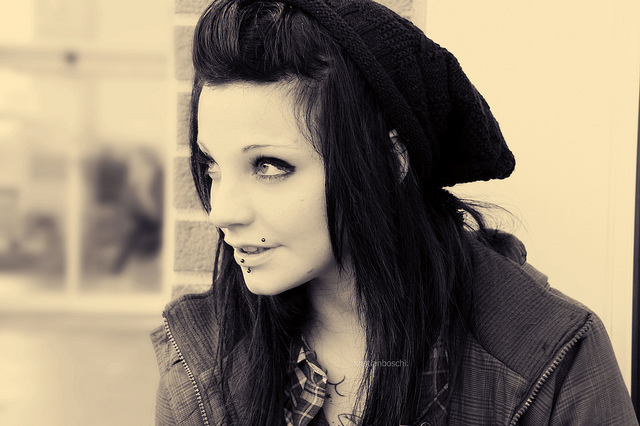 ---
---
::Name::
"My mother likes te be different"
Skye Reina Keaton
::Nicknames::
"There isn't many ways to shorten Skye is there?"
Skye doesn't really care for nicknames, Skye is her given name and she prefers to be called by it.
::Age::
"Almost there baby"
Skye is seventeen but her eighteenth birthday is right around the corner
::Role::
"Just your average waitress"
Bistro Waistress, unknown daughter to Antonio Occheto
::Sexuality::
"Sorry fellas your just not my type"
Skye never had eyes for men, especially how she learned that all her real father just decides to be a father by sending money. That kinda tipped the ice burg for her. She has come out but she isnt one to throw out to everyone that she is a lesbian.
---
---
::Height::
"Im not short im funsized"
Five feet three inches tall
::Weight::
"Has anyone ever told you it is not polite to ask a persons weight?"
111Lbs
::Eye Color::
"Been told my eyes are one of my best features"
They are a dark grey
::Hair Color::
"My hair is natural, I have never dyed it before"
Her hair is a raven black and she refuse to ever color her hair because she is afraid the chemicals from the dye will hurt her hair.
::Scars||Tattoos||Piercings::
"I have to say I love piercings and tattoos, they make my body unique in its own way"
For piercings Skye has gaged ear lobes, monroe piercing, bottom lip piercing, and nose piercing. For tattoos Skye only has two so far she has
this
on her right hand and
this
on her left side.
---
---
::Likes::
"Everyone uas a few things they enjoy doing"
♥Dancing randomly
♥Cute girls
♥Smoking pot
♥Tattoos
♥Piercings
♥Music
♥Hats
♥Being random
♥Being suprised, good suprises
♥Cuddling
♥Being curled up in tons of blankets when its cold
♥Naps in the middle of the day
♥Meeting new people
♥Spontaneous people
::Dislikes::
"If I don't like something I am not afraid to tell you"
♠Ignorant assholes
♠Being woken up early
♠Homophobes
♠Her father
♠Not knowing who her father is
♠Guys trying to hit on her when shes already told them shes not interested and that she is a lesbian
♠People getting the wrong impression of her
♠Bitchy/preppy/uptight girls
♠Animal abuse
♠Showing her emotions
♠People judging her before they even know her
::Fears::
"Everyone goes through life fearing something"
◇Not ever figuring out who her father is
◇The dark, she has feared the dark ever since she was a child and she has a hard time going outside during the night alone but she hasn't told anyone this.
◇Natural disasters
::Personality::
"So you wanna know a little about me and my quirks huh?"
Anyone that knows Skye would know that it would be hard to describe her because she is very random and a bit quirky. She always tries to keep an upbeat attitude, she doesn't want to waste her time on being depressed about things she has no control on, such as mot knowing who the hell her father is. She doesn't like to be the center of attention and if she is hanging out with a group of people she likes to envolve everyone. She is naturaly flirtatios with other females and might not even know that she is flirting.
Skye doesn't wear her emotions on her sleeve, she doesn't let people in so easily and when she is upset she often removes herself from being around others and deals with it on her own. She doesn't like to bring down others if she is upset and she has issues with trusting. Some people may be able to see that Skye isn't always that upbeat, quirky girl that everyone gets to love but she has yet to meet anyone who she lets see that whole side of her.
A few things you should know about Skye is that she usually is late and usually she doesn't mean to, she has tried hard to work on this issue but something always happens that causes her to be at least a few minutes late. Shes also known to be quite stubborn and its quite funny to see Skye in one of her stubborn moods because she gets this look on her face that once you see that look you know there is no way she is budging.
She would like to know who her father is, she has tried to get the name from her mother but her mother has told her no over and over. There is no name under Father on her birth certificate, she knows he knows who she is but she wishes to knownwho he is or at least his name. She has been searching for a couple years now, even gave a letter to her mother ti give to him but she isnt sure if he ever got it. She doesn't like to talk about her father situation with anyone really, its something she keeps locked inside her but sometimes she worries that she is going to explode from the unknown.
---
---
::History::
"Not everything is simple, I know my past is far from simple"
Skye Keaton was born on a cold winter day on January 17th to Shannon Keaton. Her father was not present at her birth and he did not plan to be present during Skye's life. When she was old enough to understand her mother said she had a few
dates
with her father but that was all and when her mother found out she was pregnant her father didn't want Skye to know who he was. The reason why was because he was Antonio Orccheto and he was married and had a family. The only way he was envolved was he had a bank account made for her mother and her and put money in it every month to help out.
Her mother raised her the best she could, Skye was independent by the time she could walk. She got into everything and by the time she was two her mother wanted to pull out her hair. Skye's independence never went away, it actually got worse as she got older. When she entered school she was always one to question her teachers and also had a knack of talking back but she was also one or the top students of her class. She would get sent home with detentions but she always got on the honor roll. She actually skipped third grade and was able to move to fourth grade.
She was able to make friends easily but she preferred to hangout with the outcast group, she liked to be different and not follow the norms of society. By the time she was twelve she already knew she was disinterested in guys and had her eyes on the girls, it felt right to her and she told her mom who was always accepting of her. At thirteen she had her first kiss with a freshman girl, it was just a kiss but it was everything to her. When she was fifteen she already had her face covered in piercings and was smoking pot with her group of outcast friends. Her mother let her explore and find herself, though some things she wished Skye wouldnt engage in but she knew if she tried to stop Skye she would just do it behind her back.
Skye graduated a year early and wasn't ready to go into the college life yet because she was unsure of what she wanted to do with her life. She was still in search of her father but she wasn't sure if she would ever find out who the misterious guy who she shares her genes with. She decideded she would find a job and see how it goes. She applied many places but what shocked her the most was she got a job at the Bistro, she actually only applied at that place because her friend dared her to. She never thought she would be accepted as a waitress with no prior training, but life has always liked to throw suprises at her. She just hopes they won't mind how different and quirky she can be.
---