(I want to make this almost like a book. To where we story RP in the first person as accounts of what we did in this time. This I feel will be unique. You can skip through the book part, but please refer to it to be learned in the RP. We will start the RP in the fifth year of the war.)
This book contains many sections, which are subdivided into five sections:
1. Introduction
2. Map of the Known World at the Time and Fiefdoms
3. General Pre-History
4. Causes of the War
5. The War
1. For twenty long years we fought. For twenty long years, our generation had lost many a good souls. For twenty long years, our graves overflowed. But there was a peace before this time. A time when our twelve fiefdoms had a king. Had order. Had peace. This book was ordered to be written to record this history from the remaining survivors of this time, so that the future generations shall remember with great honor, with awe, and fear. They shall learn from our flaws. This book covers mainly the outbreak and beginnings of this war.
2.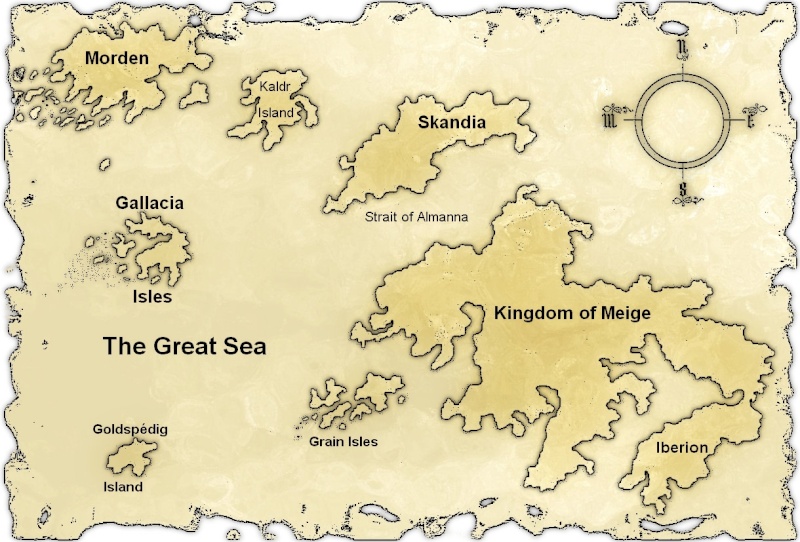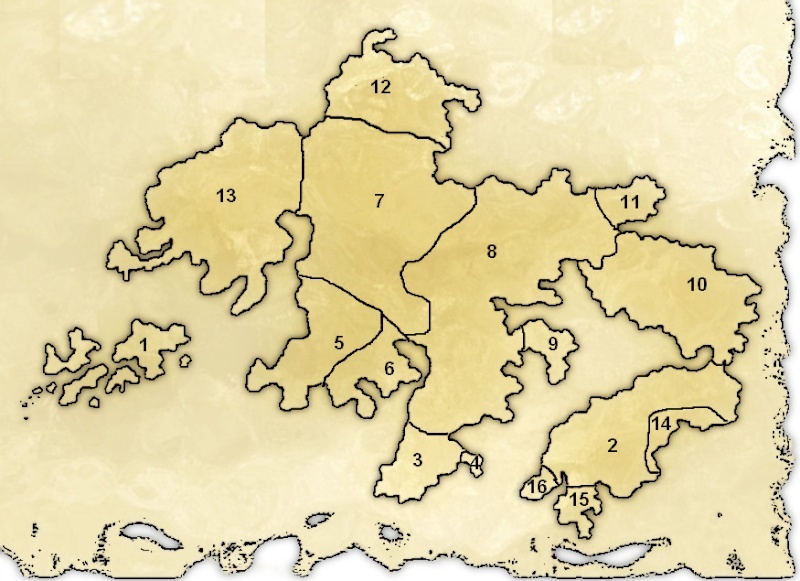 1. The Isle of Grain. Ruled by the Fiefdom of Orkney.
2. Kingdom of Iberion.
3. Fiefdom of Jartop
4. Fiefdom of Wilkshire
5. Fiefdom of Redmound
6. Fiefdom of Kilgetty
7. Fiefdom of West Skarla
8. Fiefdom of East Skarla
9. Fiefdom of Halston
10. Fiefdom of Coventry
11. Fiefdom of Gaul
12. Fiefdom of Setervik
13. Fiefdom of Pica
14. Kingdom of Verona
15. Kingdom of Castila
16. The State of Renalt. Vassal to Wilkshire
3. For many years we lived in the area of Meige. We farmed the land and were as one. As time went on, our people formed their own cultures, their own traditions. Thus was the basis for the thirteen tribes. These tribes lost their unity, and fought for resources and land. In this greed, a tribe was forever lost. Oral tradition tells us that the Jarman tribe, a peaceful tribe living near Iberion, set sail west to escape the wars. According to many legends, they build the fortress on the Goldspeg Isles. Thus there was the twelve. As natural progression in technology continued, many of the bands formed up and build massive cities. These cities are where the modern fiefdoms have been set up. As time progressed, they spread out into kingdoms. Peace was held for more than 400 years until the dynasty of Meige took control of Skarla. Skarla was the largest of the kingdoms with the only known access to iron at that time. It build a great military force and unified the kingdoms into one. With no threats, he turned most of his army home. There they build a new capital. A great capital. It was known as Arleu. For more than 600 years, the Meige dynasty ruled. There was only four rebellions, all put down quickly. This lax approach paved way for a great downfall of the Meige. The people of the north, Skandian, led their first invasion. Caught off guard, our petty force of 3,000 spearman, 2,000 swordsman, 200 calvary, and 500 archers were destroyed on the Plains of Arleu. Arleu was plundered and King Harold the IV was killed. His son, Justinian the Weak, soon took power. Focused with the stress of the Skandian raids, his ten year reign failed to produce a heir which build the road for the War of the Hills.
4. Because King Justinian the Weak failed to produce a heir, his death from a fever left him unprepared to crown a new heir. The fiefdoms called a council to Arleu. They debated who should take control of Meige. After months of failing to name a new heir, Master of the Military, General Bodeux took his military and captured the fiefdoms of Halston, East Skarla, Coventry, Wilkshire, Pica, and Jartop. The remaining fiefdoms of Orkney, Redmond, Kilgetty, West Skarla, Gaul, and Setervik formed into a military alliance to fight General Bodeux under a Skandian king named Jarl Fjell living in the very tip of Setervik. His military was large and dense, and and wished to reclaim the throne and claim the title of King and restore the Meige dynasty.
5. The War of the Hills got its name from the first battle of the war which was fought in the hills of Kilgetty. Trying to gain control of the Fiefdom of Kilgetty and Redmound's large supply of iron and steel smelting materials to equip a large military force. Both forces clashed and fought for control of a single hill named Redington. The battle was so fierce, that 8,000 men were killed in under 2 hours. The war seemed to end as General Boduex lost his right arm and his son. But then, after a single year of rebuilding and training, the war re-ignited. The battles were too numerous to count, and for five years, land was won and lost to where the borders had only changed in favor of Jarl Fjell by 2 miles. Requesting the assistance of Iberion, a large force of 12,000 Iberion soldiers were handed over General Bodeux. Using this new force, Bodeux launched a large assault. Heading for the capital of Jarl Fjell's Kingdom of Meige, Arleu, the Fiefdom of Kilgetty fell, as well as 100 miles of West Skandia. The rest of the historical record is recorded in the accounts of those that lived.
Taking place in...
There are no characters in this universe yet!
0 posts here • Page 1 of 1
0 posts here • Page 1 of 1
Arcs are bundles of posts that you can organize on your own. They're useful for telling a story that might span long periods of time or space.
There are no arcs in this roleplay.
There are no quests in this roleplay.
Welcome home, Promethean. Here, you can manage your universe.
Arcs are bundles of posts from any location, allowing you to easily capture sub-plots which might be spread out across multiple locations.
You can create Quests with various rewards, encouraging your players to engage with specific plot lines.
Settings are the backdrop for the characters in your universe, giving meaning and context to their existence. By creating a number of well-written locations, you can organize your universe into areas and regions.
Navigation
While not required, locations can be organized onto a map. More information soon!
There are no groups in this roleplay!
There are no characters in this universe yet!
By creating Collectibles, you can reward your players with unique items that accentuate their character sheets.
You can schedule events for your players to create notifications and schedule times for everyone to plan around.
The Forge
Use your INK to craft new artifacts in The Chronicles of Meige: The War of the Hills. Once created, Items cannot be changed, but they can be bought and sold in the marketplace.
Notable Items
No items have been created yet!
The Market
Buy, sell, and even craft your own items in this universe.
Market Data

Market conditions are unknown. Use caution when trading.

Quick Buy (Items Most Recently Listed for Sale)
There are no characters in this universe yet!
None
Discussions
Topics

Replies
Views

Last post
Most recent OOC posts in The Chronicles of Meige: The War of the Hills
Skandia is a name out of a series I read. It's called Ranger's Apprentice. Did you happen to read it?