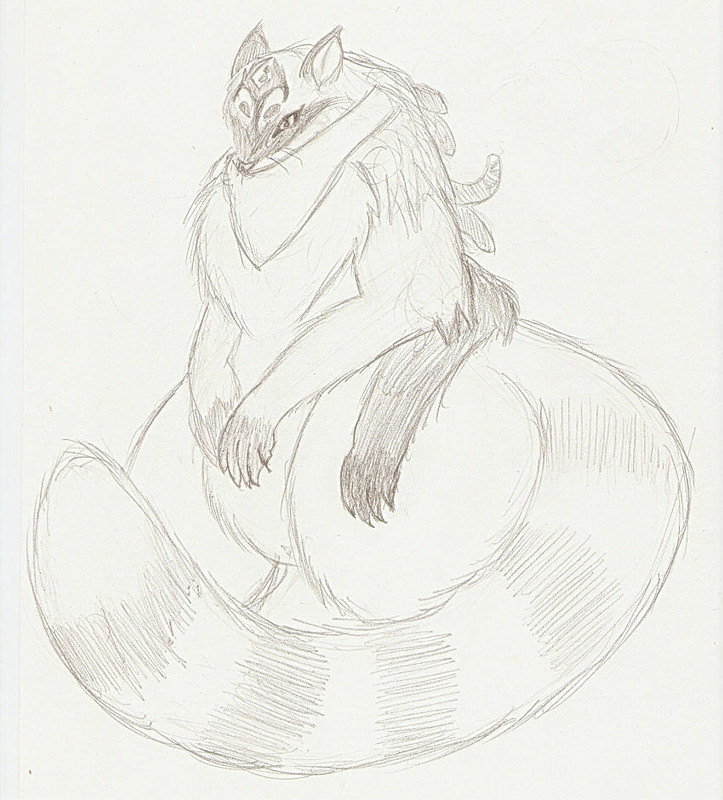 Name:
Skitters
Nickname:
GNS-088-B
Age:
Unknown
Gender:
Female
Height & Weight:
3ft, 38lbs
4ft, 76lbs
Profession:
Transdimensional Pest
Asura Ascendant
Physical Characteristics:
A raccoon with augmented characteristics due to GNS-088's experimentation on postmortem body in reanimation procedure. The body possesses a black extra set of fore legs, and amber eyes, seated in black sclera, pupils changed to a horizontal elongation, making a sideways S when calm and an 8 shape when alert. The muzzle is covered by a scarf due to a split bottom-jaw and a long black tongue. Black tentacles are somewhat hidden under its fur running down the spinal column, vaguely resemble dreads.
Additional Details:
Wears a red bandana, has a strange design in facial marks and a symbol on forehead, marking connection to GNS-088.
Personality:
Cunning, to the extent of being both sentient and sapient. They show a level of boldness when cornered, fighting back before fleeing. While unable to talk, they seem to understand human speech, as well as the human concept of reciprocation. Also uses the human concept of snark and sarcasm when dealing with situations of annoyance.
Likes & Dislikes:
+ Food, just about any food
+ Mischief
+ Being spoiled
+ Music
+ Shiny
+ Video Games
- The terms "vermin" and "dumpster rat"
- Other raccoons
- Being harassed
- Anything being pulled
Strengths:
Fast and agile, is an expert at maneuverability and escape, along with cunning this makes for an excellent combination. Their cunning seems even to the point of opening doors and using tools. Can cause some injury if cornered, utilizing their claws and striking at their aggressors in order to leave them stunned, including throwing anything available. A clever little sneak.
Flaws:
Ultimately they are still a raccoon physically, light and small frame, can be thrown and kicked aside pretty easily. Also more likely to run than stay and fight if the option is available. Seems to have an attachment to the the bandana. Is sensitive about their looks.
History:
In an attempt to humanize subject GNS-088 she was given a pet of her choosing. The initial results were positive, she had even affectionately named the animal "Skitters" due to how it scurried about. She showed good initiative in taking care and nurturing the animal and as it matured, she seemed to develop as well.
However, during a time of low security, the animal reacted negatively towards GNS-088 embracing it and bit and scratched her causing an impulse reaction, throwing and fatally wounding Skitters against the cell walls. Hysterical at what had occurred, she tried to wake the dead animal and had blockaded herself within her cell allowing none of the staff in to take the body away. Her last ditch effort involved transfusing her own black vitals into the creature. Initially disgusted the staff looked on in horror, as the creature twitched, contorted, and then snapped up to its hind legs, tentacles bursting from its back as its bones popped back in place.
Little did they know, not only had the creature evolved, it had seated in a new conciousness, one too clever to remain contained, and, breaching the facility, she gained access to a transdimensional device still in testing, scouting for another world to occupy that would be more welcoming... or malleable.