---
Theme - The Call To Arms
---
Adam Valentine
---
---
Personality
---
A cold, consummate killer, but not a murderer - Valentine is very clear about this distinction.

A complex, if not divided man, Valentine's motivations are difficult to derive. He is crisp, swift and polite, but never warm; his eyes carry a hardness, as do his words. He gives off a sense of detachedness, watching those around him as though he were not one of them. He is constantly-wary, ever-shifting, always preferring to stand instead of sit, eyes always flickering to the nearest exit. His speech is often sharp, clipped, and frequently allegorical; while well-spoken and elegant, he wastes little breath, only talking when he feels that he has something to gain from doing so.

Nevertheless, he is a gifted leader; when he stands before those who follow him, he becomes equal parts passionate demagogue, driven revolutionary and merciless warrior. He presently stands as commanding officer of an enigmatic group known as 'Childhood's End', a small armed group of perhaps five dozen highly-trained individuals from around the globe, collected by Valentine in his many years of travelling. He has an advanced grasp of military tactics; whether planning an assassination or coordinating an entire armoured division, he proves exceptionally capable. Around his men, he is a little warmer, albeit not much; he presents himself as an impenetrable figure, cold and detached. He is capable of a certain level of charisma when pushed, but finds doing so exhausting; he is generally followed for his competency, not his personality.

Valentine possesses an absolute concept of justice, and minimal regard for the idea of death. To him, death is merely a natural part of life; it is not something to be fled from, not in this day and age. In a world such as the one they live in, he has taken the view that to die is no worse than to live. He treats those who wrong others with a swift but unemotional hand; he intervenes where he feels he can to safeguard the weak, but refuses to lay down his life for them. For all his talk of selflessness and the importance of righteousness, he always turns away at the last moment - a profound internal flaw, and one he refuses to admit to anyone, even himself. Whether he acts as such out of fear, or because he believes his goal too important to let go, he himself is unsure.

He is extraordinarily driven, constantly moving to his next objective; he refuses to falter, and possesses an absolute ruthlessness in his quest to progress. While his ultimate goal remains obscured to all - perhaps even himself - he constantly seeks his next objective; at present, this is information, specifically referring to a man named 'Old King'. He claims that his work is of paramount importance, but refuses to explain his end goal to any, his group's goal remaining shrouded in mystery. His only words to outsiders on the topic are simple -

"You need only look to our name. Childhood's end must come eventually, and we take it upon ourselves to hasten it."

When in a better mood - which, admittedly, is rather rare - his behaviours become a little more human; he cracks a smile now and then, occasionally making a humorous or kind comment. The only thing that changes radically is his eyes; they are possessed by a distant, somehow light warmth, as opposed to their typical icy hardness. He could even be described as charismatic in such a state, demonstrating a fair bit of excitability if pushed (or if presented with sweet food - while he refuses to admit it, he has a distinct sweet tooth); nevertheless, this mood is rare, and seems to be becoming rarer and rarer. He considers his emotional state, in this regard, to merely be a mirror of its surrounds.

He is deeply philosophical, often musing on the nature of war and violence, even in the midst of battle. His views are difficult to analyse, often shrouded in reference and metaphor; however, a few things are immediately clear. He views mankind's present predicament not only as a situation of its own devising, but an inevitability; he takes the approach that humans are inherently cruel, selfish creatures, and has no belief whatsoever in altruism. He views the vast majority of humanity's defining traits - determination, love, god, justice, and so on - as merely self-serving delusions; yet he permits and encourages them, claiming delusion to be better than reality. He believes firmly in the concept of 'Noblesse Oblige', but as he puts it, he finds it self-aggrandising; insofar as he is concerned, his belief is purely a product of ego.

In the quietest moments, one can sometimes catch him with his face in his hands, or staring out into space, when he thinks no-one is looking. A glance into those eyes reveals only a distant loss; no longer missing what was taken, but merely the hate of having had something taken from him. Upon realising he is being watched, he will typically stand, brush himself off and leave without a word; attempting to question him about it will simply result in him acting as though you do not exist.

His romantic opinions are mysterious at best. He displays little to no interest in the subject; it's unclear whether he simply does not feel romantic attachment, or he chooses not to; he does, however, frequently voice the opinion that love is a profound weakness. He does occasionally refer to there being a female figure in his past, although he refuses to state the nature of their relationship, or even her name.

Finally, what little of his Human-PLUS dossier remains in the hands of public organisations mentions him to be 'empathically stunted', although the report was heavily-redacted, making it unclear if this was a consequence of the augmentations or a pre-existing condition. It emphasises the potential for developing "Mild sociopathic tendencies", and makes it explicit that caution is advised in all dealings.
---
---
Appearance
---
Looming tall and close to six and a half feet and distinctly well-built, Valentine cuts an imposing figure. While thin due to limited nutrition - he prefers to keep his food consumption to a minimum, to avoid spending unnecessary money - he is muscular and strong, broad shoulders belying his strength beneath his clothing. He has a youthful face, appearing in his late twenties or so, occasionally with a light dusting of poorly-shaved stubble on his chin. He bears more than a few scars; one runs along his scalp and forehead from falling shrapnel, one on his neck from a narrowly-avoided knife, and dozens on his arms, legs and body from all manner of injuries.

His hair is dark and irreconcilable with the fundamental laws of physics, sticking up in all manner of directions, an utter mess by any account; the only time it falls down is when wet, and it swiftly adopts its normal shape soon after. Strands of it hang low around his forehead, sometimes obscuring his vision, frustrating him to no end. He is constantly vowing to shave the lot of it off in favour of a buzzcut, but has been swearing as such for countless years, and is unlikely to ever actually do it.

If the eyes are windows to the soul, then Valentine's windows are boarded-up; cold, detached and grey, near-constantly flickering around the room for exits and weapons, ever-wary. The vast majority of the time, they have the texture of ice, reflecting the cruel world back at itself - or, perhaps, it is merely the ruthlessness within him that reflects the unforgiving world around.

He typically wears a slightly tattered old-world suit, often concealed beneath a waterproof canvas coat for inclement weather. While suits have long since fallen out of vogue as the formal item of choice for men, he continues to wear it, and weathers the mockings - the suit is one of the few hints at his true age. He carries a weapon on him at all times, and smokes with some frequency, another rarity in this day and age. However, at the complaints of his subordinates, he is attempting to cease this habit, albeit failing to do so to some extent.
---
---
History
---
Next to nothing is known of Valentine's past, and it is unclear how much he himself remembers - from what he is willing to reveal, however, it isn't as much as he'd like. His age is 'around three centuries, give or take fifty years'; he says that he has faint memories of a time before the world fell into chaos, but can recall no specifics, only flashes of sun and green and smiles. What little is known is the following -

He feels himself to have been a soldier in a national army, back when nations still existed. At some point in the distant past, he was a participant in a program known as 'Human-PLUS', aimed at creating Knights capable of mastering the inhuman power of the Reapers. He is tight-lipped about what, exactly, it entailed; he shows no external augmentations, save for a small network of ports along his spine to allow for interfacing with a Reaper.

It is unclear what effects the program had, but the fact that he has survived as a Knight for as long as he has indicates that, at the very least, it achieved its intended goals. It is unclear whether his cold, abstract demeanour was an effect of Human-PLUS, interfacing with a Reaper for such an extended time, or merely his own personality at work.

Since Human-PLUS, he has achieved significant things. The program's most notable side effect appears to have been a form of biological immortality; while he can be injured and presumably killed by standard means, and he heals at a standard rate, his body does not seem to age, still looking to be in roughly the same condition it was when he was first experimented on, give or take a few dozen combat scars. There is a full century afterhand which he simply refuses to speak of; it is presumable that at some point during this time, he became a Knight, and was paired with Abyss Walker. After this, he broke off from an organised armed group (which he claims to have subsequently been destroyed in battle) and began travelling and operating as a Knight independently, avoiding trouble wherever he could.

He claims to have settled down in a small, isolated village located in a high mountain pass at one point; however, after an unknown sequence of events (he considers their exact nature unimportant), he came to a mysterious philosophical conclusion, the exact nature of which he refuses to divulge. Upon leaving the village, he immediately began tracking down various individuals, typically the more-skilled; he built the armed group Childhood's End out of these individuals, all adherent to his ideology and bound under his leadership.

While compact, Childhood's End are extremely dangerous, largely due to their ability to field a fully-functional Reaper. The group largely consists of Abyss Walker's engineering support team (dedicated to keeping the monstrous weapon in operation) and a small group of Sentinel and Tracer pilots, who undertake missions where a little more finesse is required; most individuals in the organisation are multi-skilled, capable of intelligence-gathering or infantry combat as well as their primary role.

It is known that there is a significant bounty on his head, coalesced from the various factions whom he has made enemies of over the years; it currently numbers in the millions of COAM, and is constantly-climbing. For this reason, he typically avoids sight where he can, travelling at night or in less-populated areas. It should be noted, finally, that Valentine is the only known subject of the Human-PLUS program; he claims there to be others, but none have been observed thus far. Therefore, all claims he has made about his past should be taken with a grain of salt.

---
---
Abyss Walker
---
That which is not dead can eternal lie,
And with strange aeons, even death may die.
---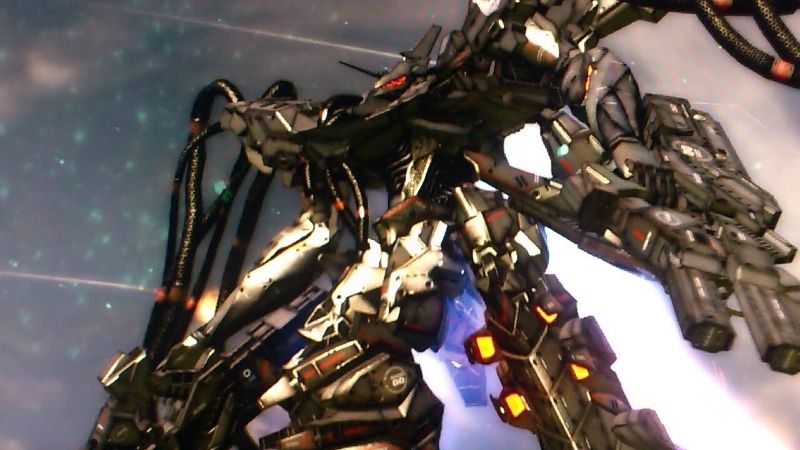 ---
Among the first Reapers ever constructed, and certainly the oldest still in operation, Abyss Walker is nevertheless a sight to be feared on any battlefield. It looms at around a hundred feet in height, with a sleek, menacing, mechanised appearance, its design sharply angular to help deflect radar from its black-painted surface. Long loose piping hangs from the edges of its shoulders, giving it an almost unfinished appearance; in truth, they are coolant pipes, designed to help funnel the hot coolant away from the craft in the event that it overheats.

Constructed in an age long past, its technical designation is 'N-WG/IX'; however, it was christened 'Abyss Walker' by its first pilot, and the name has stuck ever since. It is considered a relic by the standards of modern Reapers, yet its power remains unquestionable. Protected by a powerful Shadow Field, it is all but invulnerable to conventional weaponry, its defences only capable of being breached by immense firepower.

Its primary conventional armament is its pair of high-powered dual-barrelled railguns, firing 155mm tungsten shells at over 1,500 meters per second; each round has enough destructive force to level most small buildings. It is also armed with a substantial array of high-velocity missiles, typically designed for use on other Reapers due to the difficulty of obtaining replacement parts. Its tertiary weapon is a simple two-handed greatsword, scaled up to the unit's size; while of little utility on its own, this blade swiftly becomes its deadliest weapon when the Abyss Field is applied. Additionally, the craft is extremely mobile, capable of sprinting well in excess of the speed of sound and using powerful thrusters to achieve limited flight capability, albeit only for extremely short periods due to its weight exceeding one thousand tonnes.


---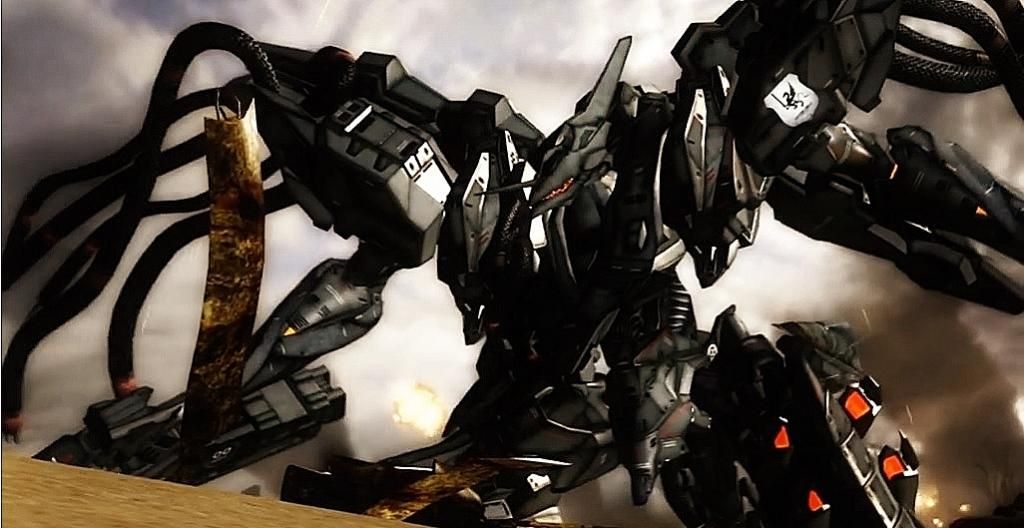 ---

This Reaper's most distinct and powerful ability, however, is its ability to generate an Abyss Field, the power for which it was named. A trait inherent to the Reaper's internal entity and power source, the Abyss Field consumes anything it comes into contact with instantaneously, phasing it out of existence. This power's utility is vast; able to be shaped to the pilot's will, to form anything from a blade to a shield to a region of space beneath an opponent's feet. Its primary disadvantage is its power draw; while strong, the entity within Abyss Walker is only so powerful while asleep, and this limits the area to which it can deploy the Abyss Field at one time. It also has the drawback that it typically requires a solid surface to be projected across; while it can be used upon a liquid or even a gas, the power draw is even greater.

However, Abyss Walker is not without its problems. Its heat consumption is immense; for this reason, it is ill-suited to fighting in urban environments, as it must either retreat or open its cooling vents - which themselves output in excess of a thousand degrees of heat and warp all nearby structures - for the remainder of the fight. These heating vents also render it vulnerable; were its Shadow Field breached, a single blow to one of the brightly-glowing vents would cause catastrophic damage. This also forbids it from using the Abyss Field as a full-body energy shield; without anywhere for its heat to escape to, the craft would overheat to devastating levels within seconds.


---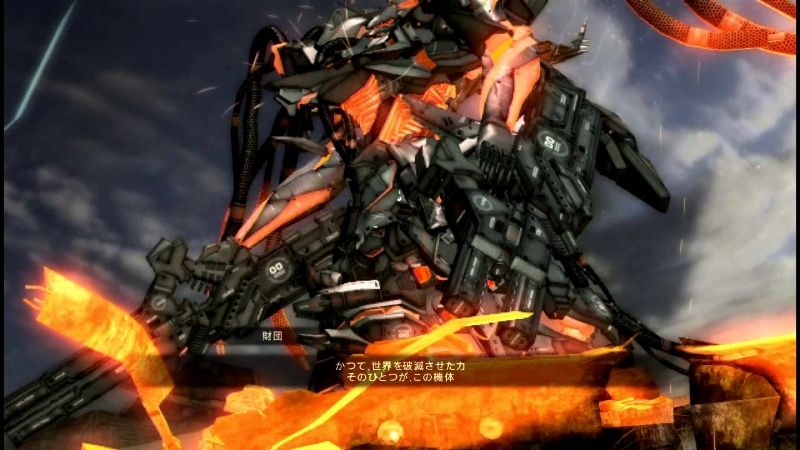 ---