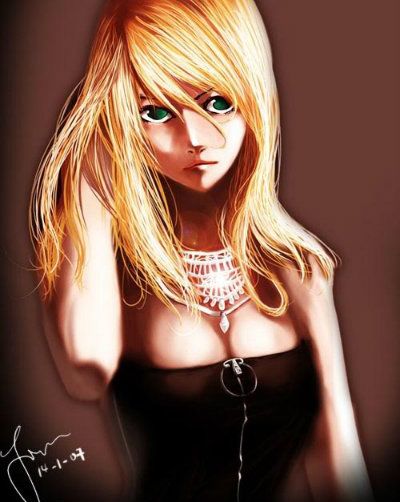 Name: Anya Herrik
Age: 24
Race: Human

Appearance: Anya is a beautiful woman, one has to be in her line of business - none of the Bond girls were ever 'handsome' or 'average' in appearance, were they? Her hair is fair blonde, and falls in neat and elegant tresses to the small of her back, around her bright blue eyes and smooth features. There is a constant sparkle in her eye that suggests she is up to no good, and for the most part - she isn't. Her build is slim and curvaceous, and she is of average height.

Personality: Anya is a light hearted person, with a good sense of humour about every situation. This can come across as a bit heartless when the situation she is joking about is death or something similarly morbid, and that is a quite good summary. Anya isn't entirely heartless, she has a definite soft spot for children and keeps her friends close, she is just so used to being around death, and dealing it, that it no longer registers very high on her radar.

Equipment: Anya's arsenal is widely varied, it is safe to assume that if it fires bullets then you can find it in her armoury. The following is her most commonly used weaponry, but it is not the only weaponry she uses.


A high powered, very high range sniper rifle. Equipped with heat-vision, motion-vision, and as many other forms of vision as you can name in the form of attachments. The bullets this weapon fires will go through thin walls unimpeded and brick walls with some deflection. Ammunition includes both armour piercing and shield disrupting rounds, as well as more specialised rounds if she knows her target's abilities in advance (e.g. anti-psionic rounds, ethereal-targeting rounds, etc.)
A prototype assault rifle equipped with a grenade launcher, an assisted targeting system, and a bayonet-style spike. Similarly, can be fired with varieties of ammo designed for the job at hand.
Electrical bindings designed to prevent magic-users accessing their power by continuously shocking them to prevent clear thought or focus. These can be thrown, using tracking technology to curve and slice through the air toward their target, or fired from a launcher enabling longer range, or even applied manually hand to hand.
An automatic shotgun.
Two high-calibre pistols.
Many combat knives.
EMPs
Anti-Magic pulse generator (acts like a dispel/silence)
Anti-Psychic pulse generator (cripples the mind of a psychic by assaulting it with intense pain and an overload of information)
Explosive charges
Grenades
Blinding light charges
Flame bombs (small on-contact devices that unleash a blast of flame)
Ice bombs (as above, but ice)
Smoke bombs
Pocket laser-cutter capable of slicing through steel.
Personal shielding technology (a layer of telekinetic shielding capable of stopping bullets and more, regenerates over time until the battery is drained)
Lockpicks
Tracker bugs
Memory stick containing hacking resources
Numerous poisons

The aforementioned armoury is concealed within a disused public toilet, within the third cubical from the entrance, underneath the toilet seat, is an access panel, and with the right key put in the toilet itself lifts up to reveal a staircase down into her underground base, complete with communications room, games room (with pool table), medical room and sleeping quarters, as well as a large sound system and a big TV.

When it comes to equipment for things other than killing, Anya isn't lacking, and from grappling hooks to smokescreens, night vision goggles to lockpicks, she has it all.

Bio: Anya was an orphan who grew up with the current WCPD chief and her sister. However, like the chief's sister and other best friend, Anya was drawn instead of into a life of upholding the law, a life of breaking it. After an early career as an unglamorous hit woman, her aptitude for the profession led into her becoming a freelancing assassin, who took out targets for huge sums of money. She then became involved with a demon hunter named Dante and ex-demon named Legion, after being hired to take Dante out, and instead ending up smitten with the roguish man. After a series of unlikely events, from a staged assassination, to an attempt by a mad scientist to wipe out Wing City's underworld, to a horde of demons attacking an opera house, she eventually lost contact with Dante, and returned to her life as an assassin - however, hardly lacking for funds, she now largely takes jobs based on the challenge and intrigue involved in them. She and Legion maintain irregular contact.